Pieces Of Tech That Can Tame The Backseat
Use these six pieces of technology including USB car chargers, headphones and mobile hotspots to help win over the car backseat
by Fatherly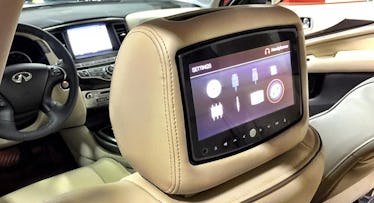 to achieve it. But even without screens, technology can still come to the rescue on a long drive. Here are a few options receiving rave reviews from consumers and experts.
Rosen AV7900 Headrest Entertainment System
Forget your smartphone, how about a smart headrest? Actually, don't forget the phone, because Rosen's systems turn the back of your headrests into a hi-res LED screen and the top into a multimedia port that accepts phones and DVDs. You might wind up teaching the kid to drive so you can hang out in your own backseat.
Arkon Tablet Mount
Call it the poor man's AV7900 – this simple mount attaches to the front seat's headrest posts and extends into the middle of the car to provide a decent viewing angle from across the backseat. It holds any tablet, effectively turning all highways into Sesame Street.
MiFi Mobile Hotspots
Car manufacturers are scrambling to offer built-in 4G/LTE connectivity – Audi was first with its latest A3 – which is kind of a headscratcher because MiFi mobile hotspots do exactly the same thing and cost roughly $29,500 less than an A3. Put one in the center console and you can have as many tablets and phones as you have kids playing online games or streaming music and videos.
Buy Now Plans start at $30 per month
LilGadgets Untangle Pro
If you're going the video route, these headphones ensure that just because your kids are watching Cars, the rest of the car doesn't have to. If you prefer to avoid screen time, just connect the kid's headphones to your phone's music library and watch as they get quietly tied up in an endless loop of "The Wheels On The Bus."
Scosche reVolt USB Car Charger
A car packed with child attention-grabbing technology is a car full of quickly draining batteries. Scosche's charger pops into your cigarette lighter and can revive a phone and a tablet – at the same time – just as fast as a wall charger. How you light your cigarettes is your own problem.
GM OnStar (Price varies)
GM is rolling out 4G/LTE wifi with its OnStar-equipped 2015 models, which would be unremarkable save for one ingenious feature: Customers who don't pay for the monthly data plan can still pay $5 for a single day's access. It's like a "break in case of emergency" dose of internet to avoid a head-on collision with a meltdown.
This article was originally published on