Holiday-Themed Apps To Make Screen Time More Festive
Here's a roundup of six of the best festive themed apps to help you conqueror the holiday season this year.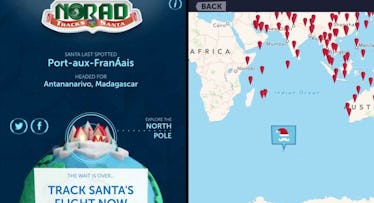 so stock up on some appropriate kid-distraction apps. Five of these are well-reviewed byCommon Sense Media and Education.com, and trade rampant consumerism for learning opportunities. The sixth is on the list because repurposing military technology to bolster a kid's belief in magic is always a good idea.
CHRISTMAS
A digital adaptation of the classic story, as illustrated by William Denslow (just the guy who drew The Wizard Of Oz, nbd), PopOut! loads every page with interactive elements to discover. The "read to me" mode is an effective storytime app for younger kids while older kids receive prompts when reading if they get stuck on certain words, which makes you basically superfluous.
An interactive book version of the 1965 TV classic, the app includes songs and sound clips from the original show. Kids can play Schroeder's piano, finger paint with Pigpen and decorate Charlie Brown's famously pathetic tree so it has more than one measly ornament. For added entertainment value, try reading the story to your kid using this voice.
The is the official app version of everyone's favorite 1955-newspaper-misprint-that-led-to-kids-calling-a-military-installation-about-Santa's-whereabouts Christmas tradition (seriously – look it up). NORAD Tracks Santa uses a cool interactive global satellite image to follow the fat man through all 24 time zones on his big night.
HANUKKAH
: $1.99 (iOS)
A digital color-by-number book with a playful take on the rituals and peripherals surrounding the holidays, the app can display in 12 different languages to help your kids become bilingual – so long as by "bilingual" you mean "say the alphabet and some numbers." One of the languages is Hebrew, making the app excellent pre-pre-Bar or Bat Mitzvah training.
: $0.99 (iOS)
The Orthodox Jewish reggae rapper who's confused those inclined to make fun of him by being pretty good for over a decade has his own Hanukkah app. And, like its namesake, it's hard to make fun of because it's actually a pretty effective form of music discovery that lets kids play various instruments along with his track, "Happy Hanukkah."
: $1.99 (iOS)
A fairly straightforward retelling of the Hanukkah story, what Festival Of Lights lacks in interactivity (sorry, the lame memory game at the end of the book doesn't count) it makes up for in graphic novel-like illustrations and effective historical and cultural lessons. Add a menorah and some Chinese food and you've got yourself a December Jewish tradition.
This article was originally published on