6 Baby Products That Make Life So Much Easier For On-The-Go
They say it takes a village to raise a child, but quality gear helps, too.
by BDG Studios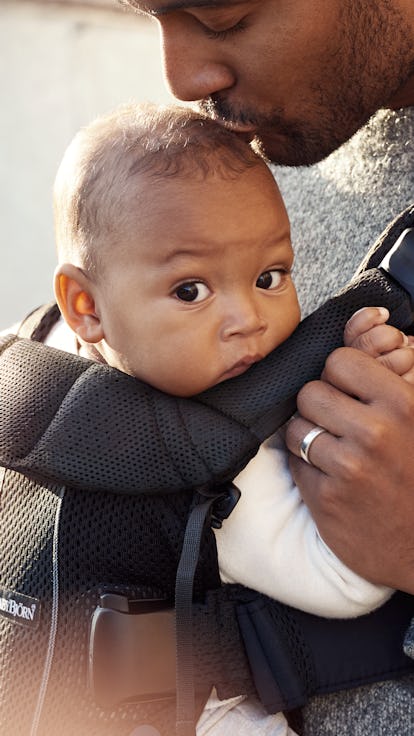 They say it takes a village to raise a child, and that's so true, but a smart collection of genius baby products also really helps to make the early years of your parenting journey easier. Thanks to their ubiquitous baby carrier, everyone knows the name BabyBjörn, and everyone knows that dads look more handsome wearing their beautiful babies on their chest. But did you know that the legendary, family-owned Swedish company makes many more high-quality products that are easy to use, easy to clean, comply with safety standards, and help dads get things done in style and comfort? Here are 6 awesome baby products, from BabyBjörn and others, that will make your life as a parent run that much smoother.
BABYBJÖRN Baby Carrier One Air
Incredibly, this small but mighty carrier is able to be used the day your baby is born. That's because it softly hugs and supports your wee one's little legs, back, and hips, allowing you to start forming that priceless bond with your child right from the start. It's ergonomic for you too, with a sturdy waist belt and padded shoulder straps that make it a breeze to navigate areas that don't easily accommodate a stroller. Fully adjustable straps make it easy to swap carrying duty with a partner. But the best part of the BABYBJÖRN Baby Carrier One Air is that it adapts with your child, allowing you to wear them face-out once they're supporting their own head and then on your back from ages 1 to age 3. This one's a must-have.
Sophie the Giraffe
Made in France and beloved all over the world, this classic teething toy is made of all natural rubber and has been made in a traditional, old fashion way for over six decades. And not only is this a toy, it's a way to help the Giraffe Conservation Foundation (GCF). You'll be doing good and giving your baby the most comfortable, cute, and long-lasting teether ever made.
BABYBJÖRN Bouncer Bundle with Toy
They won't be able to say it out loud, but your baby's smiling face will let you know they're loving the natural rocking their own movements create in this awesome BABYBJÖRN Bouncer Bundle. Just like you, your newborn bundle of joy longs to be cool and comfy when lounging around the house, and just like you, a toy is always a welcome distraction. This sophisticated, low-profile bouncer comes with three dangling toys that help with the development of your baby's balance and motor skills. And it's so lightweight, you can move it all around your place to keep your newborn to 2-year-old kid content while you clean up the kitchen, grab a few minutes of exercise, or pour yourself a fresh mug of coffee.
Hatch Smart Sound Machine
This customizable night-light, lullaby, and ambient sound machine is a smart way to encourage consistent sleep schedules for your baby from an early age, all from your smartphone. This genius baby product offers one-touch programs for bedtime, nap time, and wakeup that when combined with ambient sounds like ocean, tumbling dryer, and white noise help you instill a healthy pattern of rest for your child. For little ones who wake up at an ungodly hour but are not quite ready to read a clock yet, the gentle light even changes color to alert your child to when it's OK to wake up the rest of the house.
BABYBJÖRN Travel Crib Light
You're probably itching to hit the road with your baby, take nature walks with them on your chest in a BabyBjörn carrier, and start making travel memories together from an early age. If so, you are going to make fast friends with the BABYBJÖRN Travel Crib Light while vacationing with your kiddo. It comes equipped with a comfy mattress, weighs next to nothing when compared to your other luggage, and in just one motion, you'll have it set up in hotel rooms, grandma's house, or wherever else you're calling home while on a family adventure! With this Travel Crib you can rest assured your child is going to rest easy no matter where you take them.
Tomy Grass Countertop Drying Rack
We will never stop being impressed by how many dirty dishes such a tiny human can produce. Whether breast milk is being pumped or not, having a baby means always having a sink full of bottles, rubber nipples, and other assorted baby care equipment needing to be soaked, scrubbed, and sanitized. And then, of course, dried. This clever drying rack looks like a miniature, modern art interpretation of a beautiful lawn (that doesn't need mowing), but what makes it a must-have for new parents is the air circulation that flows through the silicone patch of 'grass' and the easy-to-clean tray of drips collected below. Brilliant.