50 Grills, Toys, & Sprinklers That No Backyard Should Be Without
These 50 items will enhance your backyard and help you create some gnarly warm weather memories with your family.
by Fatherly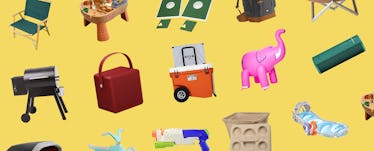 The backyard is the base camp of summer, a place where you and the family can set up shop and cook out, learn new skills, screw around, and just enjoy all the spoils of the season. Like any base camp, it's best when it has the right gear. That's why we put together this hand-selected list of products. On it you'll find everything from great new grills and rugged coolers to inflatable sprinklers and water guns. We guarantee you'll find something that will spark a great summer idea or help you conjure some warm weather memories. After all, you never know what fun ideas you'll get when using a giant inflatable bowling set or a backyard pizza oven. And that's what summer is all about: creating moments you'll remember long after the heat has gone.
1. Traeger Bronson 20 Pellet Grill
Most smokers are big, hulking things that don't really fit in the back of your average SUV. Outfitted with wheels and able to be transported in an average car for camping or just to a different patch of the backyard, the Bronson is a portable barbecue that still does justice to your pork shoulders. The pellet-fed smoker maintains precise temperature and its electric igniter also means it'll fire up quickly. And don't worry — it's still large enough to fit two chickens, three racks of ribs, and 12 burgers.
2. Thermacell Radius
Tired of squadrons of mosquitos nibbling at you every time your outside? Of course you are. This no-spray yard defender keeps them at bay. The magic is in its cartridge that releases a synthetic chrysanthemum flower compound that naturally repels mosquitos. The USB rechargeable system lasts 40 hours, has a simple push button ignition, and creates a 110-foot radius of bug-defending bliss.
3. Rollors
Combining horseshoes, bocce, and bowling, this family-friendly game is equal parts luck, skill, and competitive fun. The "Rollors" — thick, wooden, discs — will help your kids embrace coordination, dexterity, and precise movement, while the overall feel of the game will give you one more thing to be the best at. Designed by Iraq and Afghanistan war veteran, Matt Butler, Rollors is great to bust out when you need a break from cornhole.
4. Rovr Rollr 60 Cooler
Why pay $400 for a cooler? Well, for starters, it's a pretty sweet cooler. The Rollr is huge, yet easy to maneuver, and it's spacious, yet sensible. The 45-quart capacity allows you to fit 40-60 cans, ten solid pounds of ice, and still have enough added nooks and crannies for everything from meats and breads to veggies and deserts. It's 100 percent bear-resistant, and can retain ice for up to eight days (depending on use), which makes it perfect for storing the pinkie finger you nicked off trying to twirl your kabob skewer.
5. Zing Hyperstrike
Choose one of the Hyperstrike's three distinct team color schemes (Falcon – orange, Shark – blue, Wolf – green) and send arrows screaming up to 250 feet away. The ammo is awesome, featuring a perfect balance of squishy and sturdy foam as well as a plastic whistle tip, to ensure that your kid's quiver — or the convenient rail-mounted arrow holders — deliver nothing but intimidating deadeye accuracy. Hawkeye who?
6. Glove-A-Bubbles
One hundred? One thousand? One million? How many bubbles can your kids make with the help of these adorable animal-themed mittens — and Fatherly Best Toys of 2018 Winner — that literally create bubbles with a wave of your hand? Simply dip them in the bubble solution, wave them around, and watch a steady stream of iridescent bubbles come billowing out. Each bubble solution bag is resealable, so you can save some fun for later, and you can collect the whole gang of creatures and critters. Available in packs of four.
7. Nerf Scatterblast Super Soaker
The Scatterblast's powerful pump-fire action and pentagonal nozzle arrangement lets you launch five streams of water from the 22-ounce reservoir toward targets all around the yard. A flip-up sight increases accuracy, while a 34-foot range means that no one stays dry during the next water war. Don't be fooled by the impressive credentials, either — this blaster is simple enough for the average 4-year-old, so watch your back on dry days.
8. BigMouth Inc Ginormous Pink Elephant Sprinkler
This is a six-foot tall, elephant-shaped yard sprinkler shaped that hooks up and hoses down with the simple twist of a knob. What else do you need? Kids can run over, under, and around the durable nylon body, or spend hours getting sprayed down by the twisted trunk as it shoots a steady, calming shower of water. Best part? You don't have to feed it 150 pounds of food and then clean up what comes out of the other end.
9. Tenalach Night & Day Bocce
Bocce ball used to be reserved for old Italian guys with armpit-length white pants. Not anymore. This glow-in-the-dark set features eight multi-colored, weather-resistant, regulation-sized balls that allow 2-4 players to set up court in the backyard and reminisce about the good old days. It's covered by a lifetime warranty, too, so it'll last for future generations of after-dark ballers.
10. Intex Surf 'N Slide Inflatable Play Center
Sick of "Baby Shark"? Meet its big brother. This 15-foot-long shark slide inflates in less than 10 minutes, and gives your little aquatic acrobats the perfect play surface to slide, slip and splash all afternoon. Two surf riders are included, and an additional hose-fitting primes the sliding surface for super speed so you can boogie board right out of the shark's mouth before it turns you into chum!
11. Tentsile Trillium 3-Person Hammock
Listen, chances are your kids are going to join you in the hammock, so why not cut them off at the pass and invest in this massive sleeper? This innovative triple hammock that supports up to 880 pounds. Anchor its three tensile ratchet straps to a heavy-duty industrial webbed canvas, and you've got a comfy 92-square foot triangle that's perfect for campsites, backyards, and anywhere else triple spooning used to be a chore.
12. Ooni 3 Portable Wood Pellet Pizza Oven
Bust out your best pizzaiolo impression with this impressive oven. In just 10 minutes, the Ooni 3 reaches a crust-charring temperature of 932°F. After 60 seconds of actual cook time, your perfect, wood-fired pizza is ready to eat. The patent-pending oven uses energy-dense wood pellets and features an insulated body that maintains all the heat you need for a consistent cooking temperature. In other words? It's so easy to operate, you'll have plenty of time to kick out the guy who asked for pineapple on his pie.
Buy Now $275
13. Urbanears Ralis
Consider the Ralis your ultimate summer sound system. The six-pound, lunchbox-looking portable speaker sounds great and can withstand everything from the occasional tumble down the deck stairs to a surprise dip in the kiddie pool, all while sustaining a 20-hour battery life and pumping out a total of 20-watts of neighbor-irritating bass. The speaker — which comes in three colors and, did we mention, will also charge your phone via its integrated USB port? — is an excellent all-around music maker.
14. Chippo
One night, golf and cornhole met in a seedy bar and bore this glorious lovechild which combines the technique of golf and the concept of cornhole. The set comes with two boards, chipping mats, and high-density foam practice balls — all you'll need to chip your way to round after round of fun with your backyard buds. It's perfect for noobs, expert handicappers, or anyone who's sick of impatient golfers giving them the stinkeye while they're stuck in a sand trap.
15. Pottery Barn Kids Jumbo Inflatable Bowling Set
Oh you wanted to go big this summer? Well, my friend, here you go. This PVC set features one giant bowling ball and six giant pins that would make Big Ern McCracken biff his 7-10 split. Each pin is roughly toddler height and the ball is 20-inches around. It's a Pottery Barn product, too, which means you can pick one up the next time you go shopping for placemats and $400 wine re-corkers.
16. Stomp Rocket Stunt Planes
Houston, we are go for launch! These 100 percent kid-powered stunt planes require nothing more than a good stomp to send it soaring. Each of the three planes in the set is designed with a specific purpose: Looper does loops; Glider glides up to 100 feet in the air; and Wildcat performs barrel rolls and cork screws. Adjust the angle of the included launcher, and watch them do tricks, confuse birds, and cause paranoid neighbors to call Area 51 in a panic. Sold in packs of three.
17. The Kermit Chair
Most folding chairs are a giant pain in the 'ole rump. Not really what you want from a seat. This oak, stainless steel, and nylon number is different. Named after a motorcyclist, not the Muppet, the chair is sturdy, supportive, and folds easily. No, it's not especially ideal to sling over your shoulder and walk a mile to a free spot on the beach. But in terms of backyard lounging? The waterproof chair makes the ideal seat for taking a load off. Isn't that what you rump deserves?
18. Curonian Memel Fire Pit
If you have the space for one, a fire pit is an incredible summer accessory. The uses are endless: Toast S'mores over it! Chat with friends around it! Drink scotch contemplatively near it! Oh yeah, and it keeps your guests warm — and outside — when the temperature dips so they don't track mud inside your kitchen. We dig this model from Curonian, the silver base and steel bowl of which make it look like something straight out of Ancient Greece.
19. Swin-Thru Family Inflatable Above Ground Pool
Traditionally, a backyard pool of a certain size is a big investment. But, these days, it doesn't have to be. This 260-gallon inflatable pool for kids six and older is sizable (10 feet long and six feet wide) and interesting enough to keep kids happy (it has two chambers separated by a swim — or walk — through bridge as well as two cushioned seats). Nice touch: the top of the border is white to resist heat and make sure kids don't burn their hands — and parents don't burn their asses.
20. Pit Barrel Cooker Co.
This veteran-made masterpiece lets you dangle juicy ribs over hot coals just like your ancestors. Unlike traditional grills, which cook food from a single, direct heat source, the Pit Barrel cooker uses a "hook-and-hang" approach that heats your meat from all sides at once to produce consistent, perfectly-cooked low and slow meals every time. It's simple and efficient. Doesn't every cow deserve such a noble fate?
21. Melissa and Doug Sunny Patch Spark Shark Toss
This fishy twist on the classic beach paddle game features two ravenous sharks looking for a snack. Luckily, it comes with two plastic balls that you and your little guppies can toss back and forth, so the kids can make "gulp" noises with each catch, and "barf" noises with each toss.
22. The Igloo Recool
A cheap, single-use cooler is a summer ally. Ditch the squeaky, grocery store foam version and instead upgrade to this eco-friendly option from Igloo. The world's first cooler made from biodegradable materials, the Recool is strong enough to hold 75-pounds of food and drinks, won't lose a corner if it receives some rough treatment, and can be reused all summer.
23. Yay Labs Softshell Ice Cream Ball
Kids are going to play ball so why not get some rewards from it? Filled with the proper ingredients, this thermo-sealed churns delicious ice cream as it's rolled back and forth. The cooled chamber spins, rolls, and cranks out your favorite flavors as your kids give it (and themselves) a workout. The ball itself is about nine inches in diameter, and can produce one pint of ice cream after 25 minutes of moderate play. It's the "hard work pays off" lesson kids need this summer.
24. Weber Jumbo Joe Charcoal Grill
Have a smaller backyard? Consider the Jumbo Joe kettle grill. It nails the essentials. Featuring an 18-inch, heavy-gauge steel charcoal grate, porcelain-enameled bowl and lid, handle with integrated heat shield, and an aluminum ash catcher, the only thing you need to do is figure out what kind of burgers you'll be using to level up your cookout game from "respected" to "legendary." The convenient lid-lock handle also ensures that you'll be able to extend your edible empire at a moment's notice.
25. Goodtimes Beginner Slackline
Slacklining is basically tight-roping parkour, combining acrobatic movements with balance and control. With this startup kit, you can set up a genuine slackline in less than 10 minutes, then spot your kids while they do their best to make the trampoline-style webbing bend to their rebounding will. The line itself is 48 feet long and two-feet wide, making it a perfect backyard mainstay, or an easily-portable party prop in the event that your BBQ is heavy on liquid courage.
26. BioLite Outdoor Smokeless Fire Pit
Go from spark-to-fire in less than 30 seconds, all to the chorus of "Oohs" and "Ahhs" inspired by this heavy-duty smokeless fire pit. That's right: smokeless. The magic lies in the airflow system features four fan speeds to control the intensity of your flames, which you can do via the unit's physical inputs, or thought the BioLite Energy App. You can also charge your devices via the hibachi-style pit's built-in power bank, the latter of which comes in handy for trying to snap pics of your first onion volcano attempt.
27. Kaos Splash Tank
This kid-friendly dunk tank combines games of skill, chance, and outright aquatic vengeance for a fun summer activity. Assemble the nearly 5-foot scaffold, then choose a brave soul to stand underneath the water bucket. Step back, and start tossing the included soft balls at the target. Once the target is hit, whoever is beneath the structure will get drenched thanks to physics, gravity, and the regret of volunteering to be the one standing underneath. The tower is completely portable, too, so you can totally take it to work and settle scores.
28. Star Lux Capture the Flag REDUX
For more than 90 years, Capture The Flag has been the ultimate example of teamwork, triumph, and the occasional aggressive tackle. This modern take features glowing LED lights, so that up to 20 players can scramble out after dark and try to out-maneuver each other en route to victory. Thanks to the 12+ hours of battery life, the entire neighborhood can get involved, hone their skills, and then challenge adjacent cities until your kingdom goes full Mad Max: Beyond Cul-de-Sac.
29. Watermelon Smash
Regale your kids with the legend of Gallagher as you enjoy this fast-paced family picnic game with a fruity twist. It's water roulette meets water…uh…melon, as players are beholden to the whims of a fragile watermelon that's filled with the wet stuff. Take turns holding the melon over your head, Hot-Potato style, while you wait for it to pop and soak you all silly.
30. REI Co-Op Cool Trail Pack
Soft coolers more your style? This insulated backpack-style model can effortlessly cool 20 cans of beer for hours. The leak-proof cooler can also be removed to reveal a fully-functional, traditional backpack which features external gear pockets, a nestled top pocket, and front lash straps that are ideal for securing blankets and camping chairs.
31. Discovery Kids Water Balloon Launcher
Why throw water balloons when you can fire 'em? With its stable wrist support for precision aim and quick-fill hose nozzle fitting, this tactical take on the classic water balloon toss is perfect for nailing unsuspecting sun-bathers — or watering the family rhododendrons. The kit includes 50 balloons, which is more than enough to make sure no one escapes unsaturated.
32. Freeze Cooling Beer Glasses
The perfect backyard drinking glass is the one that keeps your beer cold — and isn't glass. Why? Because true glasses fall and shatter and little pieces of it end up in your lawn, making you the paranoid dad who makes his kids wear sandals in the backyard just in case for the rest of the season. We like these simple, BPA-free, shatter-proof glasses, which also have a gel between the layers that freezes to keep your drink frosty — and your lawn shard-free. Set of two.
33. Ultimate Ears Blast Speaker
Prefer a portable speaker that brings the party tunes (and Peppa Pig audio), but don't want to have to bother with all that button pressing? Check out the Blast. The cylindrical speaker's omnidirectional design pushes out some serious — and seriously well-balanced — sound, is water- and dust-proof, and, best of all, comes with Amazon's Alexa so you can reap all the voice-controlled rewards.
34. BigMouth Inc Demogorgon Sprinkler
Big Mouth has made a name for itself by making enormous inflatable sprinklers (Giant Unicorns, Dinosaurs) that connect to hoses for summer fun. Their latest is an homage to the flower-faced creature from Stranger Things that's more than six feet all. While it might spook younger kids, the pop culture joy of the Demagorgon is reason alone to consider setting it up when the sun is out.
35. Ultimate Luma-Tongs with Grablight
Grilling is best done in the sunlight. But, of course, the best laid plans of meat and men get thrown off. When darkness descends, these long-reach tongs — which are sturdy and suitable for snatching hard-to-reach items — have a tiny halogen flashlight holstered to the side that highlights what's cooking — and ensure your rib-eyes are a perfect medium rare.
36. Fatboy Lamzac Inflatable Chair
Ever wanted to know what it feels like to sit on an cushy chalupa? Maybe that's just us. But, in any case, this awesome inflatable couch sets up in less than 30 seconds (you wave it around to fill its chambers with air and then roll it closed), and allows you to melt deep inside its cozy shell. Made of durable, abrasion-resistant nylon, it's perfect for outdoor siestas, or indoor cat naps, and its deflated weight is less than three pounds, making it easy to take anywhere you need to feel the love.
37. Alex Art Sidewalk Mandala Sweet Stuff
If you've got a sidewalk chalk perfectionist in your family, this outdoor stencil set is perfect for tracing and replicating intricate patterns and designs in seconds. Six jumbo chalk sticks are included, and the 22.5-inch fold-out guide will allow your budding artist to create chalk masterpieces that even the rain would feel bad washing away.
38. Step2 Dino Dig Sand & Water Table
Want your kid to experience the beach in your backyard the but without the whole stepping-on-a-shell tears? Look no further than this water table, which features separate areas for sand and water, neither of which contain hazardous beach treasures. Kids, can pour water into the top of the table's "volcano" and watch it gush down into the pool below, all while rescuing the included plastic dinos from another mass extinction — and learning valuable sensory play skills.
39. Berg Go2 Pedal kart for kids.
Watch your child scoot and pedal like a seasoned pro with this kiddie kart designed to teach young riders everything from spatial awareness to coordination. The structure of the saddle will prevent slipping, and the "silent whisper"* tires allow for a smooth, quiet ride without the possibility of going flat. The kart is also designed to prevent tipping, just in case your kid unhealthily looks up to Vin Diesel.
40. Power Wheels Batman Dune Racer
Kids can roll into Bat-battle with this radical racer that features a Monster Traction system capable of powering through backyard terrain. The sturdy steel frame, Power-Lock Brakes, and metal side bars will keep your little caped crusader safe as he or she dispatches justice at top speeds of up to 5 mph — which is probably faster than people will move to see Robert Pattinson as the new Batman.
41. Kan Jam Illuminate
Ever tried to play Kan Jam at a rave? If you're not being interrupted by tweakers with LED pacifiers, you're spending more time trying to spot the discs and goals than actually playing. Not anymore, thanks to this illuminated set that features two reflective translucent goals and an 11-inch glow disc. The goals light up. The disc lights up. In other words? Might be time to stop blaming your lack of disc-slinging skill on the setting sun.
42. The Looftlighter
What looks like a curling iron is actually a vacuum-powered charcoal starter allows you to blaze up a full pile of briquettes in about as much time as it takes Nicolas Cage to steal a car. (That's 60 seconds, folks) Producing a 1,100°F airstream that ignites briquettes and hardwood charcoal, wood and kindling for BBQs, grills, smokers, wood burning fireplaces, and fire pits. Simply put, it makes your food taste better. (But you can take all the credit for that. We won't tell.)
43. Tom Care Solar Lights
Floodlights are fine, but if you want a bit more subtle glow, try these waterproof Tiki torches. Completely solar powered, they store energy throughout the day and produce a flickering flame at night. No need to worry about installation either — the sharp bottom is easy to stab into any soil-filled pot or patch of earth. Sold in packs of two.
44. TP Link CPE510 High Power Outdoor Range Extender
Tired of not getting Wi-Fi in the yard? Install this range extender. Designed to remain fully functional in harsh environments, the CPE510's weatherproof design features an impenetrable enclosure and industrial level hardware that can withstand extreme sun, rain, snow or falling debris. Its user-friendly design makes it perfect for anyone looking to stay connected in the wild, with a 5GHz, 300Mbps connection speed.
45. Tusy Inflatable Movie Screen
This 14-foot inflatable backyard movie screen blows up to full size in less than two minutes, features a tough, durable frame, and is equipped for front and rear projection viewing. Translation: If you absolutely must watch Frozen for a 456th time, this is the way to do it.
46. Anker Nebula Capsule 2
Speaking of projectors, the Anker Nebula Capsule 2 is the perfect outdoor option, thanks to its remarkably bright clarity and contrast that produce vivid images up to 100 inches wide. It's also got a 360° speaker that pumps out sound in every direction, and can be seamlessly integrated to stream selected content from Netflix and YouTube. "Fail" videos have never looked this good.
47. Stanley Happy Hour Shaker
Whether you like your drinks shaken or stirred (or, let's be honest, don't know the difference), this rugged, stainless steel cocktail crafter is a durable accessory for summer drink slinging. The shaker also has four nesting, double-wall rock glasses to keep your drinks sweat free and a built-in juice reamer is ideal for adding twists to your concoctions, or telling the juice you're not mad, you're just disappointed.
48. Nature's Lights Outdoor Teepee for Kids
Give your kid's standard teepee — or sticks, blankets, and tarp — an electric makeover with these mini LED lights that are guaranteed never to overheat. The lights fit standard four and five-pole teepee tents, and turn what was once a creepy canvas cone into a cozy illuminated lodge that's perfect for backyard reading or teddy-clutching ghost stories. The batteries can hold a glow for up to 15 hours, which means the party only stops when the sun comes up. (Which is cool, though. We like the sun.)
49. Geosafari Jr. Bugnoculars
Get the kids up close and personal with your backyard's rightful residents thanks to these buggy binoculars that feature a clear, acrylic holding tank at the end of its 3x magnification eyepiece. You can see firsthand the cool characteristics of all the critters you catch – a perfect exercise in outdoor discovery, care and compassion, and bona fide STEM learning – before you release them safely back into the wild. Hey, is that ladybug giving us the finger?
50. BigMouth Inc Inflatable Strawberry Donut Kiddie Pool
Don't overthink it: This kiddie pool, which is a little more than five-feet wide, inflates quickly, is durable enough to last a few summer seasons, and looks like a snack Homer Simpson would drool over. Oh, and it's only $25. Mmmmmmm.
This article was originally published on