5 New Teardrop Trailers That Have Us Longing For the Open Road
Road trip season, here we come.
by Ian Centrone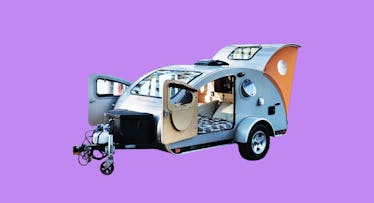 Is there anything the conjures up the platonic ideal of a family on the open road more than a slick tow-behind teardrop trailer? There's something inherently freeing about the idea of packing your bags for a long weekend or undetermined amount of time and setting off on an epic road trip across America that is defined by your instinct — not where the nearest Best Western is. Want to sleep under the stars? Set up at a national park? A tow-behind teardrop trailer is your ticket. And thanks to an ever-growing array of tricked-out, models the idea more comfortable than ever before. Just pack it with the essentials, hook it up your ride, and in no time you've got a portable home base that can follow you virtually anywhere.
Our favorite type of tow-behind is the teardrop trailer. They're light. They're streamlined. They're compact. And, damn, are they beautiful. Turns out the iconic model is making a big come back. With a diverse range of options on the market, you can find something to fit any size, style, and price point. So whether you're planning a quick weekend getaway or looking to take a long-haul trip, these models are sure to do the trick (or at least get the wheels turning).
The Mount Massive
Many people (incorrectly) assume that when they settle on purchasing on a teardrop-shaped trailer, they'll automatically have to sacrifice space. But Colorado Teardrops is here to dispel those ill-informed misconceptions. The Mount Massive is, well, massive. Great for families, the full cabin can house a queen-sized mattress, as well as a set of bunk beds that can convert into a sofa. The galley is also big enough to store a few YETI coolers, a slew of gear, and anything else you're planning to bring along. Weighing in at less than 1,500 pounds, it's tough enough for off-road adventures but can still access all of those National Parks on your bucket list.
The Vistabule Teardrop Trailer
Looking for a teardrop option that offers a polished aesthetic, compact design, and handcrafted details? If so, these small-but-mighty models might be the answer to your prayers. Introducing Vistabule. These made-to-order luxury trailers have been turning heads ever since Bert Taylor launched the company six years ago out of St. Paul, Minnesota. Striking the sweet spot between premium amenities and a reasonable price tag, the brand's popularity has skyrocketed recently. People can't seem to get enough of Vistabule's timeless style and thoughtful craftsmanship, which includes a spacious cabin, hatchback-accessible kitchenette, clever storage solutions, lightweight construction, and its signature oversized front-facing window.
The T.E. Lawrence Caravan
Inspired by the legendary figure T.E. Lawrence (better known as Lawrence of Arabia), each of Vintage Overland's hand-built caravans succeed at capturing that same adventurous spirit. Their largest model measures five feet by eight feet with a total height of six feet. Weighing in at just 900 pounds, the T.E. Lawrence can be towed by just about any vehicle, making the dream of exploring the open road a reality for anyone (not just those with keys to a Ford F-150). According to the brand's founder, Britton Purser, "It's not entirely about the vehicle that gets you there, it's about the journey and what the vehicle represents." Be sure to check out their smaller models as well: the Tuco ($12,500) and the Great Escape ($15,000).
The Hütte Hut
The aerodynamic Hütte Hut first hit the scene in 2015 to rave reviews. Celebrated for its simple yacht-inspired vibe, it's a design-lover's dream (albeit a nightmare for your wallet). With a sturdy aluminum space frame, its interior exudes warmth. The tow-behind is constructed from a combination of Joubert Okoume marine plywood, solid wood trusses, and Baltic Birch floors and fixtures. Its water-repellent cotton canvas canopy also allows a healthy dose of light to flow in, creating a cozy, sundrenched retreat. The company also offers an impressive range of optional add-ons, including expanded storage compartments, custom battery sizes, and various tire sizes to suit your specific needs.
The Limited Edition Polydrop Trailer
With its sharp angles, shiny aluminum facade, and dramatic geometric silhouette, the Polydrop Trailer looks straight out of an episode of The Twilight Zone or Black Mirror. But it's exactly the type of experimental and boundary-pushing prototype you might expect from Kyung-Hyun Lew, a well-studied architectural designer. With its spaceship-inspired exterior, it offers a whimsical riff on the traditional teardrop style we've come to know and love. Hailing from California, this limited edition personal pod is ultra lightweight (760 pounds) and just 12.4 feet long. Built-to-order, each trailer is teeming with practical features, such as an interior lighting system, gull-wing doors on either side, and a heater with its own thermostat for those chilly nights on the road.
This article was originally published on