The Case for Instant Cameras in the Age of Instagram
There's never been a better time to go old-school.
by Jon Gugala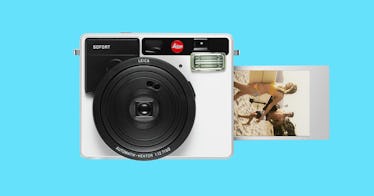 In this age of digital everything, a counterculture has sprung up around antiquated, tactile mediums. Nowhere is this more apparent than with photography. Even as everyone continues to do it for Instagram, there's something special about holding a photo in your hands, rather than seeing it on social media. That's why, despite the fact that our smartphones are never far away, instant-film cameras have become our go-to method of family photography.
We couldn't have picked a better time. Film is undergoing a renaissance, growing five percent year-over-year, and with this flush has come a crop of excellent Polaroid-like instant cameras. These instant camera models are exceedingly similar to the instant cameras of yore (they use similar film, have a fat flash, and feature more or less the same form factor) except they have a few tech upgrades that make snapping and printing a bit easier. They're great for family photos and are a blast to bust out at other events, too.
Below, you'll find our favorite of the new crop of instant cameras, as well as few instant-photo printer options, the latter of which allow you to print actual polaroids of the digital photos on your phone. Either way, they'll bring a bit of fun and realness to your family's world ensure your likes can come from both your social media followers and anyone who sees your fridge.
Polaroid Originals OneStep 2
An instant film camera is only called an instant film camera by photophiles. The rest of us call it a Polaroid, after the company that became synonymous with the film type. After a years-long hiatus, the re-launched company is back with the OneStep 2. Modernizing its classic camera, the USB 3-charged body comes with a multi-setting flash and updated viewing system. But its ease-of-use is the same as it ever was, with a one-button push to expose film. After, the traditional Polaroid ejection takes over. Take note that unlike the old film (as represented in a certain OutKast song), you no longer have to shake your soon-to-be images.
Leica Sofort
Just like regular film cameras, there are instant film cameras, and then there are Leicas. The Sofort continues the German company's legacy, introducing the most technical camera in the space. Sure, you can point and shoot like with others on this list with a fully automatic setting, but there are also a host of other program modes, from a timer for group shots, action, close-up macro, and more. With its legendary name and classic good looks, you'll pay a premium. But like Harleys and Airstreams, that's what we've come to expect with a Leica.
Sunprint
Once popular in elementary school science classes, the only things Sunprint needs to make its two-tone images are sun and water. Simply expose one of its sheets to direct sunlight with some kind of object in between, and after a quick rinse, an image appears. Sure, the prints aren't nearly as detailed as others on this list, and portraiture is out of the question (except for silhouettes). But after buying a few instant film refills, you're realize that the Sunprint kit makes an affordable Plan B.
Kodak Printomatic
While all of the above cameras use some kind of light-sensitive paper, the Kodak Printomatic isn't just rehashing old tech. Its sensor captures 10-megapixel images and then inks its image inside the body on tear- and smudge-resistant sheets. Those prints even have an adhesive back, meaning no magnet required when you get home. Bonus: Since the Printomatic uses ink rather than film, you can select to shoot in black and white or color image by image instead of switching at the end of an insert.
Lomomography Lomo'Instant
Lomography has had its finger in the dyke of the dying film industry for years, and its isolation has made it a good kind of weird. Take the Lomo'Instant, which has four interchangeable lenses and a full manual mode, allowing for a creative control not seen in instant film for decades and nowhere else in the current market. (For those attracted to its vintage aesthetic, rest assured there's also a full auto mode.) If you're the type of guy who held onto his notes from a high school black-and-white course, this is your instant film camera.
Fujifilm Instax SP-3 Mobile Printer
Let's face it: With all the other things that fathers have to bring with them, remembering a camera is just one more detail to forget. That's where the Instax SP-3 comes in. Printing right from your phone, its square images (2.4 inches) are tailor-made for those already composing within an Instagram box. Once you're connected, uploaded images are churned out every 13 seconds. Fujifilm also included a bunch of other features, including photo editing, filters, templates, and a sharing app, but we found these mostly redundant to those offered on Instagram. Still, a great buy for those who prefer their smartphone.
HP Sprocket Photo Printer
While the Sprocket's performance is similar to that of Fujifilm's SP-3, it made our list because of its lack of affectation. While the SP-3 really wants you to think that its prints are from an instant camera through the chunky white borders, the Sprocket whirrs out edge-to-edge images in vibrant color. The resulting product is appealing because of the image itself, and not because of a faux vintage look.