5 Great Tequilas That Will Elevate Any Home Bar
There's never been a better time to be a tequila drinker. Here are five bottles to add to your radar.
by Ian Centrone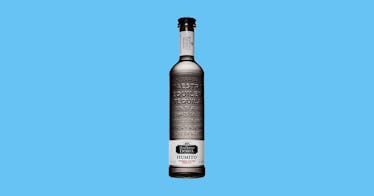 Let's face it — tequila doesn't always get the best rap. Of course, there are plenty of people who can appreciate the classic Mexican spirit. But for many, just hearing the word is enough to send shivers down their spines. The good news is there's a whole world of premium tequilas that are delicious enough to almost make you completely forget about the crap you used to shoot back in the college days.
From traditional varieties like reposado and añejo, to emerging categories like cristalino, it's safe to say we're in the golden age of tequila. So wave goodbye to the cheap stuff and clear a spot on your top shelf, because these five bottles deserve a place on any home bar.
Volcán De Mi Tierra
Last year, the Moët Hennessy Group launched their first-ever tequila brand, much to the delight of tequila-lovers around the world. And their cristalino expression has been making waves ever since. To create its one-of-a-kind, creamy taste, the spirit spends months aging in oak barrels to impart a distinct range of flavors, like vanilla and caramel with subtle chocolate undertones. Everything from harvesting and roasting the piñas to bottling and labeling takes place at their state-of-the-art facility in Jalisco, Mexico (a region known for their high-quality blue agave). While it makes for a great addition in classic cocktails like the iconic margarita, this one is best served neat or over light ice.
Tapatio Excelencia Gran Reserva
This small-batch spirit is considered so special that it was originally reserved solely for the family and friends of Don Felipe and Carlos Camarena—the family behind the Tapatio brand. It's been called ones of the best sipping tequilas on the market, and after one taste, it isn't hard to understand why. Each batch is distilled for nearly 13 years before being aged an additional four years in heavily charred American oak, lending a complex palate of earthy notes like brown sugar and orchard fruits with a long, peppery finish. Instead of pairing this one with some salt and a slice a lime, you'll want to make sure to savor every drop (especially at its splurge-worthy price point).
Código 1530 Rosa
If you're in search of a bold tequila that not only tastes incredible but is also a great conversation starter, look no further than Código 1530 Rosa. The specialty variation begins as a blanco before resting for one month in Cabernet French oak barrels from Napa Valley, which infuses its signature pink hue. This extra step also enriches the natural agave flavor, but doesn't compromise its faint floral notes. Of course, it's impressive on its own, but try mixing it into your favorite tequila-based cocktails for a surprising twist. Its smooth, fruity flavor is sure to transport you back to summer days during the colder months ahead. Besides, who said men can't enjoy a pink cocktail every now and again?
Maestro Dobel Humito
Maestro Doble has long been a favorite name in the world of tequila. Although they first introduced their Diamante label about a decade ago, they recently shook up the space when they launched Dobel Humito—the world's first smoked silver tequila. In fact, the name humito literally translates to "little smoke" in Spanish. Up until that point, imbibers had to turn to a trusted mescal to find those rich, smoky flavors. Maestro Doble distillers use mesquite wood during the agave cooking process to achieve its surprising flavor. In addition to the smokiness, expect a balanced combination of notes like sweet citrus and rich herbs.
Cimarrón Reposado
For an approachable tequila that you can find at a reasonable price, be sure to pick up a bottle of Cimarrón Reposado the next time you're at the local liquor store. Mellow and easygoing, this selection is aged for three to six months in American white oak barrels. The enjoyable blend is distilled from 100 percent estate-grown blue weber agave that comes from Mexico's Los Altos region. At the end of the day, it's a great value for those just dipping their toes into the tequila category. Plus, it's perfect for the autumn months, thanks to its robust, candied flavors, including orange peel, cloves, and a soothing cinnamon finish. Pro tip: it's especially nice when mixed into a hot toddy.
This article was originally published on