5 Excellent Rye Whiskeys For Under $30
Bourbon's spicier cousin is having a moment.
by Nicholas McClelland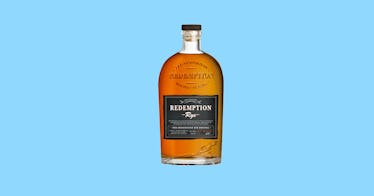 It seems like every time we visit the liquor store, there's a new rye whiskey on the shelf from some new upstart label or the more venerable brands. As It turns out, what we have been noticing on a micro-level at our local shop isn't a fluke: Rye production has spiked more than 900 percent from 2009 to 2017, according to the Distilled Spirits Council. That's good news, as bourbon's spicier brother deserves its time in the spotlight. It makes a great sipper and an excellent substitute for its big sibling in cocktails. (If you haven't had a rye julep, don't wait till the first Saturday in May.) Another great thing about rye, is that many of the new offerings and the older bottlings are quite affordable, so you don't have to empty your wallet to find a quality whiskey. Here are five solid bottles of rye whiskey under $30 for your bar.
Old Forester Rye
We got our first taste of the new Old Forester Rye just before the new year and were instantly smitten. It's a wonderfully flavorful whiskey with peppery spice for days, notes of vanilla, buttered rye toast and a hint of molasses. At $26, it's an outstanding value, whether you're sipping or mixing drinks.
Redemption Rye
At a whopping 95 percent of rye mashbill, Redemption Rye is dynamite in cocktails. Orange peel, cinnamon and pepper notes work off a vanilla sweetness for a nice balance. We like it best in a Manhattan.
High West Double Rye
Last year, one of our favorite American-made whiskey brands, High West, finally started incorporating their own spirit from their new Park City distillery into the latest release of their Double Rye. It's a spice-forward whiskey with notes of honey, mint, and cinnamon. It's love at first sip.
George Dickel Rye
A maple-charcoal filter gives the George Dickel Rye a sweeter more mellow profile. Caramel, cherry, tobacco, chocolate, and baking spice notes make for a flavorful dram and a worthwhile addition to any bar.
Old Overholt Bonded Rye
As it bears a "bottled-in-bond" designation, this Old Overholt rye is 100 proof and as a result is more flavorful than the original. It also delivers a nice rye spice that won't overwhelm your palate, so it's great for whiskey fans who prefer a less intense dram. A glass can stand on its own with a touch of ice, while a few jiggers form the base of an excellent old fashioned.
This article was originally published on