Disney Releases Rad 40th Anniversary Luke and Han Stormtrooper Set
Just looking at it makes us want to stage imaginary battles against trash compactor Dianogas.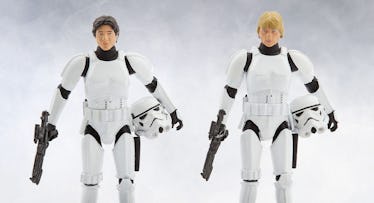 It's been 40 years since the opening crawl of A New Hope appeared on the big screen, inviting viewers into a galaxy far, far away. To honor four decades of Death Stars and lightsabers, Midi-chlorians and Mos Eisley Cantinas, Disney released a batch of new Star Wars collectible toys. Ranging from limited, anniversary lithograph sets to large-scale resin statues, the 40th Anniversary Collectibles should satisfy a wide range of fans. The best of the bunch, however, is the Han and Luke Stormtrooper set. Just looking at it makes us want to ditch work, dump out the waste basket, and stage an imaginary battle against a trash-compactor Dianoga.
RELATED: Best 'Star Wars' Toys of All Time, Ranked
Officially known as the Han Solo and Luke Skywalker Elite Series Die Cast Action Figures, the fully articulated figures stand six-inches tall. The detail of the Storm Trooper is on point, and the helmets are removable so you can give Luke and Han a minute to breathe. Each Star Wars collectible set includes the figures, two blasters, and a pair of standing bases. Whether reenacting the "rescue" of Leia or simply positioned on your desk to remind you there's a galaxy far, far away from bosses and paperwork, the set offers a nice dose of Star Wars nostalgia.
This article was originally published on