The 4moms 'Smart' Car Seat Installs Itself So You Don't Screw It Up
No trip to the fire department necessary.
by Dave Baldwin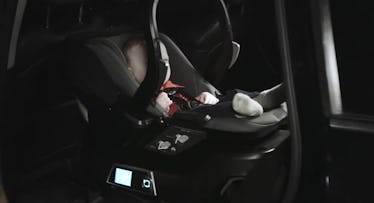 If it's true that the best way to ensure your car seat is installed correctly is to let the local fire department do it (and it is — except when it's not — so check this resource to find one near you), then this self-installing car seat from 4moms is like having a firefighter ride shotgun with your baby every day. Minus the awkward conversation about whether or not you've replaced the batteries in all your smoke alarms. Not only does it level and tension itself every time you drop in the carrier, it uses 20 sensors to continuously monitor the infant car seat's position as you drive.
RELATED: The Best Baby and Toddler Car Seats
Before the 4moms can do its thing, though, you do have to download the smartphone app (note: it can be installed manually if somehow you bought a smart seat but still use a flip phone) and follow a few simple steps. First, scan the car's VIN number with your phone camera so it can tell you the safest place to position the base (it has info on all cars). Second, lay your phone on the floor so it can measure the angle at which the vehicle is parked. Third, put the pool noodle back in the trunk; you'll need it next time you go swimming. Fourth, attach the latch belts to the anchors on the seat, and you're done. From there, robots and wizard science — powered by 8 D cell batteries that reportedly will last until your kid moves into another car seat — take over and tighten/adjust accordingly.
Even cooler, the car seat sends you reminders to "adjust the harness and headrest based on your child's height, weight, and projected growth," as well as alerts you via the app anytime you leave the vehicle with your kid (or at least the seat) still in it. So, really, the question is: Do you think you car seat gets out of whack enough on a daily basis to drop $500 on something most people install just once? Also, how much is your baby's life … kidding! This is totally a guilt-free space.
As for the actual carrier, it's tricked out in gray or black with all the accouterment you'd expect in a high-end seat: side-impact protection and an 8-position adjustable headrest, newborn inserts, and a full canopy and pop-out privacy shade. It's designed for kids who weigh 4-to-30 pounds (and are shorter than 32 inches) and is fully compatible with your other favorite 4mom products like the Baby Jogger and Moxi stroller.
This article was originally published on