5 Great New Coffee Machines For Every Type of Coffee Drinker
Whether you're drinking drip, French press, pour-over, or even instant, we've got your path to a better cup.
by Jon Gugala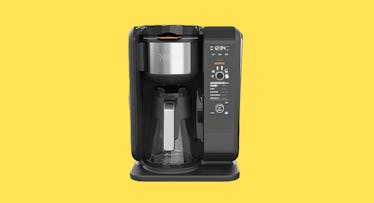 Coffee is like toothpaste: You take it for granted, but go without for a day or two and people will start to notice. And each of us is a coffee snob in our own way, and we need coffee machines and coffee makers that make our java exactly how we want it. Or else the day is, well, a grind.
Whatever way you prefer your ground beans brewed, however, odds are there's a better way to do it: Automatic machines have never been better. Neither have French presses or, when things get desperate, instant coffees. Tech has tricked down from high-end machines to create barista-quality brew in your kitchen. As such, here are our favorite new coffee machines.
Best pour-over coffee maker
This pour-over coffee maker has an integrated auto-measure scale that automatically calculates the right amount of coffee and water you need. And the good-looking gooseneck kettle heats up to the right temperature. Really, all you need to do is be ready to drink damn good coffee.
Best cold brew coffee maker
The Ninja coffee maker lets you brew multiple brew sizes, from a cup to a carafe. You can whip up hot or cold coffee. Or iced tea. It even has a built-in frother that works with hot or cold milk.
Best portable coffee maker
So you need your Joe on the go. We get it. This portable coffee maker is stupidly easy to use. You fill the basket with ground coffee, tightly screw the outlet head tot he main body, add boiling water to the tank, and start pumping. And enjoy.
Best drip coffee maker for everyday use
Five brewing modes, including Gold, Fast, Strong, Iced, and Cold Brew, fills its massive 60-ounce carafe, while a six mode allows for user customization of bloom time, flow rate, and brewing temp. A separate adapter even allows for pour-over.
Best French press coffee maker
And unlike your current model, its double vacuum-insulated stainless walls won't shatter after an errant drop. Bonus: You can even brew tea in it.
Every product on Fatherly is independently selected by our editors, writers, and experts. If you click a link on our site and buy something, we may earn an affiliate commission.
This article was originally published on