The Best Stocking Stuffers of All Time
After all, the best things come in small packages.
by Fatherly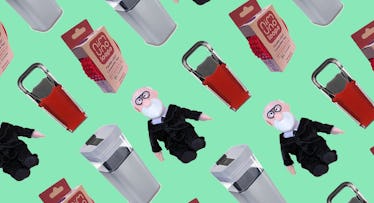 With Christmas right around the corner, it's time to roast those chestnuts, light up that tree, and stuff those stockings. Massive, oversized gifts and presents are great, but there's something particularly special about fun, bite-sized, and (most importantly) stocking stuffers tucked inside goofy socks.
RELATED: Fatherly's Holiday Gift Guide to the Best Action Figures and Dolls
If you haven't picked out your 2017 stocking stuffers yet, check out Fatherly's list of stocking stuffer ideas for the best tiny surprises you can find.
Funko Mystery Minis: Star Wars Classic
Funko's menagerie of adorable, tiny bobble-heads features classic Star Wars characters from the original trilogy, including Han Solo, Luke Skywalker, and Princess Leia, to Darth Vader, Jawas, and Tarkin, which make the perfect stocking stuffer. Each order is a random, blind box, so it's a mystery what character's waiting inside.
Wham-O Original Super Ball Novelty
Wham-O's Original Super Ball Novelty is the best bouncy ball out there, period. The Super Ball can bounce up to 75 feet in the air (with enough force, of course). Just try not to lose control of it as it goes flying.
Sigmund Freud Little Thinker
The answer is always something to do with your relationship with your mother with this surprisingly-adorable doll of Sigmund Freud. Standing at about 11 inches tall and complete with his own suit, tie, and eyeglasses, Sigmund Freud Little Thinker is the perfect non-judgmental expert to turn to if you have to get something Oedipal off your chest.
Original Metal Slinky
The Slinky is an all-American invention, first manufactured in Pennsylvania in the early 1940s. Today, the classic spring toy is still produced in the United States, and hasn't lost a bit of its simple charm. MoMa's slinky was produced special for a fancy design exhibit entitled Century of the Child: Growing by Design, 1900-2000.
Multi-Flavor HoneyStix
HoneyStix multi-favor package offers Lemon, Lime, Cinnamon, and Mint-flavored sticks. They're gluten-free, Kosher-certified, and one package comes with 100 sticks in each bag. That's a lot of honey, so if you don't go through them all over the holiday season, there'll be plenty left over.
Thumb Chucks
Thumb Chucks may not turn out to be the next big craze, but they sure are cool. These portable, lightweight balls come in mix-and-matchable colors, along with detachable LED pulse lights. With some practice, the skill toy lets you perform a variety of impressive trick combos.
Cut It Mower Pin
This adorable pin is perfect for whoever the lawn-mowing enthusiast is in your family. The black nickel, plated brass pin features a lawnmower that can move from side to side across the grass, and its rubber pin clutch makes it easy to attach to most thin surfaces.
ToyDriver
Battery covers on toys are a pain to get off. Enter the ToyDriver, a small, battery-operated screwdriver specifically for annoying screws on toy battery covers. ToyDriver includes one Phillips and one slotted (flathead) screw bit, which can be stored in a compartment in the base.
Minecraft Hot Wheels
Like the quintessential Miley Cyrus song says, it's the best of both worlds. Minecraft meets Hot Wheels in this video-game-race-car mashup. The 1:64 scale vehicle is a Minecraft car brought to life, and it's fully race-able on other Hotwheels tracks.
Nimuno Loops LEGO Compatible Adhesive Tape
Nimuno Loops 'LEGO Tape' lets LEGOs twist, turn, and stick to just about anything, taking block creations to new angles. The flexible rolls of brick-compatible strips are 6.5-feet long and come in one of 3 colors: red, blue, and green. Plus, they also work with Mega, Kreo, and other standard brick toys. It makes a great stocking stuffer.
Southord Lockpicking Set
Hopefully, you don't have to pick a lock any time soon, and if you do, hopefully what you're up to is legal. But, if the occasion arises, the Southord Lockpicking Set provides a helpful kit for beginners. The five-piece set is capable of opening virtually all pin tumbler locks, and comes with an introductory instruction manual and snazzy leather case.
Nice Laundry Men's Socks
Nice Laundry Men's Socks lets you create customizable boxes of trendy patterned socks, offering dozens of designs for countless combinations. Purchase one pair and get a free holiday bonus pair that will arrive with your order. Small boxes offer six socks, while medium and large boxes offer 12 and 18 socks, respectively.
Mechanix Wear Tactical Glove
Whether you're scrambling rocks, warming your hands from the cold, or going on a super-secret special ops mission, Mechanix Wear Tactical Gloves are a comfortable fit that offer extreme dexterity without compromising their durability. They're also machine-washable.
Anker PowerCore+ mini
Everyone's phone runs out of battery at some point. Anker's PowerCore+ mini is a lipstick-shaped backup for those tough moments. The portable charger features a 1 amp and Micro USB port, and can provide over one full charge to an iPhone.
Kafe In A Box
It's a portable coffee mug in the shape of a cube! But other than its quirky shape, it's also a really durable, long-lasting, and convenient stucking stuffer of a coffee mug. Kafe in a Box is BPA/BPS and Phthalte-free, and fits inside car cup holders and under most coffee makers.
Germ Minis
Gross but educational! These tiny critters from GIANTmicrobes are adorable takes on the infectious germs behind the common cold, flu, sore throats, and stomach aches. Each pack contains all four, polyester microbes to educate kids on the importance of washing their hands. Or just to revel in how damn cute they are.
ThermoPop Meat Thermometer
Stop sweating your next barbecue (unless you're leaning right over the grill) and make perfectly-prepared meat with the ThermoPop Meat Thermometer. ThermoPop provides an accurate temperature in seconds, has a 5,000-hour battery life, and comes in one of nine colors.
Lightning Nomad Key Charger
Charging cables are all-too-easy to leave somewhere right before you need them most. Lightning Nomad Key Charger is a miniature connector that runs from any USB port to your lightning-compatible iPhone. It's flexible, scratch-resistant, and is only about the size of a key — in other words, the ideal stocking stuffer.
Gerber Suspension Multitool
The multi-tool that gives a new definition to "multi." Gerber's gizmo packs 12 tools in one, including needle-nose pliers, a serrated-edge knife, a crosspoint screwdriver, and a saw. The Suspension comes ready for any scenario, and packs all of its hardcore goodness into a petite, 6-inch butterfly-design.
Tile GPS Tracker
Tile Slim is the perfect fix for the frustrating but inevitable times you lose your wallet or keys. The slim GPS tracker is an incredibly easy way to track down any lost items. It's thin enough to slide into a wallet, and small enough to hang off a keyring. Tile's accompanying smartphone app can even make it ring when it's nearby.
Fingerlings
The charming robot monkeys that latch on to kids' fingers have become 2017's biggest toy craze. WowWee's Fingerlings are so popular that they often sell out online in seconds, but don't let the competition dissuade you — these stocking stuffers are probably worth it.
DC Nano Metal Figs
Each extremely detailed Nano Metalfigs figure only stands about 1 2/3-inches tall, small enough to fit in your pocket. Made of 100 percent die-cast metal, the DC Comics set comes five figurines from Justice League: Wonder Woman, Cyborg, The Flash, Parademon, and, of course, Batman.
Bourbon Marshmallows
No disrespect to regular ol' marshmallows, but a boozy update is much-appreciated. Wondermade has infused these delicious marshmallows with even-more-delicious Kentucky bourbon for a tipsy treat. Each pack comes with 16 bourbon marshmallows.
Small S'mores Kits
All the fun of campfire s'mores making, but miniaturized down to a third of a size. That also means a third of the cleanup or post-Christmas guilt. Small S'mores come complete with tiny marshmallows, chocolate chunks, and mini-graham crackers, plus toothpicks to keep the whole delicious mess together.
Mountain America Beef Jerky
Candy gets all the love during the holiday season, but jerky arguably deserves more Christmas recognition, especially Mountain America Beef Jerky. The all-natural product is 100 percent handmade, and is smoked with zero MSG, nitrates, or other fillers.
Hermetic Beer Bottle Re-sealer
The perfect stocking stuffer for those dads who don't have time to finish an entire beer. This Hermetic Beer Bottle Re-sealer pops the top off beer bottles and then glides over to form a tight seal. It works with most beer and soda bottles so you can always save something for later without it going flat.
A Wad of Scratch-Off Lottery Tickets
What better stocking stuffer is there than gifting someone the opportunity to win the whole damn pot? Grab some scratch-off lottery tickets at your nearest gas station or bodega and watch the hope in someone's eyes fade as they go through ticket after ticket with no wins.
Classic Record Coasters
These retro coasters are cut from the center of actual vinyl records, plus they're sealed so moisture won't seep through to the surface. Classic Record Coasters are hand-made in Philadelphia, and come in a set of six, randomized records.
Dog Lover Soap
Dog Lover Soap is shaped like your favorite breed of pooch, and it's perfectly safe to use either on your canine companion or yourself. Each bar is paraben, sulfate Free, and phthalate free, and you can choose from handcrafted bars in the form of a Westie, Pug, or Scottie.
Sephora Face Mask
Dry winters can be a nightmare for skincare. Sephora has you covered with a line of natural lyocell fiber masks, each with specific skin care benefits. The pack comes with eight masks, including an avocado, green tea, pomegranate, algae, orchid, lotus, pearl, and rose mask.
Champagne Gummy Bears
These ain't your average Gummy Bears. Made with Dom Pérignon Vintage Champagne, Champagne Gummy Bears are a boozy remix of a childhood sweet treat. While they're (sadly) non-alcoholic, they pack some serious champagne flavor and come in a variety of sizes.
Superlong iPhone Cord
Sure, your regular ol' charing cord is nice, but can it extend 10 feet? Thought not. Thgis 10-foot-long, braided lightning charging cable is perfect for that pesky outlet that's just a little too far away from where you need to charge your iPhone. Plus, the pack comes with two of them.
This article was originally published on