The 2023 Hyundai Santa Fe Checks All The Boxes
If affordable, roomy, safe, gas-sipping family cars are your goal, Hyundai's got your number.
by Michael Frank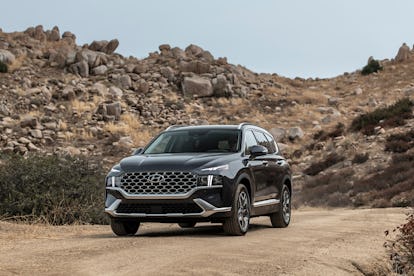 If you're in the market for a family crossover — or practically any car — you've noticed a displeasing trend, which is that stickers are inflating. Like the cost of a four-year degree or, oh, groceries, cars are now seeming like extravagances. So we're always on the hunt for "easter eggs" where within any model line we find the most reasonable dollar-to-reward ratio.
And we've found one: The 2023 Hyundai Santa Fe is roomy, safe, and affordably gas-sipping, if you do a little number crunching and choose the hybrid. Yes, its price tag is higher than the two gas engines and nearly up there with the plug-in hybrid, but we penciled out how all this adds up for you to make sense of the math.
First, yes, you can get in the door at only $29,785 for the lower-muscle gas model with FWD. (All gas models have a simple formula where $1,700 adds AWD.) Pay more for the SEL at $33,485 and $35,285 for the XRT, trim levels that start to look more on par with near-luxury makes, and if you really want to spend, then jump from the standard 191hp to 281hp motor and go for a Limited FWD at $41,635, and the Calligraphy model with its panoramic glass roof and ouch-worthy $43,635. But we would suggest skipping all of these.
Here's why: The fuel economy from the gas cars is mediocre, and if you stick with the base model SE you're stinted on some amenities you'll want, and stiffed by merely 26 mpg combined, (25 city and 28 highway). The more powerful version does worse, netting 25 mpg combined, 22 city and 28 highway. Turn over the ledger, however, and there's the whole hybrid side of Santa Fe goodness.
To get in the door there the base edition is called Blue and while this version costs about $7,500 more than the SE, it comes crammed with excellent features, some of which we'll enumerate below, has standard AWD, 226 combined horsepower, and still yields 36 mpg city and 31 highway. Now we're talking!
You might be thinking "Why not get the hybrid that plugs in?" Good question, but the answer is that it's expensive. Hyundai sells it in two trims, SEL Convenience ($41,295) and Limited ($47,305), meaning the SEL runs about $4,000 more than the Blue, but actually returns slightly worse combined fuel economy. It can run 30 miles on EV-only mode, and it's possible if your commutes are short you'd basically be getting an "EV lite," where most of your travel would be measured in kWh not MPG, but depending on your budget it's probably not worth the extra cash.
For your dollar's worth, the conventional hybrid AWD Blue at $37,245 is where it's at. Now here's why this family car is such a great deal compared to, well, any comparable vehicle.
The Best Reason to Get the Hyundai Santa Fe Blue Hybrid
It's roomy, but numero uno has to be safety as well as a brace of standard safety tech. First, there's the passive side, meaning that in a crash the Hyundai Santa Fe received a top five-star rating from the National Highway and Traffic Safety Administration and is also an IIHS Top Safety Pick+, which is that non-profit's highest grade.
Hyundai also safeguards pedestrians, with standard detection for anyone on foot or bicycle with emergency braking in these instances, and they have blind spot detection, too, to prevent merging into an adjacent, occupied lane. Because you also want to be prevented from backing out of a space in a parking lot and into another car, there's also rear cross-traffic alert. And Hyundai is among a few brands that have a safe exit feature for the rear passenger doors that prevents your kid from hopping out of the car if the side mirror cameras detect a car or bike approaching that could sideswipe the Santa Fe's perimeter. Hyundai also includes standard LED headlights with an auto-dimming of the brights.
View from the Backseat
Most drivers will appreciate the functional nature of what Hyundai offers, and especially parents will dig that Hyundai includes buttons and knobs for controlling the climate and audio functions. Carmakers that embed all features in touchscreens are forcing us to battle menus, and unless every function can be accessed via voice (spoiler alert; not yet), then we will remain pro physical switches, to reduce driver distraction.
Beyond that, though, if you're seated in the second row you're not going to be penalized, even if you're a lanky teen. That's because you're getting top rear seat legroom at 40.8 inches for the Hybrid Blue, besting Toyota's less outstanding 37.8 inches. There's something else, too: Rear seats are also very comfortable, and there's reasonable standard hip room back there as well. What's missing? Well, you have to pay a very high premium to get the panoramic glass roof, a perk we'd say isn't worth the $5,000 surcharge.
Still, there are dual USBs back there, for simultaneous device charging. Plus outboard passengers get deep on-door bottle holders, the better to hold toys, devices, wet wipes, sippy cups… You get the picture.
A Stable and Comfortable Driver
The reason the Santa Fe Hybrid makes a ton of sense comes down to performance without seriously dinging fuel economy — unlike the more powerful gas model. You get 195 lb. ft. of torque right out of the gate from the electric motor, putting less strain on the turbocharged gas engine. This matters: Gas engines are least efficient from 0-30 mph, so leaning on the electric side as the car gets moving and feeding back gas power while the Santa Fe's already at speed offers the most efficiency. Note that the Santa Fe Hybrid's system is calibrated this way regardless; you do nothing but drive.
And while it's not sporty the Santa Fe's feel is very predictable rather than sofa-soft, with very linear steering feedback. No wandering; no wallowing if you're driving around tighter corners. A lot of crossovers out there can feel a little wobbly on their four feet, but "poise" is the best word for describing the Santa Fe.
Most of all we found the miles melting away while driving the Santa Fe, whether chasing errands or running up the Interstate for a few extended family visits. Cars that make driving easier like the Santa Fe get a hat tip from Fatherly, because lots of the time getting across town can be stressful and we dig any vehicle that makes it less so.
Pitfalls
The gearbox that comes with the Blue Hybrid is a six-speed, and while it shifts smoothly enough you have to wonder if the Santa Fe would be yet more fuel efficient with more gears, since a bunch of rivals now have either eight-speeds or more or CVTs that are simply more thrifty because more step changes in the ladder as you're getting up to speed burns less gas.
More? Yes, we do think the plug-in hybrid should be more efficient. Toyota manages 42 miles of electric-only range as well as 40 mpg city, 36 highway and 38 combined—15% better than Hyundai's PHEV. And since plug-in hybrids can qualify for both state and federal tax credits, it would be great if the Santa Fe PHEV made the math on paying $4k more than the Hybrid Blue worth the up-front sticker difference. In some states, like California, where there are generous tax breaks, you should definitely work with your dealer to see if it might, but this is very case by case.
Still, we find the Blue Hybrid an excellent value, however impatient we are for yet better fuel economy.