The 2023 Acura Integra Is One Versatile (And Fun) Family Car
A practical, relatively ecological sports car that won't break the bank? You're looking at it.
by Michael Frank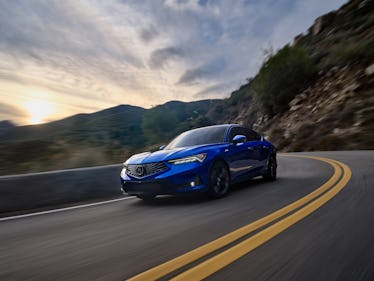 Courtesy of Acura
If your parents were hip to nice new Japanese cars in the '80s, you may remember that Acura is a spin-off of Honda, a mid-'80s attempt to push the more proletarian carmaker into the luxury space. It worked, especially with the three-row MDX crossover, which became a go-to family hauler for generations. Then there was the small, hot two-seater Integra of the 1980s to early 2000s, with its high-revving engine and a ton of personality. A solid ride, but it was never a family car.
The 2023 Acura Integra, however, is more likely to be a car a parent of young kids would want. This four-door hatchback is at once super pragmatic, with genuine rear legroom and the versatility of that larger stowage area; refined, with all the right amenities; and also fun, with an addictively sporty suspension. If you're in the market for a versatile road tripping mobile, you'll want to make sure the 2023 Integra is on your list.
The Best Reasons To Get An Acura Integra
High up on the list of perks for the Integra is that you can get a manual six-speed. Good luck finding that in too many family cars. The short throws let you softly and deftly snap through this transmission channel changer, and in an age when manuals are dying, Acura's showcases the apex of what's possible. On top of that, it adds a rev-matching option for downshifts, where the engine spools up to make up for your lack of perfect heel-toe skillset, which in turn greases a snickity-clickety third-to-second transfer.
The Integra shares its chassis with the very good Honda Civic Si, but sharing doesn't mean this is a carbon copy. The Integra is actually almost 8 inches longer and a little wider than the Civic, which really benefits in roominess. The width lends stability, too, which we enjoyed on our test drives through the Berkshires of western Massachusetts that have some excellent, twisty roads.
Finally, the Integra comes with a killer sound system and, even more exciting, adaptive suspension with four settings, from pliant to sporty, and with a customizable personal mode, where you could have the sportiest steering feel but maybe you only prefer midrange suspension stiffness. Naturally, the most fun version is the $36,300 A-Spec model, while the entry starts at $31,300.
View From The Backseat
We suggest the A-Spec upgrade for its better suspension and amazing gearbox primarily, but the top-of-line interior also comes with a few crucial perks. In what Acura calls a technology package, you'll get ultrasuede front seating surfaces that are nicely grippy and leatherette seats in back. This is for the best because the front seats are beautifully supportive and comfortable — and because Acura wisely doesn't put that material in the second row.
After all, removing ground-in Pirate's Booty from a suede-like material would not be fun, but faux "leather" is basically designed to wipe clean with a damp cloth. With excellent rear-seat legroom your kids back there, unless they're over 6 feet tall, will fit just fine and so will car seats, and you won't have to wrestle those in at above-shoulder height like you might in a tall-riding SUV, either. This is another advantage of a hatchback because you can open that bay and get access to Latch tether points as needed behind the rear seat headrests.
There are large on-door cupholders and redundant ones in a flip-down armrest in the back, and the tech package adds dual USBs, so if your kids are into their iPads, they'll have power, too — plus in-car Wi-Fi for streaming. Got a stroller to stuff in the trunk? With 24.3 cubic feet of cargo capacity, the Integra offers way more space in the way back than your uncle's Crown Vic, and flipping those rear seats forward offers enough room to throw in a pair of mountain bikes (front wheels removed).
The drivers, too, are rewarded with memory function for those different pilots, power for both front seats, dual climate function as well, and an exceptionally stellar sounding 16-speaker ELS Studio 3D audio system. A-Spec buyers also get wireless Apple/Android connectivity and Alexa Built-In.
Big-Time Safety
Crucially, the Acura Integra scores a top IIHS Safety Pick + for crashes, and Acura ladles on lots of safety extras. For instance, the airbag setup was specifically designed to reduce head rotation in a crash (both to lessen concussions as well as whiplash), includes rear seat airbags (still too uncommon in a lot of sedans), and if you get the CVT rather than manual gearbox, the adaptive cruise control also works right down to 0 mph, meaning it will slow to a stop and then let you resume rolling with a simple tap of the gas.
Lane-keeping and off-road mitigation both try to prevent steering into the other lane, or off the road entirely, and will pull the Integra back onto the asphalt — and automatic emergency braking will jam the stoppers if you fail to. Automated high beams prevent you from blinding oncoming drivers, and there's also rear cross traffic alert, so you won't back into perpendicular traffic when your peripheral vision is blinded by two hulking pickups in the grocery store lot.
Pitfalls
The Integra is a front-wheel-drive car. Honda uses what's called a helical-type limited-slip differential to even out the pull across that axle, but most "serious" sports cars have rear-wheel or all-wheel drive because what's called torque steer (where the gas fights against the steering) is very hard to dial out. Honda isn't alone here: VW's GTI uses a similar system along with traction control, and its setup has a bit of an edge versus the Acura's in taming the dreaded torque monster. This is by no means a deal breaker. The Integra just shouldn't be compared to a rear-wheel-drive 470-horsepower $60,000 Mach 1 Mustang. I'm guessing you knew that already.
The biggest bummer about the Integra is that you can only get the manual at the top of the cost spectrum, and the base CVT also happens to get superior fuel economy. Those numbers: CVT = $31,300; 30 city/37 highway versus MT = $36,300; 26 city/36 highway. So, OK, the CVT option is easier on the wallet and the planet. And if you're an urban dweller where constantly shifting would be less fun than it is on backroads, I get it. The great handling would still be plenty rewarding, and you'd be doing the Earth a solid, too.