The 2021 Volkswagen Atlas Is an Eight-Passenger Family SUV With Room to Spare
This exceptionally spacious and comfortable three-row SUV excels thanks to great engineering and packaging.
by Michael Frank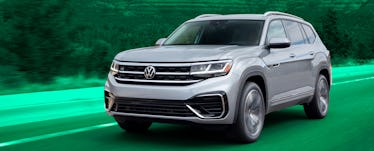 Volkswagen
Why did the 2021 Volkswagen Atlas win a Family Car Award? For a lot of reasons. But a big one is that it's just so damn roomy. Seriously, the Atlas is a very large crossover, with seating for eight. Yet, here's the magic trick: While barely larger than the Subaru Ascent on the outside, it has a few more inches of rear-seat legroom, and 10 cubic feet more of cargo capacity. How come? Great engineering and packaging.
When your kids get a bit older, they'll appreciate that the second-row seat backrests tilt rearward up to 14 inches (this is also key for taller adults you might put back there), and that row also slides a lot — 7.7 inches fore/aft — making it way more comfortable for anyone in the third row or for taller folks in the second row. VW even designed second-row seats to tilt and slide forward with a child seat in place. That's a massive win, one we wish more carmakers considered.
Our choice of SEL package isn't a must, but hear us out. The more affordable $36,795 SE comes with a 10-way power-adjustable driver's seat and a second-row middle armrest with integrated cup holders. But bumping up to the SEL gives you all that, plus in-car WiFi which comes with a hotspot that allows tethering up to four devices at once, leather seating throughout, and the ability to set three different driver profiles. The latter includes the seat position and preferred safety-assistance settings. (Each profile is linked to the car key.)
The SEL also has more safety tech. In addition to the standard adaptive cruise, blind-spot detection, automatic emergency braking with pedestrian detection, and rear cross-traffic detection, you also get start/stop functionality to the cruise system (automatically following and stopping in traffic and allowing restarting), automatic high beams, and road sign detection.
MSRP: $31,890Our Pick: 2021 Volkswagen Atlas SEL, $42,395EPA: 20/24Capacity: eight passengersMax Cargo Space: 96.8 cubic feet
Even if you stick with the SE, you'll have access to VW's very cool CarNet system, which lets you talk to your Atlas on your Android or Apple smartphone, remotely starting the ignition, and sending a destination to the car's navigation system you've already searched for. If you have a child who's starting to drive, you can also set maximum speeds, geofencing, and a curfew alert in case your kid "forgot" when they were supposed to be home.
Lastly, we have a secret to share about the engine: It's tiny. But it belts out 258 pound-feet of torque at just 1600 RPM. This means you get a kick in the behind the moment you hit the gas, and since big SUVs can feel most lumbering from a standstill, VW's wisely made sure that even its relatively small four-cylinder delivers starting and passing power quickly. Even the 0–60mph time of 7.2 seconds is reasonable. You'll never think you're driving VW's fun little GTI, but the 2021 Volkswagen Atlas wins a slot here for being really large, really capable, and really tech-enabled.
This article was originally published on