The 2021 Toyota RAV4 Hybrid Is a Family Car That Doesn't Hold Back
Toyota's SUV is a superior family car that doesn't skimp on performance.
by Michael Frank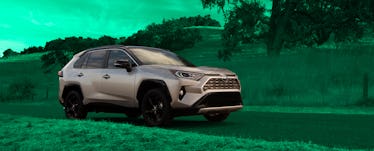 Toyota
For too long, the best thing you could say about Toyota's interiors was that they were vanilla and durable. Toyota heard that (and the competition crept up, especially from Hyundai and Kia), and wow — suddenly, with this RAV4 Hybrid, you're basically getting Lexus quality circa 2018. This starts with a material called SofTex, which is synthetic leather but uses 85 percent less C02 during production than the real thing, because, you know, it's not a living, breathing, flatulating cow.
MSRP: $28,350Our Pick: $36,880 XSE Hybrid LimitedMPG: 41/38Capacity: five passengersMax Cargo Space: 69.8 cubic feet
That SoftTex is used throughout the cabin, on the seats and trim, and both front seats are La-Z-Boy comfy and electrically controlled and heated. But the interior delights don't end with soft seats. To get a sense: There's lumbar support in the driver's seat, a standard glass moonroof, three USB ports in the front row — and two more in the second row — an 11-speaker sound system. In addition to streaming from Apple CarPlay and Android Auto, there's also the ability to connect to Amazon via Alexa. There's an available WiFi hotspot, too. See what we're saying about luxe?
It should be known, too, that the RAV4, according to J.D. Power, is one of the most reliable cars on this list, and this XSE gets a plethora of safety features, including automatic emergency braking with pedestrian detection, advanced cruise control that keeps you at a constant distance from the car you're following, lane-keeping, and rear cross-traffic braking and cross-traffic alert. The auto-dimming high-beams are also a stand-out feature, making it possible to default to the greater reach of that brighter light for more visibility.
If you need to drive on sand or snow, the XSE Hybrid Limited gets a multi-mode setting for its transmission, including settings for sand and snow that help prevent you from getting stuck. On the street, performance won't quite stir your loins, but it still jets to 60mph in 7.4 seconds — not bad for a hybrid. And with the uprated suspension of the XSE, handling is confident. But let's be honest: You're getting it because it's capable, roomy, pretty dang plush, and blowing (relatively) less carbon into the atmosphere. All good things.
This article was originally published on