The 2021 Subaru Forester Is an AWD SUV That's a Blast to Drive
This family SUV was equally built for fun, windy roads and song-filled stretches on the Interstate.
by Michael Frank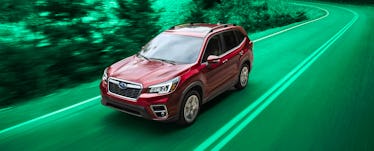 Subaru
The 2021 Subaru Forester is an AWD SUV with suburb creature comforts. But what really landed it a spot on our list is that it's way more fun to drive than most other crossover cars, with snappy steering and a stable, unflappable ride that sits in that happy place between firm and forgiving. The 182hp, 2.5-liter boxer engine and CVT transmission are tuned for quick takeoff and instant passing acceleration, and while you're not going to bust any horsepower records, the tradeoff is very good fuel economy for a vehicle that's this roomy.
If you legitimately need four-wheel drive to crawl up a steep gravel driveway, the Forester has 8.7 inches of ground clearance and AWD, which is more than enough off-roading capability for nearly any normal American driver. Still, the 2021 Subaru Forester strikes a nice balance with ride height, so you don't feel like you're scrambling Pikes Peak to get behind the wheel. The trim level is slightly more cush than you might expect from Subaru, too; it's still straightforward, but an oversize moonroof, soft-touch plastics for every surface in sight, and a leather-wrapped steering wheel speak to the fact that this segment is increasingly competitive.
A note about that roominess: Nearly 40 inches of rear-seat knee room is excellent for teens, as are the dual USBs back there so they won't be fighting over who gets to recharge. Plus, despite being shorter than the Subaru Outback, the 2021 Subaru Forester actually has more rear cargo room than that wagon, and is only bested on this list by the Nissan Rogue.
MSRP: $24,495Our Pick: $27,395 Premium editionMPG: 26/33Capacity: Five passengersMax Cargo Space: 76.1 cubic feet
We suggest buying the Premium edition, which adds about $3,000 to the price tag. But the cost is worth it, as it steps you up to key safety tech, like lane departure prevention, to correct drifting, and cross-traffic alert, so you won't back out of a blind parking spot into the path of another car. If you are in an accident, the 2021 Subaru Forester will even automatically call 911 for assistance.
This article was originally published on