The 2021 Kia Telluride Is a Big, Beautiful Family SUV That Doesn't Cost Big Bucks
The Kia Telluride is a large family hauler with a lot to love. It also has many of the features of a $50,000 SUV for less than $40,000.
by Michael Frank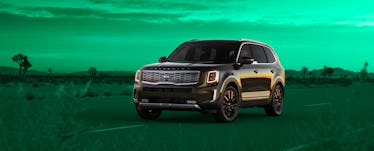 Kia
The 2021 Kia Telluride is a big family hauler with a beautiful interior. The fuel economy isn't the greatest and it's not going to wow you with performance. But it does what it does well at a killer value, offering a lot of the features of a $50,000 SUV for less than $40,000.
Now about that interior. Here's a little thing: The Telluride's higher glass-to-metal ratio creates excellent sightlines. They give you a truck-like troop-transport ride that makes it easier to park and maneuver, change lanes, and avoid hazards. If you're going to live with a three-row rig, it should be easy, even joyful to own. Kia gets that.
The joy of the Telluride also comes down to ergonomics. The front seats not only get eight-way power adjustments, heating, and cooling, but they're also coated in a very high-grade cleanable faux leather that shocked us at first because, no, this Telluride doesn't start at $50,000. The seats are profoundly comfortable, too, and easy to adjust for very tall and very small drivers. Anyone can drive a Telluride and be at home.
Being at home extends further. For instance, the double-decker center console has cup holders above and below, there's a large shelf, ideal for stashing a purse or even a small grocery bag. Both front passengers get dual sunshades, yet as you tour the entirety of the 2021 Kia Telluride, you'll dig features abounding throughout the cabin — even kids in the third row get huge water-bottle (sigh, Nintendo Switch) cubbies.
MSRP: $31,890Our Pick: 2021 Kia Telluride EX, $37,390EPA: 20/26Capacity: eight passengersMax Cargo Space: 87 cubic feet
This is a family car and Kia notes that with small touches. There are six USB ports in the Telluride, three 12-volt power ports, and even wireless phone charging, which frees up yet another juice point. The second-row seats also slide electrically, making it easier to extend legroom for the kids in the third row or to fold the second-row seats totally flat. FYI, if the wee ones begin to nod off.
Remember that troop-transport quip? Kia gets this part right, too, by giving you a capable 291-horsepower, 3.8-liter V-6, but not a monster gas-hog V-8. There's enough muscle for passing, but the balance is just right: fluid acceleration, smooth shifting, but a modern drivetrain. The same goes for the suspension. The 2021 Kia Telluride is big, but it rides "lighter," changing direction with reasonable quickness. It's also one that comes with all the safety features we'd recommend, including LED headlamps. You do have one important decision to make, however: The price here is for a front-wheel-drive 2021 Kia Telluride. It'll run $2,000 more for AWD, and that cuts fuel economy to 19/24. With eight inches of ground clearance, the real question is whether you're actually going to need that power to the rear wheels, and really, how frequently. The choice is yours.
This article was originally published on