The 2021 Honda Odyssey Is the Minivan of All Minivans
Family man but minivan denier? If you have three kids, put the Odyssey on your test-drive circuit. Go ahead, we'll wait.
by Michael Frank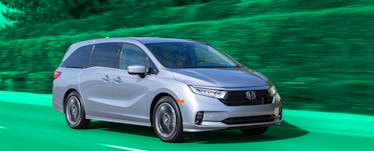 Honda
Minivans make a lot of sense. If you keep up with the family-making, the math catches up with you. Have more than two children (and all the stuff) and life gets complicated. So does driving. A good minivan solves this because they sit at car height. First of all, this makes it much easier to load and unload toddlers from car seats, especially with sliding doors that get out of your way so you can stop bruising your elbows. But second of all, a low ride height and tall roof mean minivans simply have far more room inside.
To illustrate this fact, the 2021 Honda Odyssey is a mere half-foot longer than the Kia Telluride, yet the maximum cargo volume of the Kia is 87 cubic feet. That's big, but the max cargo volume of the Odyssey is an astonishing 158 cubic feet. More surprising is that the Odyssey performs while being so big! In fact, of all the seven-passenger-plus vehicles here, we'd argue the Odyssey is easily one of the best-handling, because, again, it sits lower, like a car. Also note that we're recommending the EX Odyssey. This is hardly the most expensive vehicle to be included in our guide, and yet it's the roomiest, meaning that by a junk-in-the-trunk metric, it's the most affordable vehicle in the mix.
And it's a gentle giant. Seriously: The Odyssey handles well, but it's also punchy and quick to accelerate, with a strong V-6 and a 10-speed transmission giving you plenty of power, and very nimble steering, making it far easier to drive this minivan than just about any truck-based SUV that still won't be close to this roomy.
Nimble is also a good word to describe the cabin. The last row of seats stows instantly into a cargo hold in the floor, freeing that entire space for a stroller or, say, two strollers, a kid's bike, and a week's worth of groceries. (We're not kidding: With 89 cubic feet behind the second row of seats there's as much cargo room with five passengers nestled in the Odyssey as the Telluride can offer with both its second- and its third-row seats folded.)
The EX also comes standard with key safety technology, from a rear-seat reminder to advanced cruise control, blind-spot detection, emergency braking, and pedestrian detection, as well as automatic high beams, lane-keeping, and cross-traffic alert.
MSRP: $31,790Our Pick: 2021 Honda Odyssey EX, $35,190EPA: 19/28Capacity: eight passengersMax Cargo Space: 158 cubic feet
You also get three climate zones, again without paying more than the EX price, as well as clever functions, such as the fact that the center second-row seat can be flipped forward, revealing three oversize bottle holders, two for the outboard positions and one that can be reached from the third row. Front passengers get three different center-console bins for storage, including one deep one, ideal for personal belongings like a purse (that one also has an accordion door for security). Second-row denizens also get dedicated USBs, so there's less feuding over electric refueling.
Still a minivan denier? If you have three kids, put the 2021 Honda Odyssey on your test-drive circuit, that's all. Because ignorance isn't actually bliss.
This article was originally published on