The 2021 Audi Q5 Is a Family Hatchback That Performs Like a Sports Car
Few crossovers blend as much performance, luxury, and reasonable fuel economy in a single package as the Audi Q5 does.
by Michael Frank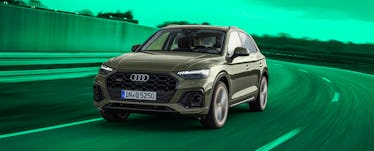 Audi
Like the Volvo XC60 plug-in hybrid, the 2021 Audi Q5 can roll 20 miles without burning gas and gets a combined 27 MPG when drinking unleaded. That's right: This is a hybrid that gets 27 MPG. Why the thirst? Because this bad boy performs. The Q5 gets to 60mph in about five seconds. It has 362 horsepower from a combined electric-gas powertrain mated to excellent, grippy all-wheel drive and the ability to rip through the seven-speed manumatic gearbox using the included paddle shifters.
In other words, it's fun as hell to drive — probably the most fun on this list. But don't for a second think the Q5 isn't meant for families. It's practical and comfortable, not just pretty and fast. While overall cargo volume trails some other options here, second-row knee room and headroom are among the best, so if your kids are older or you'll be carting adults from time to time, it's a great choice. And while you're ogling that second row, check out the rear seats that split 40/20/40, so you can carry a long load between them (skis, say) and still fit two surly teenagers.
We'd be remiss to omit some of the many safety features that come stock in this Audi, from blind-spot monitoring to advanced lane-keeping that will steer the Q5 back on course. Audi's also included rear cross-traffic alert and prevention, and adaptive cruise control.
Up front, in addition to eight-way power leather seats and chunky aluminum trim, Audi's using very pretty walnut trim in the 2021 Q5, and it looks extra sharp. Digitally, Audi's deployed some of the best computing tech in the entire automotive world, so there's no lag as you swipe between functions on that central touchscreen which, by the way, sits quite high, purposely in the line of sight of the road, so you can tap and swipe to any sub-menu more rapidly. But Audi doesn't put the volume dial up there. Instead, it's between the driver and front passenger, so it's in easier reach of both, allowing muting in an instant.
MSRP $44,295Our Pick: $51,900 2021 Audi Q5 55 TFSI e quattro Plug-in PHEVMPG: 27 combinedCapacity: Five passengerMax Cargo Space: 53.1 cubic feet
When you've got no co-pilot, the driver has ready access to most of what's on that touchscreen via a redundant display between the tach and speedometer. Swipe through menus here using either of two clever thumbwheels, at 3 and 9 o'clock, on either side of the steering wheel.
Sure, the rest of the time the Q5 is a civil citizen. That's good. But, it's a sports car that looks like a family hatchback.
This article was originally published on