The 2020 Nissan Rogue SL Is a Family Crossover That Gets It Right
The compact SUV has more safety and tech at a more affordable price than a lot of the competition.
by Michael Frank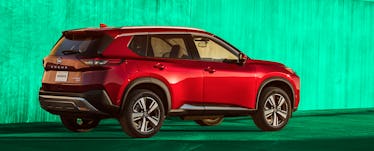 Nissan
The Nissan Rogue is a workman-like crossover. Does it wow anyone with its speed? Hardly. But it was already leading its class in terms of confident, capable performance. For 2020, Nissan was able to pack in more safety and tech at a more affordable price than a lot of the competition.
So what does that look like? Well, in the Nissan Rogue SL FWD, that means 10 airbags, automatic emergency braking, blind-spot warning, rear cross-traffic detection, lane-keeping, advanced cruise control, and automated high beams. The safety system also monitors the alertness of the driver; if you start to drift in and out of your lane a bunch it'll suggest you perhaps need to take a break. That's cool. Also cool? If you've opened the rear doors at the start of your trip, when you arrive at your destination, your Rogue will beep the horn to remind you to check the back seat, in case you've perched a kid back there. And speaking of kids, those rear doors pivot a full 90 degrees, making it easier to wrestle a child in and out of her car seat. The rear doors also get their own unlock buttons, in addition to the fronts.
Up front, there are dual screens. One replaces a standard instrument cluster and allows more customizable information display, such as nesting audio choices, which you control from paddle-like buttons on the wheel. The central display lets both front passengers adjust settings. This also means accessing audio and other apps from Android Auto/Apple CarPlay, and for the first time, this Nissan also integrates Google Maps and Waze for navigation.
To keep your eyes on the road, we're very happy Nissan retained tuning knobs and hard buttons for quicker control of frequently used settings, and that heating/cooling switches are also siloed away from the touchscreen. Nissan already gifted the Rogue with great seats, both front and rear, but the SL comes with leather seating surfaces as well as rear window sunshades to keep the heat off your napping child. Interior designers also revised the floor mats and cargo mat to be less prone to collect grit and easier to clean.
MSRP $26,650Our Pick: $32,000 (estimated) Rogue SL FWDEPA: 26/33Capacity: five passengersMax Cargo Space: 74.1 cubic feet
The Rogue isn't astonishingly sporty. In fact, it can feel downright sluggish. But it is forgiving of bumps and bad road surfaces, its steering is accurate, and the ride is always quiet. It's an exceedingly comfortable family car, which is why Nissan managed to sell more than 350,000 Rogues in 2019.
This article was originally published on