The 2020 Mercedes-Benz GLB 250 SUV Is a Fun, Futuristic Family Car
Versatility, next-gen tech, and plenty of cutting-edge safety features in a fun-to-drive car? And it's a Benz? That's why the GLB made the cut.
by Michael Frank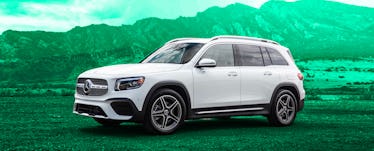 Mercedes-Benz
The Mercedes Benz GLB is a luxury car that manages to combine futuristic safety features and a ton of thoughtful touches at a shockingly affordable price.
Consider this: In the event of an accident, the speakers will automatically play what's known as a "pink noise" tone through the audio system just prior to impact. The sudden sharpness of this sound causes a reflex in your ears that protects the eardrum from the shockwave caused by crunching metal and breaking glass. That's a small touch for a worst-case scenario, sure. But that just gives you an idea of how much thought is behind every inch of the safety tech in this vehicle.
A few more examples: If you're driving using advanced cruise control and fail to steer or provide other inputs, the GLB will first audibly ping, to prompt you to take the wheel, and if you fail to respond, slowly reduce speed right down to stopping entirely and engaging the warning lights. The car even reads speed-limit signs once you've engaged the system, so even as the top lawful speed increases or decreases, you're not caught zooming when you shouldn't be.
Now, this is a Benz and it doesn't skimp on luxury. The GLB has a single linear screen, which incorporates adjustable gauges for the driver, as well as a touchscreen both driver and front passengers can share. This gives the whole cockpit a modern flare, though we're happy that Mercedes-Benz incorporated hard toggles for both front passengers to adjust, and that there are likewise buttons on the doors (rather than beside your hip) for adjusting the position of the seat upright and cushion. The latter is a stalwart Benz idea that prevents you from scratching a watch face.
MSRP: $36,600Our Pick: 2020 GLB 250 SUV with pre-Safe package and premium package, $43,050EPA: 23/31Capacity: five or seven passengersMax Cargo Space: 62 cubic feet
Kids in the second row get decent, if not astonishing leg- and headroom, though adults under 6-foot can fit fine; that's not true of the third row, which is only fine for smaller humans.
In terms of performance, the 221hp two-liter turbocharged four-cylinder revs happily, and the eight-speed transmission never bogged, even when we drove at altitudes above 8,000 feet. Plus, the shorter wheelbase makes the GLB way easier to park; it's small enough to squeeze into tight spots that most standard SUVs couldn't even dream about. Versatility, tech, safety in a fun-to-drive car? And it's a Benz? That's why the GLB made the cut.
This article was originally published on