The 2018 Kia Stinger GT 365 HP Sedan Is Both A Family Ride And A Sports Car
by Dave Baldwin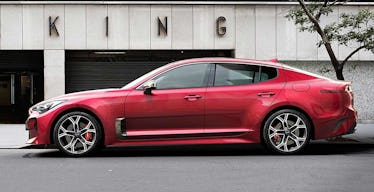 Fatherhood comes with more than a few cliches: There are the cargo pants. The bad jokes. And of course, the boring cars. Kia feels you. They have also become synonymous with the ultimate dad-ing machine. But with their recently unveiled Kia Stinger, a beauty of a supercharged sports car, nobody's going to be laughing. Which you're also used to.
RELATED: The Best New Cars Under $27,000 For Big Families
Originally unveiled in 2011 as a concept car, the Stinger is a 365 HP GT "fastback" with a twin-turbo 3.3-liter V6 engine that can hit 60 mph in 5.1 seconds and top out at 167 mph. Seriously, it's a Kia! It comes with an 8-speed automatic transmission and optional all-wheel drive, so you can still get the kids to school in the winter. Not only that, but because you care about safety, you'll appreciate the forward collision assistance with pedestrian detection, smart cruise control (to keep a set distance between cars), and "lane keep assist," which audibly tells you that you've crossed into the wrong lane even before your wife dramatically grabs for the hand-hold.
And who says you need a minivan to take the kids on vacation? The Stinger's billed as a luxury sedan (albeit one with a hatchback, so technically not one) with plenty of room "for a spirited long-distance drive." Perhaps, to say, the other side of the country. It holds 5 (or maybe 3 and a car seat) and comes equipped with plenty of bells and whistles you expect in cars nowadays: a heads-up display that reflects on the windshield, wireless charging station, and 9 speakers (with under-seat mounted subwoofers) so you can really crank up that Kidz Bop 34.
While the price won't be announced until later this year, the base model (a 2.0-liter turbo rear wheel drive) is estimated to run just north of $30k. If you want the full monty, though, expect to drop a year worth of your kid's college tuition — it's rumored to cost around $50k. Which, as noted, is no laughing matter.
This article was originally published on