The 10 Best 'Ugly' Sweaters For Dads This Holiday Season
by Dave Baldwin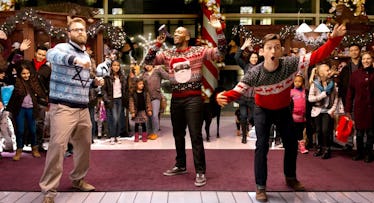 Once upon a time, wearing any old Cosby sweater you picked up at Goodwill was enough to make you the life of office holiday party. Not today. With a cottage industry dedicated entirely to making outlandish holiday garments and everybody short of grandma rocking a hilarious "humping reindeer" pullover, the pressure is on to step up your yuletide game. Here are 10 sweaters that would even make Santa plotz.
Green Bay Packers Light-Up Touchdown Sweater
Even if you don't don cheddar and start Jordy Nelson in your fantasy lineup, you'll appreciate this jumper; you just need to enjoy throwing your arms up in the air every time the word "Touchdown" lights up across your chest. If you hate the Packers (looking at you Helga hat wearers) but love the NFL, your favorite team is available as well. As long as it's not the Browns.
Green Bay Packers Light-Up Touchdown Sweater ($80)
Knitted Crackling Fireplace Christmas Jumper
This interactive acrylic jumper from Morphsuits uses your smartphone to do what your hilarious lineup of dad jokes can't; entertain your family. Download and start the fire app, slide it into the pocket, and get cracking on all those "there's a fire burning inside me" jokes.
Knitted Crackling Fireplace Christmas Jumper ($60)
Sweet Baby Jesus
No, you don't have to be able to quote the entire dinner prayer from Talladega Nights to fully appreciate this Sweet Baby Jesus sweater, but it definitely makes wearing it more fun. The fact that you pretty much live in a baby carrier these days is just icing on Jesus's birthday cake.
Tipsy Elves Sweet Baby Jesus ($55)
Reindeer Threesome
If ever was there was a "classic" ugly sweater that embodied this Renaissance of raunch, Festified's naughty Rudolph in the middle of a threesome would be the one; it pretty much started the trend. Wear it and you'll look like you've been rocking ugly holiday-wear since before it was cool. Or, you know, since 2009.
Festified Reindeer Threesome ($55)
Challah!
Much like Adam Sandler's festive songs, you don't even have to celebrate Chanukah (or delicious bread, for that matter) to appreciate the double-entendre hilarity of a rabbi yelling "holla!" about a loaf of "challah." You probably should celebrate Chanukah, however, if you're going to wear it.
Tipsy Elves Men's Challah! Sweater ($54)
Star Wars Decorated R2-D2
Don't let all the attention Rogue One's new K-2SO is generating sway you from your allegiance to the most helpful droid in the history of the galaxy. Not only does this handsome sweater feature a festive R2-D2 decked out in holiday lights, but it also comes in youth sizes — which means the picture on your family Christmas card pretty much just took itself.
Star Wars Decorated R2-D2 ($40)
The Big Lebowski – The Dude Abides
Not only does this Big Lebowski sweater really tie your holiday outfit together, but consider it a free pass to drop as many of The Dude's classic lines as the evening permits. (It's directly proportionate to how many White Russians you drink.)
The Big Lebowski – The Dude Abides ($50)
A Christmas Story Fragile Leg Lamp Light Up
Crack a "You'll shoot your eye out" joke while wearing this battery-powered Christmas Story-tribute crewneck with light-up lampshade and guests at your holiday soiree will probably reply, "Yes, please!"
A Christmas Story Fragile Leg Lamp Light Up ($66)
Black Metal Snowman
From the land of snow and ice comes a black metal snowman that "resides in the cold Norwegian mountains and only emerges to burn down any symbol of the true meaning of Christmas." He's like the Grinch — if the Grinch wanted to feast on the souls of the Whoville children.
Web Of The Spider-Man
Show your solidarity of Spidey returning to his rightful home at Marvel Studios. This 100-percent cotton sweater from ThinkGeek just looks a Fair-Isle pattern, but then it gets all web-slingy. You've always wanted to start a rousing rendition of "Look out! Here comes the Spider-Man," at Christmas dinner.
This article was originally published on