Fatherly's Hottest Toys of 2016 Holiday Gift Guide
It's the most door-busting-est time of the year.
by Dave Baldwin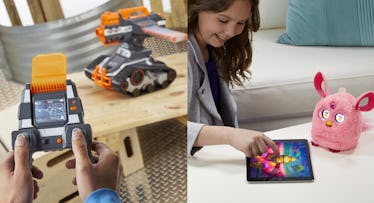 It doesn't matter how early you get up, or what time you get in line at the store, or even how fast you did the shuttle run in 8th grade. You're simply not going to win Black Friday unless you know exactly which toys are so hot that other parents are willing to destroy you for them. Here's a list of the hottest toys of 2016 to help point you in the right direction. Godspeed.
Hatchimals
Sure, a buck 80 might seem like a lot to pay for a toy, but when was the last time you saw a stuffed animal actually peck its way out of a damn egg? Hatchimals are furry little Tamagotchi creatures that, after being played with for up to 40 minutes, literally bust out of a plastic-like shell. From there, your children raise them through 3 life stages (Baby, Toddler, Kid) while teaching them to walk, talk, and fetch you beers. Hatchimals are supposed to retail for $60, but they're so hot right now, you'll pay $150 on the resale market without breaking a sweat. So … have fun wrapping a regular old stuffed animal in papier-mâché on Christmas Eve.
Pie Face Showdown
Russian Roulette with cream pies is hilarious, but an all-out button-mashing battle that ends with a cream pie to the face is … also hilarious. Sometimes the simplest things are the most satisfying. Hasbro's hot toy follow-up to 2015's runaway viral success is one of those things.
Hot Wheels AI
Like the popular Anki Overdrive, Hot Wheels AI is a next-gen race car set that uses artificial intelligence to keep the vehicles on the track. Driving is done with a video game-style controller, and you can even launch virtual hazards (ex. Spy Hunter-style oil slicks) at your opponent. Speaking of opponents, you don't even really need one — the other car will drive itself. It's one of the hottest toys of 2016.
Sesame Street Love2Learn Elmo
As if your toddler wasn't already crazy about Elmo, this interactive version of the Sesame Street favorite not only calls them by name, but it also spits out over 350 responses based on personalized info you entered into the smartphone app. Elmo laughs, sings, plays learning games, and even encourages kids to pick up after themselves. That's right, Elmo puts himself away.
Simon Air Game
Designed for both germaphobes and/or anybody who threw the old version across the room when it wouldn't register your touch ("I just pressed the blue light, dammit!"), Simon Air is a high-tech version of the classic memory games. It uses touch-free technology to ensure players no longer have push a button. Simply wave your hand nearby and the game detects the motion. Problem solved — except for the one when you look like a flailing idiot.
3Doodler Start Essentials Pen Set
The 3Doodler looks familiar because it's designed by the same folks who brought you the original 3D printing pen — the one that turns unrecognizable drawings into unrecognizable sculptures. What makes this hot toy kid-friendly is the proprietary bioplastic thread, which comes out cool and hardens in seconds, so you can touch and shape it without getting burned. Also note, the pen itself has no hot points. Yes, it's big and chunky, but that just makes it easier to manipulate with fingers that are little and chunky.
Fisher-Price Imaginext Ultra T-Rex
Why pay for admission to the natural history museum to look at old dinosaur bones when they can play with this 30-inch tall, battery-powered T-Rex instead. Like a faithful pet, it stands up on command, walks, chomps, and even launches projectiles across the living room (what, your cat doesn't have a tiny bazooka?) All the while, its eyes light up while making menacing sounds. Okay, so you should probably still go to the museum, but you have to admit, it is pretty cool.
Nerf N-Strike Elite Terrascout RC Drone
Possibly the most advanced way to shoot someone in the crotch, the N-Strike Elite Terrascout RC Drone Blaster uses a remote control with 720p HD streaming video to target and destroy the enemy. It can unleash 18 rounds of foam-dart fury and records the carnage on the included SD card. It can also be aimed independently from its driving direction — which means the ability to attack while retreating — something you learned from LEGO Napoleon.
LEGO Ferrari F40
The real thing is pretty pricey, but this LEGO set gives a kid as close to a real Ferrari experience as they're ever gonna get. The hot toy's details — pop-up headlights, twin-turbocharged 90-degree V8 engine, logo steering wheel, red racing seats — are true to life. Also, when you push it too hard and the wheels fall off … that's pretty realistic.
Furby Connect
Hoping to recreate the great Furby craze of 98, the folks at Hasbro have retooled this furry interactive robot with Bluetooth and a smartphone app. It still sings, talks, and generally reminds you of Gizmo the Gremlin. But now its antenna also lights up every time there's a new game, video, or activity waiting for your kid on their tablet. And because the kids seem to like the Pokemon Go, there's an augmented reality component: Shoot food out of an animated cannon in the app and Furby eats; hold Furby over a toilet on the app and squeeze its belly and, well, you get the idea.
Fisher-Price Think And Learn Code-A-Pillar
Code-A-Pillar is the best of two worlds: it teaches coding skills while steadfastly remaining a cuddly caterpillar. Preschoolers can infinitely rearrange his segments to make him move in all directions and take paths to targets, which, believe it or not, is sequencing and programming. A companion app (of course) for the hot toy will expand on the counting and patterning challenges for little kids. And he lights up in 8 different colors! Finally, a STEM toy that gets you.
Razor Hover Trax 2.0
While the words "Razor scooter" make you fondly think of the days when your buddies would rag on grown-ass men riding them to work — times have obviously changed. The Hover Trax 2.0 is the second generation of Razor's high-tech, self-balancing scooter (aka, the Hoverboard) that can hit 8 mph and ride for up to 60 minutes on a single charge of its 36V lithium ion battery pack. It's got fender bumpers, 2 modes (for training and everyday use), and can hold up to 220 pounds — so you can make fun of yourself as you ride to the office.
Bloxels
Bloxels look kind of like Battleship, except the blocks on the grid represent coins, keys, walls, hazards, enemies, entry points, and actions; not subs and destroyers. Instead of talking to each other, players transform their block grids into playable video game levels by photographing them with a smartphone or tablet. So … nothing like Battleship. Of course, building video games is way cooler than listening to you yawn, "Hit" and "Miss" for 20 minutes.
FurReal Friends Torch, My Blazin' Dragon
Another in Hasbro's popular class of interactive animal toys, the FurReal My Blazin' Dragon boasts all the usual sounds and motions when you pet, touch, or feed it (over 50, in fact), but it also breathes flame-colored mist that you can use to fake roast a marshmallow. Yep, fur real.
LeapFrog LeapStart Interactive Learning System
Because sometimes you want to watch Penny Dreadful instead of letting your kids play Peekaboo Barn on your iPad (you're only human), LeapStart makes a series of 4 touch-and-talk activity books. They're all aimed at teaching kids ages 2-to-4 over 200 "critical school and life skills," from problem solving and the alphabet, to early coding, to how to break up with someone without emojis. Instead of a touchscreen, the hot toy uses a connected stylus that, when touched to the page, "triggers engaging questions, challenges, songs, and jokes." Still technically not screen time.
This article was originally published on