The 100 Best New Toys of 2018
Looking for holiday gift ideas? Look no further. Here are Fatherly's favorite toys of the year for kids (and parents) of all ages.
by Fatherly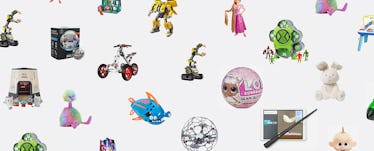 Welcome to the golden era of playtime. There's never been a better time to play with toys. From action figures and coding games to ride-on vehicles and play sets, manufacturers are harnessing technological innovation, endless imagination and product design to churn out incredibly fun products that educate, inform, inspire, develop, and entertain. Honestly, it can be a little overwhelming. What toys are worthwhile? What should you skip? What won't drive you insane with its robotic chirps or jingles? Which will your kids actually play with and for how long?
MORE TOYS! Check Out Fatherly's Picks for the Best Toys of 2019 Here
That's why we created this list of the 100 Best New Toys of 2018. In it you'll find hetoys across all age groups that our team of Fatherly editors, everyday dads, and enthusiastic kids have deemed innovative, educational, or just really, really fun. (You can jump to toys for Infant+, Ages 3+, Ages 4+, Ages 7+, and Ages 10+) We're sure both you and your kids will find something on this list to enjoy. Now go forth and play.
Nerf Rival Prometheus MXVIII-20K
Nerf brought out the big guns this year. Part of the Rival line for older kids (and adults) the Prometheus MXVIII-20K is a hip-held, fully automatic cannon with a chainsaw grip that unleashes a ridiculous eight shots per second at speeds up to 70 mph. Instead of darts, the Prometheus, which is powered by a rechargeable battery, weighs five pounds and has a safety to ensure nobody accidentally shoots out the dog's eye, fires 200 dimpled foam rubber balls. Is it over the top? Sure. Is it awesome? Absolutely.
Lego Harry Potter Hogwarts Castle
This incredible (and incredibly detailed) model of the famed school for witchcraft and wizardry is made of 6,020 plastic brick. When fully assembled, it stands 22-inches tall, 27-inches wide, and 16-inches deep. That's big. And no wonder: The set features the Great Hall, a vial-filled Potions room, the Chamber of Secrets, and Hagrid's Hut as well as minifigures of the four founders of Hogwarts houses and 27 microfigures of such characters, including Harry, Ron, Hermoine, Filch McGonagall, Malfoy, and, of course, he-who-must-not-be named.
Marvel Legends Series Infinity Gauntlet Articulated Electronic Fist
This 19.5-inch electronic glove-of-death comes with all six infinity stones from the Marvel movie, but it doesn't give kids the power to destroy the universe. What does do is allow them activate lights by pressing each stone and to trigger cinematic sound effects. With fully articulated fingers, the gauntlet will inevitably find its way to the dinner table. Whether or not tiny Thanos will be able to use a fork remains to be seen.
Lego Technic Bugatti Chiron
Lego's version of the opulent Bugatti Chiron sports car is almost as posh as the real thing, without the $3-plus million price tag. The 3,599-piece car is all about the realistic touches, from the gearbox to the W16 engine to the suspension, all of which have intricate moving parts. Other details, from the interior to the wing-raising high-speed key, were created in collaboration with the supercar geniuses at Bugatti. Is it less of a toy than an elegant model meant to be built and sat on a desk somewhere? Sure. But that doesn't make it any less fun.
Razor DXT Drift Trike
Consider this the big boy evolution of the big wheel. When they get their hands on it, the first thing your kid is going to do is bomb down the steepest hill they can find. Who can blame them? With a little practice, they'll be able to use the Super Slider POM rear wheels to drift around tight corners, throw fish tails, and pull 180-degree spins on the fly. Just know: It's built for tricks, not long distance transportation.
Wicked Big Sports Kickball
This is a really big kickball. Your kids will dig the enormity of it and, honestly, you'll probably want to borrow it the next time your game day BBQ needs a little more bounce. It pays homage to the spheres of yore, but ups the inflatable ante with a 25 inch diameter that might just eclipse your little one's shadow. Each set includes one oversized kickball, three bases, one home plate, one pump, three ball plugs, and one plug remover, which you can probably toss, because you're never going to want to deflate this thing.
UGears Grand Prix Car
This build-it-yourself wooden Formula One Grand Prix racer is worthy of Monaco. UGears' engineers and design aces pimped the ride with an exquisite, elegant appearance that's highlighted by sleek, flowing lines, and an engine that really works. Yep — the real-life mechanisms that power legit F1 cars are incorporated into these models which means that, once you assemble them they'll give you the satisfaction of a job well done, and the sensation of an adrenaline-fueled fling in a realistic replica you'll never want to brake. Or break.
Spikeball Rookie Set
Spikeball is the self-proclaimed lovechild of volleyball and foursquare that's popping up in parks everywhere and giving Fortnite something to sweat about. This starter kit for kids features a frame 50 percent larger than the normal version (the better to not frustrate kids), six legs, six rims, and one oversized ball, making it perfect for rooks who are ready to roll. Not only is this pseudo-sport fun, it's a creative and unique way to promote body awareness, motor skills and teamwork, while sharpening reflexes and overall athleticism for those brave enough to slam and spike like superstars.
Lego Creator 3-in-1 Sunshine Surfer Van
Whether chasing an Endless Summer or carrying a group of concert-goers, the surfer van conjures up idealized notions of sun, fun, and relaxation. This 379-piece set lets you and the kids build a three inch long version, complete with fold-down bed, TV, sofa, and kitchenette (there are also a number of detachable play accessories such as a barbecue and camping chair. Once the fun of the camper van fades like that summer sun, it can be broken down and rebuilt into a lifeguard tower or beach buggy.
Sphero BOLT
Controlled via your smartphone or desktop, the Sphero Bolt is a primitive, rolling robot that provides a workspace on which to learn basic coding. Children can draw, use Scratch blocks, and even write JavaScript to program the smart-sphere to follow patterns on the floor or obstacle courses they set up. Multicolored LED lights atop make it fun in both daytime and past lights out. Delicate components are shielded behind a translucent, waterproof polycarbonate shell. When your son or daughter gets together with another Bolt owner, the units recognize each other, unlocking more games and features, reinforcing STEM skills for the future. And if you're not sold on that, Sphero are the same folks how made the first and best BB-8 toy for Star Wars: The Force Awakens.
Stick-Lets Fort Kit
Stick-Lets are thick pieces of silicone with holes cut out. That's it. But they're all you need to build better backyard forts. They're simple joiners that you slide them over differently-sized sticks so you can easily maintain structural integrity. The various components in a bag (each contains 18) are stretchy, but strong enough to stay put around large branches, connect with hanging limbs, and basically inspire kids to build sculptures, bows and arrows, functional teepees, or a replica Blair Witch totem.
UBTECH JIMU Robot Builderbots Series: Overdrive Kit
STEM toys are a crowded field so it takes some doing to stand out. This bulldozer slash dump truck slash crane build comes with an app that offers 360-degree build instructions and an ability to code the models they build using a block-based interface. Start to finish, it's a great experience. Furthermore, you get to play with a very cool, working crane at the end of it.
Shadows in the Forest
As far as we can tell, Shadows in the Forest is the first board game designed to be played in the dark. One player, the Seeker, moves around an LED lantern while the other players work together to hide the shadowling figures in the shadows cast by the trees stationed throughout the board. The darker the room, the more intense the shadows. Shadows in the Forest is the rare board game that, instead of mixing together elements seen in previous games, brings something completely new and exciting to the table (literally).
Harry Potter Wizard Training Wand
It's been a great year for wannabe wizards. Kano's kit (included elsewhere on this list) gets into the STEM side of the spell casting world, with motion-sensor equipped wands that are best for running wild and casting all the spells. When waved in one of 11 different Potter spell patterns, the wand lights up and makes noise. But the real fun comes when kids challenge one another to one of four different multiplayer modes. Our favorite: Wizard tag, which is basically laser tag but with wands.
Kamigami Jurassic Park Robots
Built by folding and snapping together flat sheets of plastic, Kamigami robots feature a bevy of sensors (3-axis accelerometer, gyroscope, etc.) and are programmed using a tablet or smartphone. Kamigami debuted bug-like robots last year, but really nailed it this year with a Jurassic World inspired Velociraptor. Building the dino is a blast and provides parents with an excuse to do their best John Hammond impersonation.
Mega Construx Jumbo Pikachu
Your kids might have snagged a digital Pikachu or two in Pokémon Go, but this Mega Construx version of the greatest of all Pokémon is the best way for them to play with one in real life. The kit's 600 pieces assemble into a foot-tall model with articulated limbs, tail, and, of course, pose-able ears. The final product may not evolve into Raichu, but it's hard to imagine kids are going to mind.
Lego City Arctic Mobile Exploration Base
A Lego set that's both fun to build and play with, Arctic Mobile Exploration Base comes with four different vehicles, armed spinning saws, tilting satellites, and extendable cranes. It's easy to imagine the six-minifigure crew using their heavy equipment and handheld axes to free the majestic tusked wooly mammoth from its ice cocoon. And because there are so many vehicle configurations and ways to rescue the mammoth, kids won't lose interest once they've snapped on the final piece.
Lego Star Wars Kessel Run Millennium Falcon
In this year's Solo, the fabled fastest hunk of junk in the galaxy was still a pristine, well-polished Corellian freighter. Lego captured this iconic ship's salad days with this set that comes six minifigures, tricked-out cargo area, and an escape pod that, when removed, gives the ship's front its signature two-pronged look. The 1,414-piece set is definitely a family project — a great one.
Harry Potter Golden Snitch Heliball
Quidditch is the most popular game in the Harry Potter universe, and it's no surprise that Harry plays the coolest position on the pitch: seeker, chaser of the Golden Snitch. This Heliball battery-powered drone uses three propellers to hover and proximity sensors to evade both walls and capture. The realistic-looking Snitch even boasts a hand-painted gold body and fluttering wings. And when it's not being used, kids can display their snitch on an included stand.
Jurassic World Pterano-Drone
Is the Jurassic World Pterano-Drone monster or machine? A bit of both. With an operating range of 25 feet, kids can take it high enough without getting in trouble. It even includes two programmed modes, including Auto Circle and Auto Land. The former can be used to circle prey, and the latter, to go in for the kill. And by kill we mean set down on the grass outside your house.
Hexbug Battlebots Arena Pro
Any toy that features two remote-controlled robots battling it out would be a winner, but this BattleBots-inspired kit heightens the play experience by providing kids with the opportunity to customize their bots. Just like the designers on Battlebots, kids get to strategize. Are high torque or high speed wheels better? Will a hammer or a flipper cause the most damage? There's only one way to find out. Fortunately, the included arena contains the flying pieces and overall chaos.
Crayola Crayon Melter
It used to be if you wanted to make crayon drip art, you had to steal the blow dryer. The Crayola Crayon Melter makes this former method obsolete. Simply insert one of eight included crayons or use existing stock with the included wrapper ripper to begin dripping over cardstock or other, thicker mediums. The low-heat tip and safe quick-dry tech mean that kids can have fun without risk of burns. It's a great way to maximize usage of all those broken crayons they have laying around.
Vex Robotics Balancing Boxing Robots
Basically Rock 'Em Sock 'Em Robots for the STEM set, these self-balancing 'bots are a blast to build and battle. Assembling the bots takes a good amount of time (and a willingness to focus on the beautifully laid-out instruction manual), but the end result is worth it. Once the more than 300 piece robots are assembled and paired via Bluetooth with the companion app, they turn into amazingly entertaining RC fighters.
American Girl RC Sports Car
American Girl dolls can finally hit the road in style. Controlled like other remote-controlled vehicles, this R/C car has a two-lever joystick directs the action, while on-body details like working head- and taillights, horn, mirrors, and doors all contribute to a realistic convertible. There are even seat belts, which we found useful for a valuable life lesson.
Gravitrax Starter Set
The Gravitrax is an ingenious toy that prompts kids to use creative thinking and problem solving as they absorb some foundational concepts of kinetics, gravity, and magnetism. It's a modular system that lets kids build their own marble run with tracks, curves, and lifts in addition to more complex pieces like the one that sends alternate marbles down different tracks. Like any good building toy, it's easy to learn and fun to master.
Air Hogs Supernova
Encased in a protective plastic cage to ensure its propellers don't get damaged, this softball-sized drone looks more like a spare part to a nuclear reactor. Fire it up, though, and it quickly becomes one of the most unique — and kid friendly — drones around. Instead of using a standard joystick or phone, the rechargeable Supernova is controlled by hand motions. Wave your hands, and it will move up, down, right, left, and perform corkscrews and other exciting tricks. Even better, mastering the hand movements brings the satisfaction of learning a new language.
Marvel Avengers: Infinity War Hero Vision AR Experience
Augmented reality is probably already on your phone, but the Hasbro Marvel Avengers: Infinity War Hero Vision Iron Man AR Experience takes it up to Tony Stark levels. Placing your child in the POV—and headgear—of Iron Man, this experience lets them see through the superhero's eyes, literally. Connecting to your phone, it also allows them to fire repulser rays and avoid pitfalls. Three included markers tailor-make the course to the dimensions of their playroom.
K'Nex Thrill Rides Bionic Blast Roller Coaster
K'Nex has always done roller coasters and amusement park rides well (its Ferris wheels remain some of the most satisfying building toys on the market). This 809-piece, 2.5-foot-tall coaster is no exception. Watching the motorized car careen around the wicked turns is a ton of fun. But the most intriguing part of this toy is the K'Nex Ride It! virtual reality app which allows you to experience a first-person view of the coaster you just built.
KumiKreator Friendship Bracelet Maker
Tiny fingers often lack the dexterity to tie complicated knots, which is why we love the Cool Maker KumiKreator Friendship Bracelet Maker Activity Kit. The 148-piece kit, which draws its inspiration from the Japanese "gathered threads"-style bracelets, lets your kids pick five of the included 88 spools of colored thread, pop them into the machine, and weave a custom bracelet that they can wear or trade with friends.
Nerf Laser Ops Pro Blasters
Is a Nerf gun still Nerf gun if there aren't any darts to get lost under the couch? Playing with Hasbro's laser tag gun and you'll reach an inevitable conclusion: yes. The AlphaPoint and DeltaBurst blasters are, well, a blast. Equipped with domed infrared sensors, the guns are accurate and lend themselves to clean-up free play. But the real killer app here is the Laser Ops Pro's Bluetooth capability, which allows users connect their smartphones and play a variety of single and multi-player games. The guns look a bit more real than we'd like, but still deserve a mention because they are outstandingly fun to play with.
littleBits Avengers Hero Inventor Kit
Iron Man and Black Panther became superheroes without getting bitten by an irradiated spiders or injected with rage formula. Tony and T'Challa use technology to fight for good and, with this littleBits set created in partnership with Marvel, kids can too. Kids can piece the components together to build a Stark Industries-style arm blaster. The companion app guides kids through a series of well-designed coding challenges. It's STEM without the stress.
Playmobil Aquarium
The best part of this 112-piece aquarium? It can be filled with real water. It's the perfect home for all sorts of and smiling sea creatures, including a pair of sea lions who can wave, splash, and balance balls on their snouts. Featuring a visitor terrace, deep sea cave, panoramic windows, and a translucent adventuredome for 360-degree viewing, this aquarium puts Sea World to shame.
Stomp Rocket Stunt Planes
Meet the ultimate upgrade to your old school stomp rockets: three unique stunt planes designed by actual aeronautical engineers that perform all kinds of insane swoops and stunts while promoting STEM learning about trajectory, velocity, and aerodynamics. Change the launch angle to take advantage of head and tail winds, sending your rockets soaring more than 100 feet in the air. This set comes with Glider, Looper, and Roller stunt planes, each modified and engineered for some spectacular skyward showboating.
Transformers Power Charge Bumblebee
The gilded guardian of Cybertron is back this December with his own feature film that, honestly, looks pretty meh. This figure, however is not. It converts from classic VW Beetle car mode into the familiar, 10.5 inch tall robot warrior in 17 simple steps that are easy to follow and remember, accented by Energon-powered sound effects, phrases, lights, and moving parts.
Crayola Ultimate Light Board
We normally steer clear from tablet-ified updates to classic kids toys. But Crayola's Ultimate Light Board, which allows kids to create amazing art and display it big and bold with the build in LEDs, is a worthy exception. The specially-formulated Gel FX Markers, included with the set, activate with the light board to produce neon sign-style effects. You can also remove the back panel to convert the coloring board into a tracing pad, allowing for even more artistic adventures.
Ben 10 Alien Force Creation Chamber Playset
With this extra-terrestrial apparatus, you can select and combine plastic action figure body parts inside the incubation chamber and birth your own, fully custom 3" mini figures. The figs come out ready to play and the set features a storage compartment to keep your additional figure parts on ice until you're ready to get back to the lab. The basic assortment includes Heatblast, Four Arms, Wildvine, and Grey Matter, and special Alien Creation Figure 2-Packs are ready to be beamed in.
Scruff-A-Luvs
Each Scruff-A-Luv starts off as a sad, gnarled ball of fuzz. But, throw 'em in the tub, dry them off, and give them a brush, and you'll reveal the beauty within the beast. Could be a dog. Could be a kitten. Could be a bunny. Whatever the species of your kid's blow-dried buddy, know that they love to be washed and pampered. The best part: each Scruff-A-Luv your kid adopts comes with a donation to the ASPCA to help fight animal cruelty.
Swim Ways Aqualiens
As these pod-shaped toys sink to the bottom of the pool, they transform into bug-eyed fish or seahorses. It's a small, but welcome improvement to the normally staid category of pool toys. Bonus: They're brightly colored and easy to find, so you can spot them at the bottom of the pool if your kids can't.
STEM at Play® SLIME! Slime Making Lab Kit
2018 was, in more ways than one, the Year of Slime. This kit, which is designed to teach kids about polymer chemistry through slime, stood out amongst a crowded field. It comes with step-by-step instructions how to use the included materials to perform 17 different "experiments," from slimy coal to sticky play dough. The experiments are fun and engaging but the best part is that slime is the vehicle through which kids can learn more about science.
Pai Technology Circuit Connector
Look at any circuit diagram and you'll see a bunch of lines connecting a bunch of blocks, a simple but useful illustration brought ingeniously to life by Pai Technology's Circuit Conductor kit. It comes with 12 different electrical function blocks, from a lights to a speaker to a miniature fan, and six easy-to-connect wires to connect them. Kids can use an impressive companion app to build basic and parallel circuit setups as well as connect the components to make their own creations which they can then scan into the app to see how the electricity is flowing through them in real time.
Frisbee Sonic
Wham-O went out on a limb re-thinking the Frisbee for a new generation. A flying disc is a flying disc, right? Maybe not. The Sonic looks like a Frisbee that's partially melted, but its square, sine-wave shape is easier for small hands to grasp and for beginners to throw in a straight line. Even your dog will appreciate the new design, which, we're told, is easier for canine mouths to pick up, as it touches the ground at only three points instead of the entire circumference like a circular disc. It won't replace the original, but it's a better, less frustrating place for young disc-flingers to start.
3Doodler Start Make Your Own Hexbug Creature 3D Pen Set
Your kids are going to one day have a 3D printer — we're pretty sure that's inevitable. Think of this toy which melts plastic to "draw" in 3D and allows kids to "draw" bug parts as their starter kit. They can make legs and wings by filling the molds with melted plastic. Once they molds cool, kids attach them to Hexbug motors that vibrate to produce bug-like movement. Kids can also draw freeform with the pen to decorate their bugs to their heart's content.
Ready2Robot Mechbots
Honestly, we don't really care for the "surprise" toy trend. Too much room for disappointment and anticlimactic complaint. But we'll make an exception for this collection of pods, each of which contains one of 19 different characters from Ready2Robot. The pods also contain seven different parts that can be assembled into a robot, as well as some slime (and who doesn't need more slime?) All the parts are interchangeable, so kids can create their own mutant robots by combining pieces from different sets — a nice change from most one-and-done sets.
Nintendo Labo Toy-Con 03: Vehicle Kit
The Nintendo Labo series is one of the more ingenious toys to hit stores in years. Kids can fold and decorate a bunch of pre-cut pieces of cardboard, sometimes attaching string, that connect to Joy-Con controllers and allow them to play video games on their Nintendo Switch in completely new ways. The vehicle kit comes with everything they need to make a submarine controller, joystick, pedal, steering wheel, and key. And while the included mini games are fun, the chance to stomp on the gas and use a real steering wheel to navigate the tracks in Mario Kart 8 Deluxe is definitely the main attraction here.
Jurassic World Thrash 'n Throw Tyrannosaurus Rex
We wouldn't recommend grabbing a real T. Rex by the tail, but that's the best way to play with this two-foot long electronic dinosaur inspired by Jurassic World. Lifting the tail unleashes a terrifying roar while moving it up and down causes your T. Rex to bite, thrash, and toss smaller dinos aside with reckless abandon. They might hear her coming (buttons in her feet activate stomping noises), but she's too big and powerful for them to escape.
furReal Friends: Ricky, The Trick-Lovin' Pup
This interactive Husky has more than 100 sound and motion combinations and does tricks that we wish all real dogs could do. Balance a bone on his nose, and he'll flip it into his mouth. Feed him food pellets, and he'll poop them out unchanged — no plastic bag needed. He also gives high fives, licks faces, and, in a feature kids are guaranteed to love, farts when petted.
Mecard Deluxe Mecardimals
Roll one of these inconspicuous looking cars over a special playing card and something awesome happens: It springs into the air and morphs into a robot warrior, Transformers-style. And while there's also an entire card game associated with the 36 different Mecards, the on-the-fly transformation remains the selling point of these popular collectibles. They easily fold back into cars so kids can delight in making them spring to life over and over again.
Educational Insights GeoSafari Jr. Talking Globe
There have been many attempts at bringing your grandfather's globe into the digital, but Educational Insights GeoSafari Jr. Talking Globe has probably come closest. With more than a thousand facts and 10 hours of audio accessible by the touch of a pen or fingertip, this globe will satisfy both parents and kids global curiosity. Bindi Irwin, the daughter of the late zoologist and TV personality Steve Irwin is the voice of the globe and is the perfect personality to introduce your kids to the world beyond their bedroom.
Lick-A-Bubble
Lick-A-Bubble is essentially a secret mix invented by a pediatrician and food allergist that gives any non-dairy beverage ⏤ Sunny D, Gatorade, soda⏤ the viscosity of bubbles. Mixing a batch involves little more than pouring said favorite drink into the provided bottle and shaking it lightly for about 20 seconds. From there, simply pull out the wand, blow bubbles, eat them, and blow the kids' minds.
Hot Wheels Augmoto Augmented Reality Racing Track
We tend to hate it when toymakers add apps and other teched-out elements to old-school products. Often, the tech elements feel extraneous. Not so with this Hot Wheels set. A standard side-by-side racetrack with a nice loop-de-loop, the Hot Wheels Augumoto uses augmented reality to up the ante of a regular race. Players control the two rechargeable cars with their phones via Bluetooth, firing missiles and laying down tar slicks to slow their opponents. Augmoto marries the best of Mario Kart with real-world fun in a way that works shockingly well.
HatchiBabies
Hatchimals giggled and farted their way to completely dominate the 2016 holiday season. So why mess with a winning formula? Because Hatchimals have to grow. Hence, the new generation: HatchiBabies. Like their predecessors, HatchiBabies arrive in an egg that, with some rocking and rubbing, eventually cracks open to reveal a furry, colorful creature. As in the original, the eyes glow different colors to convey its mood. Unlike it's original, there are baby-themed accessories, from a rattle to a high chair, that kids can use to keep their new interactive pet happy. It still farts. It still makes cute noises.
Rise of the Teenage Mutant Ninja Turtles Epic Sewer Lair Playset
Epic is right. Standing 43-inches tall, the Epic Sewer Lair is the largest TMNT playset ever made. The lair has four levels featuring seven rooms, including Splinter's Dojo, Raph's gym, Leo's arsenal, Mikey's arcade, and Donnie's lab. The inclusions of a catapult basketball hoop, hidden projectile launchers, and rotating skateboard ramp make it the ideal place for turtle-lovers to have fun on the half shell.
Untamed Raptor by Fingerlings
The finger-sized Untamed Raptor by Fingerlings come in four colors and four different attitudes. From their secure perch around your kiddo's finger, each reacts to sound, motion, and touch, emitting roars, gnashing teeth, and even some flatulence. Connect them to the WowWee Untamed app and children can engage their terrible lizards in mortal combat against friends in augmented reality.
Learning Express Helix Power Swing
Just like those old screamer foam footballs from the '90s, the Helix Power Swing causes a huge ruckus as it flies. Your kid can really launch this one too, thanks in part to an attached string that acts as a slingshot, sending the ball into the stratosphere. Upon release, the string retracts, keeping everything neat and ordered. With a max range of 350 feet, the Helix will ensure your child will get more exercise retrieving it than he did throwing it.
smART Sketcher
The smART Sketcher Projector helps your child learn to draw and/or write their name. It projects any number of designs, words, or numbers (including cars, dinosaurs, animals, and more) onto the paper below, allowing kids to trace along while practicing the fundamentals of penwork. You can even use the Bluetooth-connected app to turn pictures on your phone or tablet into traceable templates. Budding artists will use it for hours.
L.O.L. Surprise! Glam Glitter
We wrap presents for kids because they like being surprised. These spherical containers do something similar; kids don't know what they're going to get until they crack it open. They'll find an approximately three-inch tall doll, a secret message, collectible stickers, a bottle, shoes, an outfit, and a fashion accessory. That's a lot of stuff, and it's all interchangeable if kids want to build a collection. There's even an extra surprise: the dolls cry, spit, tinkle, or change color when you get them wet. That's a lot of functionality packed into a less than four-inch wide egg.
Nerf Nitro Doubleclutch Inferno
A newer twist on Nerf blasters, the Nitro Doubleclutch Inferno shoots foam cars (rather than darts) up a ramp and into eight plastic barrels. It features a two-barrel blaster so kids can race, and it includes an impact-sensitive crash barrier that ejects plastic rings when hit and four cars for separate heats, tons of fun, and crashes galore.
Kano Harry Potter Coding Kit
This coding kit from Kano lets kids assemble a wand without making the trip to Diagon Alley. The filament in this wand isn't phoenix feather, dragon heartstring, or unicorn hair. It's Bluetooth. Once the wand is linked to Kano's software, kids can use the company's block-based language to code special wand movements and make objects on screen appear larger, float, or fart. It's pretty magical.
Barbie DreamHouse Playset
At more than three feet tall and four feet wide, the latest take on the classic Barbie DreamHouse is more spacious than most Manhattan studios. It's got three stories, and eight rooms (including a carport and home office), a working elevator, a pool (with slide), lights, sounds (including a flushing toilet!) and more than 60 additional accessories and decorations. It doesn't set proper expectations for what their future house looks like, but this set is packed to the brim with fun features.
Disney Ultimate Spider-Man Talking Action Figure
"Mr. Stark…I don't feel so good…" No, no, no. This doesn't say that. But, this fully-articulated, 15-inch web slinger spouts out 15 unique phrases and sound effects with the push of a button. And, if his banter isn't enough to distract the bad guys, his two working web shooters should do the trick – they each shoot up to two feet.
Infento Master Creator Kit
Kids grow quickly, which means the toys they ride must change, too. This modular construction kit allows you to build up to 32 different vehicles — everything from bicycles, to tricycles, to go-carts, to skateboards — for your kids that are all completely self-propelled and surprisingly sturdy. The crowd-funded kits — even the new ePulse models, which use brushless DC motors to inject some power into your peddle —assemble with a simple hex key, and are the perfect weekend project for you and junior. The only downside? You'll probably have to let him ride it first.
Power Wheels Barbie Dream Camper
The only way to describe the color of this two-kid car, which can hit a top speed of 5 mph, is amazingly pink. Barbie is the voice of a pretend GPS that plays through the speakers that can also pump out three Barbie songs and music piped in through the auxiliary jack. In back, the ride, which has a max capacity of 130 pounds, earns its camper label with a pretend kitchenette that includes a microwave, sink, oven, and fold-out grill. There are even plastic versions of hot dogs and s'mores.
IAmElemental Action Figures
Traditionally toys aimed at girls have traditionally had pretty regressive politics, from the domestic idealism of the Easy Bake Oven to the impossible proportions of popular dolls. One series of action figures is changing that. IAmElemental is a series of action figures made by women and aimed at girls. (Though they're also perfect for boys too.) Each figure is a superhero named after a trait or value like Logic or Wisdom with a unique backstory, look, and ability.
Brio Take Along Labyrinth
Fire up your app store and you'll find plenty of knockoffs of the 70-plus-year-old labyrinth toy from Brio, a testament to the lasting appeal of the game that requires you to roll a marble through a maze. This low-tech version is still way more satisfying, and now the company has released a companion game designed for young kids. It eschews the open top and knobs of the original for an enclosed maze that you simple hold and tilt yourself. Feeling the heavy marble go through the hole at the end of the maze gives kids a sense of satisfaction that no phone vibration can replicate.
Chillafish Monzi
The latest from the Belgium's foremost kid-car and balance bike specialists, the Monzi is a beautiful pedal go-kart that folds up for easy storage, no tools required. It rocks 12-inch "Airless RubberSkin" tires, offers automatic forward and reverse freewheel pedaling, and flaunts a pull handbrake for quick stops. It comes in red and blue and includes a wall mount because something this good looking shouldn't sit collecting dust in the garage.
Barbie Beekeeper Playset
After 60 years pursuing different career paths, Barbie has gone full hippie, moving upstate to become an apiarist. Barbie's new outfit is the big attraction here and it's very cool. The beekeeper hat, gloves, and jacket and made to keep tiny bees, also included, from ruining Barbie's day as she attracts honeycomb from the hive.
The Incredimobile Remote Control Vehicle
Like any self-respecting group of superheroes, the Incredibles have a snazzy, high-tech car that helps them fight crime. This version of their ride features doors that open and a roof that comes off. There are also audio effects, a hood-mounted light, and standard headlights that really light up. Using a remote control, kids can steer around the house battling villains or the family dog. Pets will hate this one, but kids will love it.
The Incredibles 2 Jack-Jack Toy
Jack-Jack from The Incredibles isn't just a baby and this plush version of the character isn't just a doll. Tickle Jack-Jack and he giggles. Hold down his stomach and his eyes and face glow. A small raccoon toy is included so kids can recreate one of the most memorable scenes from the movie, but this toy is a winner based solely on its recreation of the greatest baby haircut in cinematic history.
Disney Princess Playdate Rapunzel 32" Doll
Sometimes, a doll-sized doll just doesn't cut it. If your kid needs something more their size, this Rapunzel, inspired by Disney's Tangled, might do the trick. Its 11 points of articulation make it easy for kids to pose it for any situation; she comes with a movie-inspired dress, shoes, and tiara, as well as a brush that kids can use to style her famously long hair; and she's designed to work with a separately sold Playdate Maximus doll, the horse from the film, but Rapunzel is also a great solo toy.
Paw Patrol Ultimate Rescue Fire Truck
This isn't just a Paw Patrol branded truck. It's a truck with flashing lights, projectile-firing water cannons, and a ladder that, when extends, is two-feet long. It also comes with a mini fire car that releases from the truck and a working claw arm that can be controlled.
Magformers Sky Track Adventure Set
You grew up with tough-to-construct, easy-to-break model trains. Your kids get the Magformers 64-piece Sky Track Adventure Set. Creating tracks that lead cars through spins and climbs is as simple as making a magnetic connections. After their latest concept is finished, track components stack via those same magnets for fast, easy cleanup. It's the ideal gift for your future high-speed Maglev conductor.
Cozy Wings
Part blanket, part wingsuit, Cozy Wings is a nap accompaniment way more interesting than the average blankie. Available in 10 different styles, including butterflies, fairies, spider webs, dragons, and spaceships, there's a pattern to please the pickiest sleeper. The microfiber is extremely soft (but still machine-washable) and the secret pocket is a clear hit for kids (but might require the occasional cleaning out).
Kid Trax Rideamals Scout Play & Learn Pony
Kids jonesin' for a pony this holiday? Consider Scout. It's a three-plus foot long plastic pony that can support a rider weighing up to 70 pounds. It has more than 100 different sound and movement combinations and six different play modes: walk, brush, feed, pet, ride, and dance. It gallops at four miles per hour or trots at three and a half. When they're not riding it, kids can brush its hair and feed it with included (plastic) carrots, mimicking the experience of owning a real one.
Playskool Heroes Marvel Super Hero Adventures Iron Man Headquarters
The oversized shape of Playskool Heroes Marvel Super Hero Adventures Iron Man Headquarters is the perfect for kids who want to take Avengers adventures outside of the films or comics. The Stark-shaped set includes Iron Man and Hulk and a series of trap doors, ramps and flashing lights. Locations include the Hulk's gamma chamber and Spider Man's web launcher, so it's sure to appease the tiny comic fan in your life.
Fisher Price Think & Learn Rocktopus
This smiling cephalopod is basically a compose-your-own-beat music machine that also teaches kids math. Sounds complicated, right? It's not. Creating songs and completing simple math challenges is as easy as inserting one of the K-Cup-like sound pods into the slot and pressing the buttons. There are 15 instruments to choose from (including piano, congas, marimba, and trumpet) and five different genres of music to enjoy.
Fingerlings HUGS
The original Fingerlings wrapped around fingers; these stuffed monkeys wrap around necks. As their Velcro hands hold fast, these larger plushies, like their tiny brethren, react to various movements. Bella (pink) and Boris (blue) are impressively emotive. Our favorite of their sounds? The gleeful "Wheeeee!" they yell when tossed into the air.
Brio Smart Engine Set with Action Tunnels
Brio added a little modern tech to its classic wooden train set by including sensors that allow the engine to communicate with bridges and tunnels. When it goes through a tunnel, it lets loose a choo-choo! When it reaches the bridge, it stops and moves in reverse. In short: the train set does what it always does — just a little bit better. That's what tech should add to already-beloved toys.
Pomsies
These pom-poms with eyes were engineered for maximum cuteness. And they are really, really, really cute. The creatures' faces alone — the poofy fur, the light-up eyes — win kids over. But there's more to Pomsies than just their good looks. They purr when held and have flexible tails that allow them to wrap around, say, an arm or a backpack strap. It's no wonder these little critters are suddenly ubiquitous. They're perfectly evolved to thrive in the kidosphere.
PJ Masks Super Moon Adventure HQ Rocket
From the popular kids cartoon PJ Masks, the Super Moon Adventure HQ Rocket is a must-have for your little superfan. Emitting both light and sound, it's sure to inspire some adventures of their own. A push of a button drops a ramp from which Gekko comes racing out atop his space rover, while a spacious cockpit fits three additional characters (sold separately). With everyone safely stowed, the ship's legs fold up, and a built-in handle can be used to fly it around.
Victury Indoor Soccer Ball
The brainchild of an acclaimed high-school soccer coach from Wisconsin, the Victury is a soft-shell, size-5 soccer ball designed to be kicked indoors. Made from paper-light kite material, the ball rocks a patented re-inflatable KrunchKor bladder, and weighs under one ounce ⏤ 15 fewer ounces that a traditional ball. Sure, it feels almost like kicking a thick balloon, but the Victury is nearly impossible to puncture and perfect for basement fun.
Melissa & Doug Fire Truck Indoor Playhouse
It might not having flashing lights or sirens, but this corrugated, flat-pack, four-foot long, three-foot tall fire truck is a rad role playing toy for kids (and adults who can fit in the doors). The artwork is engaging and it's extremely sturdy, and fun details like a steering wheel that turns, a gas tank that flips open, and, of course, doors that open and close, provide tactile fun for all kids.
Magna-Tiles Glow-in-the-Dark 16-Piece Set
Magna-Tiles have long had a place in our toy box. The magnetic tiles, which allow kids to construct simple structures, are engaging, fun to build, and durable enough to withstand years of toddler abuse. This 16-piece set is a great size to encourage creativity without overwhelming (it includes four squares and 12 various sized triangles). The fact that the tiles glow in the dark adds another layer of entertainment to an already fun set.
Sharing Land Space Odyssey Playhouse
Most cardboard-style playhouses collapse if you so much as look at them the wrong way. This playhouse is durable, easily collapsible, and comes with themed wearables, accessories, and set pieces so you and the kids can stage your own intergalactic exploits from the comfort of the U.S.S. Living Room. The set's plastified cardboard is 100 percent recyclable, and ready to be decorated with washable markers. It's also flame-resistant in case you decide to help your kid add thrusters. Kidding.
My Little Pony Singing Rainbow Dash
This My Little Pony pony has a striking rainbow mane and sunglasses that kids can flip down for extra sass, but the main attraction is the microphone that gives kids the chance to flex their vocal chops. They can choose between three different modes: listening to Rainbow sing (through a built-in speaker), singing with Rainbow, or belting out songs solo with just instrumentals to back them up. There are five different songs to choose from, and kids can sing the lyrics from an included sheet until they (and, probably, you) know the words by heart.
Kinetic Sand Beach Sand Kingdom Playset
What, you might ask, is kinetic sand? Why, it's a mysterious substance that nevertheless feels perpetually wet and sand-like. Could it be considered non-Newtonian? Go ask a scientist. What we know is that it's a blast to build with and, thankfully, extremely simple to clean up. This set comes with three pounds of the magical substance, six molds, and two hand tools, with which kids can build sandcastles in any season.
Melissa & Doug Take-Along Farm Play Mat
Backed with a non-skid material, the Melissa & Doug Take-Along Farm Play Mat is a portable and clean means of bringing a play surface with you. When not in use, it acts as a carry bag for the nine included farm animals, all of which crinkle, rattle, or squeak. Its bright colors are both eye-catching for kids and memorable for you, ensuring nothing gets left behind. We loved the washable fabric of the set, which made accidents as forgettable as the next load of laundry.
Jellycat Rainbow Pom Pom
This bird seems like it was plucked straight out of a Dr Seuss book where it was fighting to save trees or stop an endless war about one-upmanship. Maybe that's just us. In any case, the Pom Pom, with its shimmering rainbow fur, long neck, and purple legs makes for an uncomplicated, fun plush toy that all kids seem to love.
Fat Brain Toys Tobbles Neo
It's been like forever since toy blocks have been disrupted. Call it… writer's block. (Or don't) Anyway, a tip of the hat to Fat Brain Toys, the company that found a way to redesign them. They ditched the cube for a design that resembles the bottom two-thirds of an Easter eggs. These "blocks" fit into each other nicely when you stack them but kids can also grab spin them on their rounded bases.
Tegu Spaceship Travel Pals
Tegu's sustainably sourced hardwood magnetic blocks are non-toxic and able to take a beating, always feature smart patterns and small design touches that make them regular additions in our kids' toy sets. These Spaceship Travel Pals are the ideal (quiet) road trip game: the six piece set allows kids to build a spaceship, yes, but also more than 60 other creations. And the travel pouch makes it easy to pack in a carry on.
Wonder Crew Dolls
Laurel Wilder, a licensed therapist, created Wonder Crew dolls after seeing how existing toys were failing to foster social emotional development in boys. Wonder Crew dolls combine markers of superherodom like a mask and cape with the form factor and soft, huggable body of a doll. They're available in a variety of different ethnicities so all kinds of boys can begin to see themselves in their dolls.
HABA Bathtub Ball Track Play Set
There are hundreds of great bath toys available, many of which do an excellent job keeping kids occupied in the tub. But just barely. This new kit, however, comes with three tracks and one paddlewheel that suction-cups to the bathroom wall and into which kids can drop the included ball or water (scooped with the included ladle). The set combines the best of gravity and waterpower, making your kid into a mini Vitruvius — and a clean one at that.
1-2-3 Build It! Rocket Train Helicopter
From a collection of 12 pieces can emerge three different vehicles. Its this versatility and creative problem solving that attracted us to the1-2-3 Build It! Rocket Train Helicopter. The large pieces are ideal for ages two-plus and are also valuable in introducing your budding scientists to such foundational engineering designs as the propeller and the wheel. We loved that the set included its own wrench, providing children with hands-on experience with the tools they may someday use.
Little Tikes Build-a-House
Once you've set up the frame and roof of this playhouse, your job as contractor is done — and your job as supervisor begins. Turn your kids loose with a battery-powered drill (it's safe) to install the more than 25 play panels that form the walls (and windows and doors and a mail slot) of the house in whatever combination they want. The screws are built into each of the panels, so your kids won't lose or swallow them. It's easy to unscrew and reattach panels, so you can perpetually redesign and remake their playhouse however they want to.
Fat Brain Toys Dimpl
The large, soft, neon-colored silicone buttons of Fat Brain Toys' Dimpl are so appealing to kids under 24 months that they can hardly keep their hands off it. And that's exactly what you want. As they're having fun, they're also learning sensory exploration, fine motor skills, and cause-effect learning. An ABS plastic frame handles drops, while the BPA-free buttons are easily cleaned to their sterile start.
Little Tikes 3-in-1 Sports Zone
Get your kid ready to hit the pitch, court, and lanes with this toy that lets toddlers practice some basic soccer, basketball, and bowling skills. The soccer goal is designed to help kids develop gross motor skills while the multi-colored, dropdown bowling pins are a textbook demonstration of cause and effect. The basketball hoop has a backboard display that teach numbers and shapes, inspire movement with lights and sounds, or lead your kid through specific games. The whole thing folds up for easy storage when your kid is done training for her future career as a professional athlete.
Baby Einstein Curiosity Table Activity Station
This play table comes loaded with components designed to foster motor skills, creativity, and scientific thinking. A bunch of brightly colored gears can be arranged on the vertical board. A drawing surface and dry erase board encourage artistic development. The audio experience of the table plays phrases in English, Spanish, and French in addition to songs kids are sure to love. There's even a circuit activity with a bulb that really lights up when the proper elements are connected. The whole thing is flexible, with height-adjustable and detachable legs, and room for both solo play and exploration with a friend or sibling.
Laser Chess By Think Fun
Handing a kid a game with lasers might seem like a recipe for dual-sibling blindness but with this new game from ThinkFun, it's a recipe for a solid half-hour of absorption. Chess-like, more than chess itself, Laser Chess involves 26 mirrored pieces on a chess set with two small lasers. The goal is to hit the opposing players with your laser. Along the way, your kid (and let's face it, you) learn about angles of refraction and reflection and, naturally, that lasers are cool. Because they are.
VTech Touch and Discover Sensory Turtle
As children from 3-months old to two years, explore their surroundings, one of their greatest assets is learning through touch. And that's what the VTech Touch and Discover Sensory Turtle is built on. Combining a number of textures that your child can test, it offers further stimulation after depressing the large button on its back and through motion detection. Once triggered, myriad lights, sounds, music, and phrases are emitted. We also loved its ability to tuck into a ball, providing additional play options with the same toy.
This article was originally published on