10 Ways to Upgrade Your Morning Brew This Season
Your AM routine just got way better.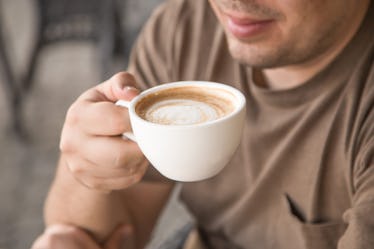 This story was produced by Starbucks.
Mornings are a sacred time. Get up early enough, and the house is mercifully quiet. No horns honking outside. If you're exceptionally lucky, there are no toddlers screaming in your face. The light is soft and the whole day is ahead of you. And this time of year, as that cozy autumn vibe slowly transitions into the holiday season, mornings feel particularly special, and they call for a little something extra when it comes to the best part of rolling out of bed early: coffee. From the brew you pour to smart mugs, here are ten ways you can level up your coffee routine on these cozy mornings (and let's be real, Fridays count as holidays, so we use that term loosely).
1. First Things First: Choose Café-Quality Coffee
The most impactful way to jumpstart your morning? Brew great coffee. Starbucks® by Nespresso® for Vertuo brings straight-from-the-café coffee and espresso right to your kitchen. From a tall coffee to a short espresso, enjoy your favorite cup any way you like. All are topped with rich crema, the hallmark of high quality. Available in seven coffees and espressos (including favorites like Pike Place® Roast, Espresso Roast and Starbucks® Blonde Roast) each capsule packs the flavor, aroma and crema texture you know and love from the café. Just pop one into the Nespresso® Vertuo machine and start savoring.
2. Start Clean with a Water Filter
When calling to mind the ingredients in your coffee, it's easy to focus only on the beans, and optional flavorings, sweeteners, and milks. However, be warned: water is one of the most important ingredients to consider when making coffee. Depending on where you live, your water has a unique mineral composition — and while that's not necessarily a negative, it can affect that coffee in your cup. Pick up a water filter and use it to get the most robust flavor for your morning brew.
3. Channel Your Inner Barista with a Nespresso® Aeroccino Milk Frother
Making coffee shop-quality cups at home is already a level up for kitchen-side coffee drinkers, but why not go the extra mile — especially if you're hosting brunch — for both look and taste with a Nespresso® Aeroccino Milk Frother. While the humble Americano is a standby, adding a milk frother to your homebrew station opens up a whole new world of café favorites like macchiatos, flat whites, lattes, cappuccinos, and more. The latest milk frothers are easy to use and even easier to clean.
4. Cinnamon, Cocoa, Nutmeg: All the Accoutrements
Craving something extra fancy-feeling? Complete the frothed-milk-topped experience with a sprinkle of cocoa atop a cappuccino or nutmeg on an oat milk latte for the full sensory experience. A dash on top of the foamy milk truly makes your cups of Starbucks® coffee by Nespresso® for Vertuo feel like a special occasion and even brings out new tasting notes.
5. Take Your Time and Use a Heated Mug
So you've just made the best oat milk latte of your life and you sit down with a new book. You promptly get lost in the opening pages and your frothy creation has gone tepid. We've all been there. For no-rush, optimal-temperature-all-the-time-for-a-long-time sipping, have a heated smart mug on hand. You can program it to maintain the temperature to your choosing, ensuring your coffee is perfect, no matter how many chapters you read before the first, second, or 18th sip.
6. A Morning Treat Made for Coffee: The Stroopwafel
One's morning coffee-side snack (is that called breakfast?) is purely a matter of preference, but this is for sure: the right accompaniment can make your morning feel extraordinary. For a light but indulgent bite, it's hard to beat the Dutch favorite, the stroopwafel: two thin waffles (think a softer version of an ice cream waffle cone) joined by a thin layer of caramel. Traditionally, stroopwafels are placed over the top of a coffee like a lid so they are slightly warmed before snacking, making them basically a part of your brew.
7. Keep It All Together with a Serving Tray
Juggling a coffee or two, snacks, the paper, and napkins is no way to start a morning. Take a cue from the Scandinavian Fika tradition (that's the twice-daily coffee and snack break taken in the northern European latitudes) and pick up a small serving tray, ideally with a cozy, hygge design. You'll be able to move to your designated coffee spot with everything you need to relax and start the day right in one easy trip.
8. Get a Stretch in with a Yoga Mat While Your Coffee Brews
Daily stretching is an important part of keeping your muscles in top working condition. So while your coffee brews (or before you even fire up the machine) roll out a yoga mat to get your blood flowing. It only takes a few minutes of stretching each day to get on the road to improved flexibility and range of motion. Plus, by the time you enjoy that first cup, you'll already feel like you've earned it.
9. Pick up a Premium To-Go Mug and Take Your Coffee For a Walk
Mornings are no time for rushing out of the house — particularly as the weather turns crisp — but sometimes taking your coffee on a (nice, leisurely) walk is the ultimate indulgence. If the weather is especially nice, pour your Starbucks® coffee by Nespresso® for Vertuo in a to-go mug (opt for a vacuum-sealed, leak-proof model) and enjoy a chilled-out stroll around the neighborhood.
10. Relaxation HQ: The Lounger
No matter how big your living space, no doubt you've spotted a nook that's extra calming and cozy this time of year. And on special mornings, look beyond the kitchen counter and the couch by upping the ante on that unique space. A dedicated lounger (ideally with a side table for your tray) helps make the ritual feel sacred. Look for a lounger that will improve with age and use, like leather or canvas tend to.
Start every day in the right headspace to do your dadding, thanks to Starbucks® coffee capsules by Nespresso® for Vertuo, which can be found where groceries are sold. With the push of a button, your delicious coffee is ready, no leaving the house — or putting on real pants — required.
Pike Place is a registered trademark of The Pike Place Market PDA, used under license.
This article was originally published on