10 New Transformers Toys That Will Make You Wish You Were a Kid Again
From combiner bots to new classic versions of Optimus Prime, here are our favorite new robots in disguise.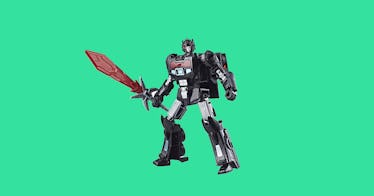 While we can wait for the new nostalgia-fueled Bumblebee movie, it's good to remember why Transformers are so popular in the first place. It doesn't have anything to do with the eighties cartoon and it certainly isn't because of the Michael Bay live action films. Instead, the reason why Transformers are so great is that they are great toys. Those robots in disguise will forever be one of the most revolutionary toy lines to ever exist. They transcend pop culture, trace unique historical roots, and even invented a new way of mass marketing. So, it's no wonder that we're perennially curious about what they'll do next.
This list of Transformers gear and goodies features some modern twists on classic characters, innovative technology, and lots of good, old-fashioned fun from the robots who taught us that there's always more than meets the eye. check it out.
Power of the Primes Predaking
Towering above your other Transformers at a massive 18 inches tall, this colossal Combiner bot features five Voyager Class Predacon figures — Divebomb, Headstrong, Rampage, Razorclaw and Torox. Each mini machine transforms from bot to beast mode and then melds together to create the giant King of the 'Cons. Teamwork!
Rescue Bots Optimus Prime Racing Trailer
Perfect for kid and dad-sized hands, this detailed Optimus Prime figure converts into his classic semi-truck mode and attaches to a dual-purpose racing trailer/vehicle launcher! The included Blurr figure is perfect for racing other bots for pink slips. (DEEP THOUGHT: If you're a Transformer, is your pink slip also your birth certificate?)
Generations Combiner Wars Victorion Collection Pack
What happens when you crowdsource a Transfrormer? You get this badass bot. Fans voted on potential features — including color scheme, molds, and gender (yep, she's a girl) — through a specialized Transformers App, and gave Combiner Wars legend, Victrion, a serious upgrade. The set includes six Combiner figures, five accessories, a poster, collector card, and detailed instructions.
Combiner Wars Megatron
The war for Cybertron rages on, and with this classically-detailed, foot-tall 'Tron in their ranks, the Decepticons definitely have nothing to rust over. Modeled after Megatron's earlier iterations (but without the noticeable Glock cock), this blasting baddie can convert from his robot overlord form to a rip-roaring tank in just 15 simple steps. Don't worry, your kid can show you how.
Soundwave Doombox
As part of Target's exclusive "Bumblebee's Greatest Hits" collection, this 9-inch Leader Class Soundwave figure converts between robot, boombox and city modes, and features a special edition design and packaging layout. And, while it doesn't actually play music, this tubular tape deck definitely won't laugh when you air shred the bridge from "You Got The Touch."
Power of the Primes Nemesis Prime Exclusive
Every great hero inevitably has an evil clone, and Optimus Prime's dark "Nemesis" version is one of the most notorious. This Amazon exclusive figure features a 4-in-1 conversion capacity, so you can toggle between several basic bot and truck iterations before attempting the "advanced" transformations. It also features an evil Matrix of Leadership and formidably Dark Saber sword accessory, which is perfect for shish-kabobing good guys.
Team Combiner Ultra Bee
Using Bumblebee as a bot base, you can unleash the power of four fierce Autobots at once through a simple "one-click" transformation. Just snap the likes of Strongarm, Sideswipe, and Grimlock (along with other assorted Crash Combiner figures, sold separately) onto 'Bee's body and get ready for battle with true Transformers teamwork. The figures also each stand on their own, so there's no limit to the number of combinations you can conceive! (Actually, according to math, it's about 70.)
Keshi Surprise Decepticons
"Life is like a case of mini vinyl Decepticons..you nevah know what ya gonna get." Will it be Starscream? Soundwave? Lazerbeak? When you break open one of these individually-packaged minifigs, you've got a chance to find one of six separate, highly-collectible Decepticons in one of four random color schemes. We already did a math thing for the day (see above), so we'll let you figure out this list of potential combos. Autobots also available!
Optimus Prime Rubix Crew Figure
A Transformer Rubix Cube! Why didn't we think of that? While this 6-inch solvable statue isn't a traditional Rube-Cube, it still combines the best aspects of the 1974 puzzle device and the ultimate Autobot leader. Twist, move and shift O. Prime's parts to create all sorts of powerful permutations, then try and make him whole again before the next Decepticon invasion!
Starscream Furai Model Kit
The snide Starscream, Decepticon consigliere extraordinaire, gets a super-detailed makeover with this massive model kit that features more than 40 points of articulation! Made from solid ABS plastic, and featuring a modernized design, you can assemble and pose 'Scream however you want. Just be careful Megatron doesn't see him flipping the bionic bird when things don't go his way.
Studio Series Bumblebee Showcase Helmet
Capture the bodacious bravery of everyone's favorite Autobot sidekick with this movie-quality replica cowl that wirelessly connects to any smart device. As if the 25+ built-in sounds and phrases weren't enough, the mounted speakers can also blast tunes, YouTube clips, or some of that experimental midlife crisis EDM you've been producing on the weekends.
Bumblebee Movie Stinger Blaster
Inspired by 'Bee's iconic battle blaster, this dual-threat Decepticon destroyer can launch foam discs across the room, or deliver an up-close-and-personal punch with its built-in Energon sword! Even cooler, the Blaster comes with a scannable code that unlocks an exclusive power up in the Bee Vision augmented reality app, which is so cool it's guaranteed to make you question the sentience of your toaster.
This article was originally published on