10 Best Lego Video Games of the Last 10 Years
There are years worth of Lego video games out there, play the best ones.
by Jordan Obey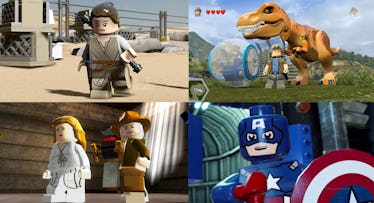 Legos have been around since they were first manufactured by the Danish toy company The Lego Group in 1949, and have become a playtime staple in households all over the world. The iconic bricks are great because they can do so much. With them, you can reconstruct scenes from movies or sporting events, hell, scientists once used them to demonstrate time reversal experiments. They are also in TVs. There are currently 67 lego video games out there and while technically, you could play every single one of them, the truth is that not all lego based games are created equal, so why not just play the best ones? And since Lego video games have been around since the 90s, narrowing things down to the best of the last ten years means they won't be impossibly obscure and hard to find.
LEGO Star Wars: The Force Awakens
Playing through the narrative of Star Wars VII: The Force Awakens as Rey, Finn, BB-8, and other unlockable characters should already be fun. Now include blaster battle mechanics that fees like Lego Gears of War, dogfights in space, and the trademark Lego sense of humor and LEGO Star Wars: The Force Awakens is just that much more engaging.
IGN Score: 9/10
playtime: 8 hours
LEGO Marvel Superheroes
Loads of Marvel's super-powered regulars appear in LEGO Marvel Superheroes and, as an added bonus, the game features deep cuts of Marvel's lesser-known characters like Howard the Duck. While the ability to play as lego-fied versions of famous superheroes is a fun power-trip, the intuitive gameplay makes playing an inviting experience for a casual gamer of whatever age.
IGN Score: 9/10
playtime: 10-12 hours
LEGO Batman 2
Lego Batman 2 brought two innovations to Lego video games. It was both the first lego game to feature voice acting and the first to let players explore an in-game open world. An entire Gotham city of legos is open for business with challenges to collect golden bricks, unlock players, and purchase vehicles to drive around in. It's like a much, much kid-friendlier version of Grand Theft Auto.
IGN Score: 8.5
playtime: 9 hours
LEGO Harry Potter: Years 5-7
The downside of LEGO Harry Potter: Years 5-7 is that it covers a lot of familiar territory from LEGO Harry Potter Years: 1-4. And the upside is that it doesn't matter. Some highlights include the option to venture freely around Hogwarts and even parts of London while playing co-op with your spouse or kids.
IGN Score: 8/10
playtime: 6.5 hours
LEGO Indiana Jones: The Original Adventures
Remember when the archaeologist most likely to stop a biblical curse from devouring the world was just in the movies? LEGO Indiana Jones came out ten years ago following the success of LEGO Star Wars, which makes it one of the first of the new franchise-based lego video games to come out. While it's not as expansive as some of the newer items on this list, the game's puzzles and world of Indiana give it staying power. Plus, it's fun to fight lego-Nazis.
IGN Score: 8/10
playtime: 6.5 hours
LEGO City Undercover
A procedural drama with a witty cop that also happens to be a plastic lego figurine? What is this witchcraft? LEGO City Undercover succeeds because it has all the good stuff from other Lego games and throws in tongue-in-cheek action movie tropes. It borrows vibes from movies like Die Hard and Lethal Weapon but takes itself way less seriously. Now that the newest version of LEGO City Undercover includes a co-op feature the original version didn't, tackling the massive overworld is less of a lonesome chore.
IGN score: 8/10
playtime: 10 hours
LEGO Dimensions
LEGO Dimensions is essentially a cross between playing a video game and playing with toys. Following a toys-to-life format, players use actual Lego toys on a toy pad that's playable within the game. The expansion packs for this game, which branch out into over 30 different franchises, give LEGO Dimensions a ton of replay value and room for ingenuity.
IGN Score: 7.7/10
playtime: 10 hours
LEGO Jurassic World
One rule of thumb is that the more variety a game offers, the more fun it is, and LEGO Jurassic World has over 100 playable characters (including Mr. DNA), which is more than enough variety.
IGN score: 7.6/10
playtime: 7.5 hours
LEGO Lord of the Rings
This is a Lego game with the gorgeous landscapes of Peter Jackson's Lord of the Rings films. When the developers at Travellers Tales put this game together, they were in full focus mode, giving special care to every detail as they rendered their Middle Earth.
IGN score: 6.8/10
playtime: 8 hours
LEGO The Movie Video Game
One limitation of basing a game off of The Lego Movie is that, unlike the borrowed franchises, there's not as big of a universe to expand on. Still, for younger players who don't have the same connection to franchises like Star Wars or Indiana Jones, this game is a fun extension of a hilarious movie.
IGN score: 6.5
playtime: 7 hours
Every product on Fatherly is independently selected by our editors, writers, and experts. If you click a link on our site and buy something, we may earn an affiliate commission.
This article was originally published on