9 Seriously Beautiful, Seriously Remote Family Vacation Spots
Get away — far away — from all of this.
by Terry Ward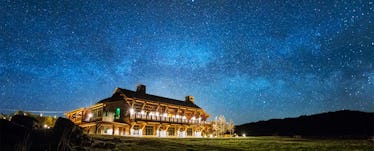 Brush Creek Ranch
It's time to get away. Way, way, far away. The remote family destination is very much alive and well. Many reasons for this are now obvious: Social distancing, public health, the increasing need to unplug from the turmoil of it all. But besides a break from COVID and the bustle and monotony of quarantined domestic life, a natural setting, untouched by humans offers so much more. It's a stark reminder that this planet is a wide, lonely expanse and there is beauty to be found in every corner. Not a bad revelation for a family vacation.
So how do you get away from it all, unplug, and enjoy yourself? If you can afford to, you do it in style. Luxury lodges have the most beautiful corners of North America set, and they are especially perfect for those with kids too small for more rugged excursions. If you have a toddler, a soft bed at the end of the day is a peak vacation. As well as being in picturesque places, the following way-out-there addresses deliver five-star experiences in nature alongside luxe amenities (five-course meals, triple-sheeted beds) to encourage the least intrepid in your entourage to weather the wilds in style. For more affordable alternatives, plot the picture-perfect location of these lodges on the map and look for federal run cabins and campgrounds at state parks on the U.S. Forest Service website or the Parks Canada website. Because the turned-out beds and included kids camps are nice, but ultimately not what these vacations are going to be remembered by
Open for both summer and winter, this ranch about 25 miles north of Steamboat Springs has dedicated family weeks and plenty of ways to stay socially distanced within luxe private cabin accommodations spread across the 540-acre property. Sumptuously decorated log cabins all have lodgepole pine beds and wood-burning fireplaces as well as private hot tubs on patios overlooking the horse pastures and mountains. Wrangler-led kids programs and trail rides give parents a break to try things like fly fishing or, in the winter, ice fishing on a frozen lake. Even if you never leave your porch here except for the excellent meals in the main lodge, you'll be surrounded by natural beauty at every turn.
Local Population: 730
Killer Family Activity: It sounds docile compared to things like ice fishing and learning to lope, but it's tons of fun to head out with the family on the nightly feed sleigh with the wranglers to feed the horses. Someone cuts string from the hay bales while others toss it into the pasture, and the horses come running from all angles in frenzy of manes and swooshing tails.
Current Restrictions: Colorado is open to all U.S. visitors with no mandatory quarantine rules for visitors from other states, read more here.
About 60 miles east of Jackson Hole in the Rocky Mountains, Brooks Lake Lodge & Spa is open during the summer and winter and is best for families with kids ages 7 and up. You're at 9,200 feet altitude at this historic dude ranch near the small town of Dubois, one of the most remote towns in the lower 48. Summer fun might see you horseback riding and fishing for trout with the family, while winter is all about snowmobiling in the surrounding Wind River Mountains, back country skiing, and ice fishing in some of the wild west's truest wilderness. There are eight luxury cabins with wood-burning stoves and a main lodge, so you can be nice and spread out from any fellow vacationers.
Local Population: 6,946
Killer Family Activity: Fish Wyoming's famous waters together then settle in for a trout feast prepared by the lodge chef.
Current Restrictions: There are no travel restrictions in Wyoming for U.S. travelers, read more here.
Guests arrive by charter flight (or hoof it on foot or horseback — there's no road in) to this remote wilderness lodge on 226 acres within the Eagle Cap Wilderness area in Oregon's far northeast interior. Open seasonally from June to October, Minam River Lodge, a former hunting lodge that dates to 1950, was reborn as a wilderness retreat along the wild Minam River. This place is wild. Glacial high alpine lakes and old-growth forests are just out the door, as well as hundreds of miles of hiking trails you'll most likely have all to yourself. Stay in a log cabin or one of the luxe glamping tents and just listen to the sound of true natural silence around you.
Local population: 227
Killer Family Activity: It's all about hiking with almost nobody else around here. Head out with the kids on a half-day adventure to Reds "Horseshoe" Bend, where the swimming hole of dreams awaits on the outer bend of the river.
Current Restriction: Face coverings are required statewide in Oregon in indoor public spaces as well as outdoor spaces where social distancing isn't possible, read more here.
This eco-wilderness lodge secreted away within the UNESCO Southwest Nova Scotia Biosphere Reserve, about three hours from Halifax, is an east coast secret (it's within easy reach of Bar Harbor, ME, by ferry, too, for when things eventually return to normal). Come for guided star walks under some of North America's darkest night skies within the Tobeatic Wilderness, the largest protected area in the Maritimes. Visit French Acadian villages and the Bay of Fundy nearby or just relax in the lodge's barrel sauna and wood-fired hot tub surrounded by birch and beech trees to the soundtrack of two rustling rivers. The main lodge, made from eastern white spruce logs and with just eight suites, makes hygge feel like something Canadian. You can snag extra privacy just downstream at the lodge's lakeside Black Bear Cottage, with two bedrooms, a deck and fire pit overlooking East Meadow Lake. Note that kids must be at least 14 years old to stay.
Local population: 3,911
Killer Family Activity: Guided stargazing walks with the resort's resident astronomer under some of North America's darkest skies.
Current Restrictions: Most foreign nationals currently cannot travel to Canada, check the official government updates for more information.
Easily accessed by ferry from busy Vancouver, British Columbia's Sunshine Coast is surprisingly wild and unpopulated. And by the time you check into West Coast Wilderness Lodge, north along the coast with a dramatic cliffside perch above Sechelt Inlet, you'll feel even more removed. The views from the main lodge's sweeping patio look almost like something you'd see in Alaska, with pine-covered islands and pristine, undeveloped shores. Among the many activities on tap and arranged through the lodge are bioluminescent kayaking at night, boat trips to a nearby seal colony, and all-day cruises into Princess Louisa Inlet to learn about First Nations culture and see majestic Chatterbox Falls.
Local population: 2,600
Killer Family Activity: Right near the resort, make the short hike to Skookumchuk Narrows, where the tides create powerful whirlpools frequented by kayakers that are a thrill to watch from a safe spot on the rocky shore.
Current Restrictions: Most foreign nationals currently cannot travel to Canada, check the official government updates for more information.
Among the most storied lodges in the south, Blackberry Farm in the Great Smoky Mountains of Tennessee makes for a remote family escape for the bucket list. You can stay in the main lodge or socially distance in a cottage or one of the five-bedroom houses spread across the rolling property when you're not horseback riding, fly fishing, or showing the kids your wakeboarding skills on a placid eastern Tennessee lake. Children four and up can check into Camp Blackberry to gather eggs from the farm's chicken house or go canoeing while the adults in your entourage try some mountain biking or just kick back at the spa.
Local population: 272
Killer Family Activity: The property runs some excellent private tours for families, including a wildlife excursion into one of the most biologically diverse temperate areas in the world surrounding the resort, where you may spot black bear, deer, and salamanders.
Current Restrictions: There are currently no travel restrictions in Tennessee, but stay up to date here.
Set on a 30,000-acre working cattle ranch in the wilds of south central Wyoming's North Platte River Valley, Brush Creek Ranch is the place to indulge your family's wild west fantasies without having to rough it for a minute within one of the freestanding log cabins that feel like a five-star hotel. ATV adventures into the surrounding Medicine Bow National Forest, archery lessons, fly fishing in freestone rivers teeming with rainbow trout and, of course, rugged trail rides on horseback are all on an itinerary you can make as packed or relaxed as you wish.
Local population: 1,623
Killer Family Activity: The resort's ziplining course might call out to the kids, but for something they'll remember forever, take part in one of the ranch's cattle drives on horseback for something truly wild and iconically western.
A 40-minute helicopter flight from Anchorage lands you at this luxury lodge in the Tordrillo Range that's famous for heli-skiing during the winter months. During the stunner Alaskan summer, families spread across the private cabin accommodations and main lodge and spend their days white water rafting, wakeboarding on Judd Lake, heli-fishing and hiking in Tordrillo Mountain Lodge's dramatic backyard. Alaska's first Via Ferrata is here, too, with glacier views and plenty of challenging moments for the daredevils in your crew.
Local population: N/A it's fly-in
Killer Family Activity: Arrive by helicopter to Alaska's first Via Ferrata, where you'll cross 1,200 feet of cable and suspension bridges while enjoying glacier views before being choppered off again to your next activity.
Current Restrictions: Travelers arriving from other U.S. states into Alaska must upload a negative COVID test taken within 72 hours and follow other protocols, read more.
With several cabins and a hulking main lodge right along turquoise blue Muncho Lake and the Alaska Highway in Northern British Columbia, Northern Rockies Lodge is owned by a Swiss-Canadian bush pilot, Urs Schildknecht and his wife, Marianne. The true luxury here isn't in the accommodations, which are surely comfortable, but in finding yourself comfortably remote within this wild corridor of North America home to lynx and grizzly bears. Taking a bush flight up to see it all from the sky with Urs in one of his several float planes is epic. The resort is open in the winter, too, when you can go snowmobiling and play ice hockey with the family on the frozen surface of Muncho Lake.
Local Population: Roughly 20 according to this website
Killer Family Activity: Float plane tours with Urs over the sheer wilderness of the Muskwa-Kechika Management Area (it's been called the Serengeti of the north). Make time for a day trip, too, to nearby Liard Hot Springs, which makes most other natural hot springs simply pale by comparison.
Current Restrictions: Most foreign nationals currently cannot travel to Canada, check the official government updates for more information.
This article was originally published on