Why We Need the Non-Toxic Masculinity of 'Ted Lasso'
Imagine men aren't toxic. Ted Lasso wonders if you can.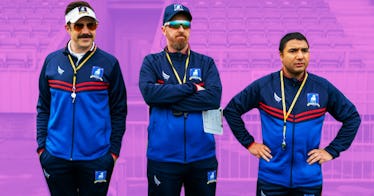 Apple TV+
There's a scene at the end of the first episode of season one of Ted Lasso that will get anyone hooked.
The titular character—the relentlessly optimistic misfit soccer coach transplanted from Kansas to England played by Jason Sudeikis in an Emmy-nominated performance—calls home to speak to his young son and, as we find out, estranged wife. He ends the call by telling her he loves her. "That's okay, you don't have to say it back," Ted concedes. Mild spoilers, but in Season 2, premiering on Apple TV+ on July 23rd, Ted relays a similarly heartrending story about his childhood dog. "It's funny to think about the things in your life that can make you cry just knowing that they exist, can then become the same thing to make you cry knowing that they're gone," he tells the press room after a game.
It's funny to think that a show about men's soccer based on an NBC Sports commercial could make you cry, but that's exactly what the positive masculinity of Ted Lasso does.
Cynical viewers, like I initially was, will expect the worst of the foul-mouthed footballers and people at the periphery of the A.F.C. Richmond club Ted coaches, but they surprise at every turn by leaning away from stereotypes. Team captain Roy (Brett Goldstein), who communicates mostly in grunts and f-bombs, coaches his niece's under-9 girls soccer team since retiring last season and watches reality TV with his boomer yoga girlfriends. Prodigy Jamie (Phil Dunster), who stormed out of Richmond last season, doesn't default to the bigotry one might expect from an exalted sporting god; he's just smug and selfish. Everyone treats WAG Keeley (Juno Temple) in a respectful way, and she, in turn, strikes up a friendship with the intimidating club owner Rebecca (Hannah Waddington), who initially hired Ted to sink her ex-husband's former team but finds herself begrudgingly warming to the "relentless[ly] nice" mustachioed man who brings her shortbreads each morning that he has lovingly baked for her. Even the "wanker" chants thrown at Ted are in good fun—or at least in Britishness—and grow into a term of endearment.
It sounds saccharine at times, but Ted Lasso portrays a universe that is very much our own but in which everyone has the opportunity to learn and grow from their mistakes. Despite Ted's willingness to talk about his and everyone else's feelings, a major arc in season two consists of his trepidation about therapy, a direct commentary on one of the tenants of masculinity being that men suck it up and never reveal their emotions.
One criticism of season one was the lack of racial representation. The majority of the core cast is white, with Richmond's players of color relegated to peripheral storylines. Season 2 goes a way to rectify this, with Nigerian player Sam Obisanya (Toheeb Jimoh) receiving two major storylines. And Ted's main foil—as much as someone can antagonize the kindly coach which is to say mildly discomforting—this season is sports psychologist Dr. Sharon Fieldstone (Sarah Niles), a Black woman. Ted's "general apprehension and a modest Midwestern skepticism" towards therapy, stemming from his one other encounter with a couples counselor which sparked his separation, puts him on the backfoot with Dr. Fieldstone, who doesn't suffer his trying to win her over with Rebecca's shortbreads.
"All people are different people," Ted's right-hand man, Coach Beard (Brendan Hunt), repeats Ted's previous advice back to him and wonders if Ted's not a little bit jealous of someone else being able to break through to the players he worked so hard to do himself last season. Unpacking Ted's own relationship to his feelings is a novel concept for a show that has already positioned him as a sensitive new age guy. In season two, Ted's positive masculinity is on display and up for critique.
For as much as Ted Lasso is about positive masculinity, it often looks at how it intersects with femininity or things we consider stereotypically feminine. As previously mentioned, two of the central characters are Keeley and Rebecca, coupled with the addition of Dr. Fieldstone. Despite Ted having a son, he only appears in a couple of episodes, but season two delves into Ted and Jamie's relationships with their own fathers. The main paternal relationship is that of Roy and his niece, which is a joy to watch. The footballers are unafraid to talk about their fondness for manscaping and "long hot baths when we get home" instead of the weak showers at the club, while Ted engages in "girl talk" and manicures with Rebecca about her love life.
When Ted Lasso premiered a year ago, it was a welcome antidote to the rampant misogyny and racism that was pouring out of the White House. With season two dropping within days of the racist response to England's loss to Italy in the Euro 2020 final, we're still in desperate need of Ted Lasso's positive masculinity.
Ted Lasso Season 2 hits Apple TV+ on July 23. It will run for 12 episodes, two more than Season 1.