Where to Stream the First 'Ant-Man' Before 'Ant-Man and the Wasp'
The second 'Ant-Man' comes out tomorrow, watch the first one tonight.
by Jordan Obey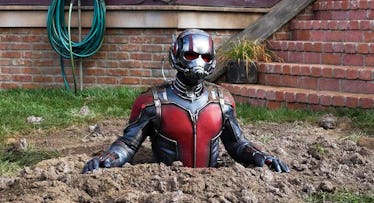 Tomorrow's release of the Ant-Man sequel, Ant-Man and The Wasp is the perfect juxtaposition to the galaxy wide scope of The Avengers: Infinity War, which hit audiences with a cold-blooded cliffhanger a few months ago. Starring Paul Rudd and Evangeline Lilly as the titular Ant-Man and Wasp, this follow up looks like it's going to have a lighter tone than the last Avengers movie and more in the same vein as the first movie which, if you haven't caught it yet, you can easily check it out on a few different streaming services.
Ant-Man isn't available on Hulu or Netflix, but digital copies can be rented or bought at a variety for other websites. You can expect it to run you around $4 for rentals and either $13 or $15 for purchases depending on whether or not it's in high definition.
On the Apple streaming service, Ant-Man can be rented in HD for $3.99 or bought in HD for $14.99
An Amazon Prime account grants access to Amazon's digital library for $13 a month, otherwise Ant-Man can be rented in HD for $3.99, SD for $2.99 or bought in HD for $14.99 or SD for $12.99
Watching Ant-Man on Google Play costs $2.99 for a rental or $12.99 to purchase.
It's nice there's more than just trailers available on YouTube. Ant-man's available to rent there for $2.99, or purchase for $14.99
Now that the theater locator and online box office company now streams movies, Ant-Man in HD is available on FandangoNow for $21.99 or SD for $17.99.
Microsoft Stream has Ant-Man for $19.99 in HD and $14.99 in SD.
Direct Cinema
It's not possible to buy Ant-Man on Direct Cinema, but a digital copy is available for $2.99.
At $3.99 and $2.99 respectively, the HD and SD versions of Ant-Man have different prices on Vudu. Weirdly, both versions are available to buy at $14.99.
This article was originally published on