A Minimalist Haven In The Berkshires That's Perfect For Family Adventures
Tourists hotel, in North Adams, is comfortable, affordable refinement at the intersection of art and nature.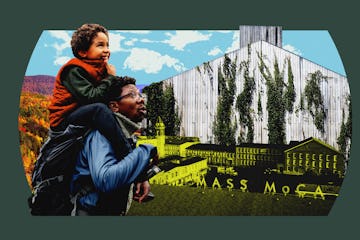 Ariela Basson/Fatherly; Getty Images, Tourists
Driving through the Berkshires on my way to a weekend-long poetry festival called Saturnalia at the just-opened Tourists hotel a few years ago, I had the visceral feeling of sinking into the past while climbing ever higher through forested hills. I'd never been to the Berkshires — the beautiful and historic highlands of Western Massachusetts. "Berkshires" was mostly just a word that floated around in my head with vaguely positive properties. It was the New England of Nathaniel Hawthorne, Henry David Thoreau, Herman Melville, and, later, Edith Wharton, all of whom worked and wrote and thought under the influence of its landscape. And it was the New England of manufacturing boom times that ultimately left behind acres of abandoned textile mills, factories, and warehouses in its towns and along its rivers.
North Adams, Massachusetts — where Tourists is located — is, in many ways, the epicenter of the subsequent effort by curators, artists, investors, and locals to revitalize the region through art and cultural institutions with the power to draw visitors from all over the world.
Most emblematic of that effort is The Massachusetts Museum of Contemporary Art (MASS MoCA) — housed in a former industrial complex of 26 buildings over 250,000 square feet. The gallery spaces are almost mindbogglingly huge — with rotating and permanent exhibitions featuring major (and sometimes interactive) works from Laurie Anderson, James Turrell, and many more, as well as performances — and performance art — throughout the year.
Tourists is in the spirit of that kind of revival — in 2018, a group of entrepreneurs and local artists that included Wilco bassist John Stirratt, opened the arts-centered boutique hotel on the site of the old Redwood Motel. It now encompasses some 50 acres of surrounding forest, trails, and historic buildings that guests are free to explore.
While Tourists is routinely listed among the finest hotels in the world, it's surprisingly affordable (rooms start at $199) — and all of its communal spaces have the warmth of a beloved lodge that's been long-settled at the confluence of nature and design. It's the kind of place that creates long-haul devotion and intergenerational fandom.
The interiors of the hotel's 46 rooms are all clean concrete lines, built ledges, original plywood furniture, and big windows that face the rolling green of the former motel courtyard. Down the hill is a heated pool, and beyond that, a suspended footbridge that connects the hotel property to miles of trails, along which the hotel hosts expert-led foraging trips and other seasonal events.
To me, Tourists felt like of a minimalist-maximalist paradise: the mind-focusing minimalism of my room against the maximalism of the lush green world right outside my window. As Tourists puts it: "Your room is both haven and trailhead, connecting you with your vacation self and serving as a basecamp for adventure."
That adventure might be culinary: Food trucks, distilleries, breweries, and finer fare are all around. (Tourists serves drinks and food in their Airport Rooms, located in the renovated 1813 farmhouse next to the hotel.) That adventure might be art: whether you go to MASS MoCA, the Clark, or one of the many galleries in town. Or the adventure might be what we typically picture: a climb to the top of Mount Greylock, the great whale-like hill that Melville studied as he wrote Moby-Dick from his desk in nearby Pittsfield, Massachusetts.
Tourists is the perfect launching pad — or the perfect family retreat. I still think about my time there, especially now as a parent to a toddler, as the perfect refuge — a place to think, a place to relax, a place to work. We need to get back there.
Room With A View
There's a variety of rooms at Tourists — from $199 to a little less than $500 per night. Some are multi-room suites, while others offer studio-like simplicity; they all offer some unique feature — from outdoor showers to hidden bunk beds for kids — and all come with direct, private access to the outdoors.
Get There
North Adams is at the top of the Berkshires, close to the New Hampshire border — but most destinations are within an hour's drive, including towns like Great Barrington, Stockbridge, and Lenox, and institutions like Tanglewood, Jacob's Pillow and Ski Butternut.
Tourists is roughly 3 miles from MASS MoCA, 3 miles from the Clark Art Institute in Williamstown, home to Williams College, and close to Mount Greylock — you can drive to the top, weather permitting, or set off on a moderately challenging 6.2-mile round-trip hike to the summit. There are plenty of shorter hikes to tackle on Mount Greylock, too.