Today Anchor Craig Melvin On Teaching Kids About Kindness, Empathy, and Race
"I'm going to have uncomfortable conversations with both of my children about race."
by Donna Freydkin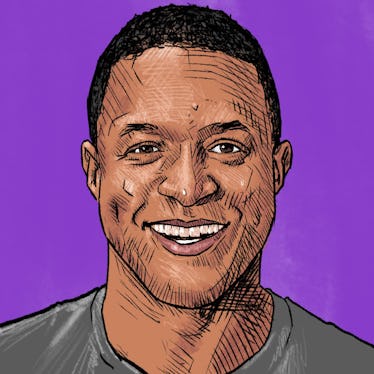 Craig Melvin has a difficult job. He covers complex, thorny stories for a wary and heterogenous early morning audience. Melvin delivers nutrition to viewers who generally prefer something a bit sweeter and easier to swallow. And he does the same thing at home, where he's raising two children, Del, 6, and Sybil, 3, with his wife, Fox Sports anchor Lindsay Czarniak.
"One of the things I'm really working on with my son is making him feel comfortable in his own skin, with who he is and what he likes and doesn't like. I found growing up that served me well later in life," Melvin told Fatherly. Recently, Melvin led a conversation with Black fathers about talking to children about the color of their skin. "You cannot insulate them," he explains. "At some point, they're going to come face to face with the reality of their blackness. I'm going to have uncomfortable conversations with both of my children about race." Here's what else he's teaching his kids.
What values are important to you as a dad?
We're working on kindness. We're working on empathy. God knows the world needs more kindness right now. We have legitimate conversations. You see the wheels spinning, you see my son process and synthesize conversations. My daughter as well.
You covered the trial of George Zimmerman, who murdered Trayvon Martin, and the Michael Brown shooting in Missouri before reporting from George Floyd's funeral in Houston. Does this feel different to you?
I've been to a lot of demonstrations. It's different this time. The fact that they've gone on for almost three weeks now. You look at the demographics. A lot of the folks protesting don't look like me. That hasn't been the case in recent years. You look at the racial makeup and it's fairly obvious that there is something different. How do you harness this energy? What does this become? How does this moment become a movement?"
Have you talked to your kids about what's happening in the world, and about the protests?
I'm going to have uncomfortable conversations with both of my children about race. I don't think they're old enough to have the conversation now. I know there are some parents that probably disagree. It was enough to try and explain the pandemic. To try to explain systemic racism in the middle of a pandemic is too daunting of a task.
In terms of your job, do your kids know what you do for a living?
They know I do TV. The home studio is downstairs. They'll watch occasionally. The only thing that generated some excitement was when I was able to arrange a meet and greet with some characters from Sesame Street. I like that they don't care a whole lot.
Given that both you and your wife are home so much more now, as most parents are, how do you handle discipline? Meaning, who's the bigger hardass of a parent?
He's adept at manipulating both of us. Part of it is a function that she's there a lot more than I'm there. When I step in and say no, both of them tend to bristle a bit. There's value in that. You need a good cop and bad cop. Sometimes she plays bad cop. Sometimes I play bad cop. I don't like playing bad cop. I say no to my daughter and I can see her little face contort. After the moment of discipline, I make sure she still likes daddy.
This article was originally published on