4 Tips And Pointers For The Late-Blooming Golfer
Make the game your own with these tips and tricks.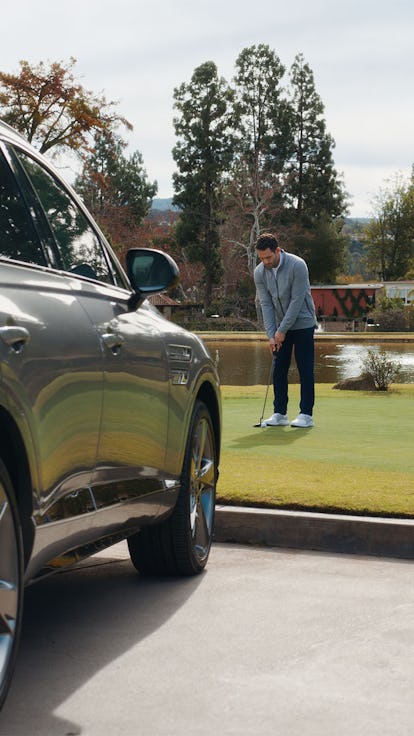 One of golf's most prestigious events, based in Augusta, Georgia, is known for its late-blooming azaleas, which hit their peak around tournament time. The same can be said for the not-so-young golfer, whether they are "late bloomers" playing the game for the first time, or experienced players hitting the course with a renewed sense of vigor and vitality. While golf is sometimes seen as a seniors' game, third-generation golfer and PGA professional Andre Lacey II, an Augusta native, says the greens are for all ages. "It's really a game for everybody," Lacey says. "I believe that the pandemic exposed that because no one wanted to be locked in the gym, and golf became bigger [than ever before]."
It's really a game for everybody
Championing inclusiveness in golfing, the automakers at Genesis are partnering with some of the game's biggest organizations and tours to highlight and celebrate a culture of respect and innovation in the sport. Their immersive and encouraging approach was on full display at the Genesis annual invitational this past February, where guests could participate in the Genesis "Closest to the Pin" Challenge or take a few shots with the help and guidance of a PGA Coach – because the sky is the limit when you are willing to learn from a pro.
Recently, Fatherly caught up with associate Lacey to learn some of the most essential tips and tricks he had to offer, in an effort to not only help prospective golfers everywhere progress in their game but also to help them keep their bodies intact in the process.
Don't Shy Away From Professional Help
"There are several ways to learn the game, but the best way is to get an instructor and learn the basics," says Lacey. "Once you get the fundamentals, then you'll learn what equipment to buy versus what not to buy, but it helps to always start with someone who's knowledgeable and trained. Then, you can move forward with knowledge that will keep you from getting yourself hurt or spending too much money."
While attitudes can vary from person to person, one attribute that is common to all who advance in their game is openness. "Be open to criticism, be open to instruction," Lacey says.
Try Not To Overexert Yourself
Lacey will be the first to remind any aspiring golfer that they don't need to be a superhero to play golf — they just need a good attitude. "There are people in wheelchairs, with limited range of motion, who can play the game of golf," says Lacey. "I have chronic Achilles tendonitis, so you may see me walking well one minute and in pain the next, but I still do it." For Lacey, he made a habit of telling prospective golfers to approach the game like you're going to get a massage. "You want to relax. When you go, you're like, 'I need this.' When you leave, you're like, 'I needed that.'" While there can certainly be times of frustration, the key that makes a player great is often his or her calm.
Preparedness Is Key
Like with many things in life, preparedness is key. This means hydrating and stretching before hitting the green. From rolling an ankle to breaking a wrist, throwing your back out, to all types of soft tissue injuries, the world of golf can be a world of pain if you don't approach it with finesse. It's best to prepare yourself mentally and physically, and make the game your own – whatever your terms might be.
"This means you need to stretch before making a swing. A (bad) swing can throw your back out, and now you're sitting down and can't go to work — can't make no money because you overdid it," Lacey says. Once you learn the fundamentals, Lacey says, then you know that "the power isn't in how hard you swing, the power is in how you connect with the ball."
Quality Lessons Should Always Come Before Pricey Gear
While it might seem like the perfect game of golf is just a new club away, that is rarely the case. Like anything worthwhile in life, a good game of golf takes hard work and time, and can rarely be rectified just by throwing money at it. "If you like to have brand new stuff, go get the brand new stuff. But in reality, you can go to (consignment shops) and buy clubs and get what you need to start, because you are not gonna go out there and play well at first," Lacey says. "Until your skill catches up with your equipment, you don't need to buy anything. Spend the money on lessons."
Here's how Lacey breaks it down: The average cost of clubs is $1500 a set. You can get 20 lessons for just over $1200, which includes golf balls and general instruction. Taking lessons and buying (inexpensive) clubs will save you money while helping you to invest in a foundation that will carry you through a lifetime of golf.
Ira Miller, the general manager at the Augusta Municipal Golf Course, affectionately known as "The Patch," agrees that a pro's perspective is the crucial game-changer.
"Folks will spend money on expensive clubs, and they end up in the closet," Miller says. "Go to the range. Getting a PGA professional and getting some lessons [will do more to help you get on the right path]."