Tips For Making Your Kid's First Trip To The Disneyland Resort One They'll Never Forget
First things first: Get your "1st Visit" button at Guest Relations.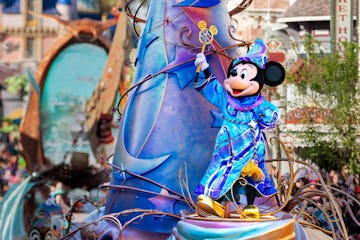 When you hear the words "Disneyland Resort," what comes to mind? California? Roller coasters? Your favorite classic Disney song? Well, whatever you think of when the Disneyland Resort crosses your mind, there's a good chance you're only scratching the surface of the magic and fun a visit offers. This iconic theme park offers so much more than big rides and attractions you might know about already — and we've got tips for making your child's first trip one they'll never forget.
Your child's first visit to the Disneyland Resort is a big deal to them and to cast members.
Commemorate the occasion by getting a "1st Visit" button at Guest Relations. Your kiddo can pin their button onto their favorite Disney costume all week long, alerting everyone they see that it's their first foray into the wonder of Disneyland Resort. Grownups can get in on the magic, too. There are Mickey Mouse and Minnie Mouse ears available for the whole family in most of the shops in the parks!
Music, ice cream, and Disney pals? Sign us up!
The best time to enjoy a Premium Mickey Mouse Ice Cream Bar is while you're watching the "Magic Happens" Parade at Disneyland Park. Mickey Mouse leads the way, and his friends, like Moana, Coco's Miguel, his dog Danté and even Frozen 2's Anna, Elsa, Olaf, Kristoff, and Sven pass by to the sounds of a high-energy score.
Got any car lovers in the fam? You're going to love this!
Zoom on over to Cars Land in Disney California Adventure Park and get acquainted with everyone's favorite race car, Lightning McQueen, and the other residents of Radiator Springs. Still feel the need for speed? In Tomorrowland in Disneyland Park, guests who are at least 32 inches tall and accompanied by someone at least 54 inches tall can drive their very own hot rod on Autopia, a super fun mini motorway and the only remaining original attraction in Tomorrowland. While you're in Tomorrowland, your family can save the galaxy as a team or engage in a little friendly competition when you set out to defeat Evil Emperor Zurg on Buzz Lightyear Astro Blasters.
Spark creativity and discover your inner artist at Animation Academy.
It's located in Hollywood Land at Disney California Adventure Park! Every half hour, a new drawing class starts at the Disney Animation Building. Just show up ready to create! While you're there, don't miss the chance to visit Turtle Talk with Crush, "the totally tubular sea turtle" you and the kiddos loved in Finding Nemo and Finding Dory. His underwater pals are likely to join him for a chat your family will never forget.
There's no better way to enjoy the beautiful SoCal weather than to head to the Disneyland Resort!
Check out the Redwood Creek Challenge Trail, where there's "a world of woodsy fun waiting to be discovered!" Located in Grizzly Peak at Disney California Adventure Park, you can spend a few adventure-filled hours exploring and rock climbing. Most experiences at Redwood Creek Challenge Trail have no height or age requirement, but guests looking to test their climbing skills at the Cliff Hanger Traverse Rock Climb need to be at least 42 inches tall. In the re-imagined Mickey's Toontown at Disneyland Park, guests of all heights can scamper around Goofy's How-to-Play Yard, a whimsical homestead that could only have been designed by Goofy himself.
No trip to the Disneyland Resort would be complete without a few character encounters.
Meet beloved Disney Princesses at Royal Hall located in Fantasyland at Disneyland Park. Walk through Minnie's House located in Mickey's Toontown at Disneyland Park, and you might just get a chance to meet Minnie Mouse herself! For an even more up-close-and-personal visit, try booking a Character Dining Experience!
The Disneyland Resort offers something for everyone. When you start preparations for your magical trip, you'll find a variety of tickets, price points, and vacation planning tools to make your trip more relaxing. Once you arrive, the Disneyland Resort offers so much more than just attractions, including favorite characters, shows, and opportunities to just play in the Happiest Place on Earth.
Both a theme park reservation and valid admission for the same park on the same day are required for park entry. Park reservations are limited, subject to availability and not guaranteed. Entertainment, experiences and offerings may be modified, limited in availability or unavailable, and are subject to restrictions, change or cancellation without notice. Park admission and offerings are not guaranteed.