This Dad Won an Emmy. Here's What He Says Your Kids Should Watch
Jay Bennett has seen it all, from Disney to Netflix. Here are his top picks for great games, shows, and digital experiences for kids.
by Jay Bennett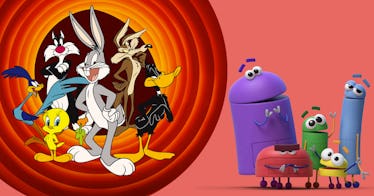 Warner Bros. / Netflix
eWith millions — actually probably billions — of online, mobile, platform-based, and other digital games and content sources available to kids today it can be tricky to suss out the good stuff. I've dedicated my career to creating some of the top digital and interactive content on the market for some of the biggest producers out there, including Disney, Netflix, the BBC, HexBug, and many others. I've seen a lot and played a lot — and I've been lucky enough to be awarded an Emmy for my efforts, which I share only to give you confidence in the recommendations I'm about to make. To help save you a bit of time, money, frustration, and perhaps disappointment below is a list of some of my favorite multimedia experiences that I recommend to all of my parent friends.
This story was submitted by a Fatherly reader. Opinions expressed in the story do not necessarily reflect the opinions of Fatherly as a publication. The fact that we're printing the story does, however, reflect a belief that it is an interesting and worthwhile read.
Acron Attack of the Squirrels on VR
Virtual reality is obviously amazing but my main complaint is that so many of the experiences are just for one person – while everyone else just sits around. So, I love it when developers find ways to create inclusive VR experiences, like this nutty, forest-themed game. In Acron Attack of the Squirrels a traditionally solo VR game turns into a whole family experience. Up to nine players can interact with the game using the traditional Oculus Touch controller, and a mobile app — all working together to accomplish a mission – protect the tree! Now, that's fun technology
Storybots on Netflix
TV doesn't have to be mindless. Case in point, this clever Netflix series featuring cute characters, famous guest stars, solid music, and engaging storylines that answer some of kids' biggest questions, like "how do computers work" and "why can't I eat dessert all the time." So good you'll find yourself watching without the kids
Camp Bonkers on Roblox
My newest project is perfect for Roblox lovers! With three ways to engage, kids can fully immerse themselves in the Camp Bonkers world. Enter the camp on Roblox to hang out with friends, complete camp activities, and explore a brand-new, camp-themed world. Move to CampBonkers.com to complete real-world challenges that unlock virtual badges and exclusive Roblox swag. Then join the world on YouTube and watch as Camp Hosts attempt Bonkers experiments, crafts, and more
Piff the Magic Zoom Show on Zoom
Forget boring business calls… Zoom is way more fun with this fully interactive magic show! Piff combines old school magic with new-school tech to perform feats of magic that are both amazing and hilarious. Plus, the Zoom platform enables the talent to engage directly with the audience. A director I recently worked with on the Wind Sun Sky show, My Singing Monsters Fandemonium, attended the magic show with his son and raved for days—a glowing, expert recommendation I can't ignore.
Lost Mummy Escape Room Kit in the "Real World"
My dad is crazy for board games and family game night was a constant in our house growing up. I'm a particular fan of immersive storytelling and games that ignite the imagination. This Escape Room Kit requires imagination, real-world logic, and problem-solving skills as kids race to unlock the mysteries of the mummy tomb and escape before time runs out. 20% of the profits help kids and communities escape poverty. How cool!
Grizzly and the Lemmings on Netflix
My brother-in-law and my four-year-old nephew love this show (I've even caught my BIL watching late night, alone!). Hilarious and fun for all ages, the OG Tom & Jerry inspiration shines through as Grizzly, a super-smart Canadian bear, tries to keep his family of lemmings in line.
Avo! on Augmented Reality
You've probably played your fair share of Pokemon Go, but there's a wide world of AR games out there waiting to transform your smartphone into a larger-than-life, magical experience for your kids. I highly recommend the app Avo! Kids interact with the world around them as a mystery-solving avocado, named Avo. Solve puzzles, snap pictures with your avocado, and laugh together. Looking for another AR adventure? Snap Ships is a new game I recently produced that combines physical toys, a digital series, and an AR app to bring kids' creations to life.
Classic Looney Tunes (YouTube and HBO Max)
Bugs Bunny, Daffy Duck, and the Road Runner were some of the firsts in animated entertainment and I love sharing a bit of my childhood with the kids in my life. In my opinion, these shorts top a lot of the newer, faster-paced animated content available today in terms of quality. Check them out — I dare you not to chuckle.
***
Jay Bennett is an Emmy-winning leader, creator, and digital pioneer whose unique experience has resulted in new ways to engage and communicate with audiences and consumers. He has worked with global broadcasters and Fortune 500 companies including Disney, Netflix, BBC, NBCU, Walmart, Playmonster, HexBug and others to create innovative content that blends first-rate storytelling with digital, social, VR, branded, and interactive extensions. He is currently the VP of Franchise Creative & Strategy at Wind Sun Sky Entertainment.