The Best 'PAW Patrol' Games to Play Online and IRL
Your kids will think these games are so fun.
by Alicia Kort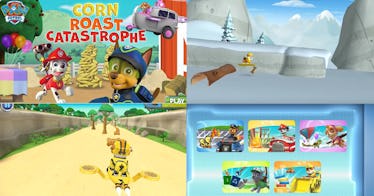 Nickelodeon
Your child probably can't get enough of Ryder and those pups from PAW Patrol. So, if you would like to take a break from hearing PAW Patrol constantly on in the background of everything at your home, we've compiled a list of board games, online games and downloadable apps that your child will love. You might still hear those familiar signature phrases, but at least you won't be hearing the same episodes over and over again. In these games, they can choose which pup they're going to play as, which is very fun for fans Chase, Marshall, Rocky, Rubble and Skye. Not only are these Nick Jr. games entertaining, but they are also educational. Children will learn how to identify colors, numbers, and shapes, which are skills they should master sometime between the ages of three and seven. They can even practice counting, sharpen their motor skills by using a computer or your cell phone and learn about the benefits of teamwork, which is one of PAW Patrol's main tenets.
1.PAW Patrol Beach Rescue Play Mat Game
In this game, there's a huge mess on the beach after a storm. Your child can choose to play as Chase, Marshall, Rubble or Rocky. Each pup has their own special vehicle, but this token doesn't move across the board. This game helps children learn how to identify colors and practice counting. Whoever collects the most treats wins this fun game!
2. PAW Patrol Rescue Run
Venture into Adventure Bay with the PAW Patrol pups to go on some fun rescue missions. There are even mini-games that tap into each pup's special skills. Your child can continue to develop their motor skills by playing some of these RPG-style games where they guide the pups through obstacles.
3. PAW Patrol Academy
Introduce your child to the concept and joys of arcade-style games with PAW Patrol Academy. Your child can play five different games and as five different pups—Chase, Marshall, Rubble, Skye and Rocky—that are just fun. They'll also help your child strengthen their motor skills.
4. PAW Patrol: Air & Sea
This app helps teach children how to identify shapes and numbers and count through fun games. Your child can play as one of the six PAW Patrol pups and go on adventures in the air and sea. They will collect treats and badges as they complete the missions. There are 30 levels of fun plus mini-games in this app.
5. Corn Roast Catastrophe!
There's been a disaster at the Corn Roast. All of the corn is smoking. This is a job for Marshall! Your child can play as Marshall as he puts out each stack of roasted corn with his fire extinguisher. Your child will also have the opportunity to practice their counting skills in this fun Internet game.