The 15 Best Audiobooks for Kids in Grade School
Check out these audiobooks that are good for the elementary school soul.
by Jordan Obey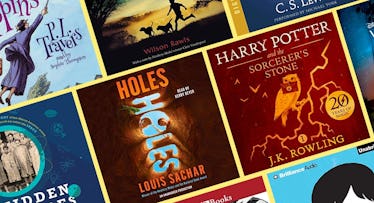 If you've ever experienced children getting antsy during long road trips or restless right before it is time to turn out the lights and wind down for bed, then you might be familiar with the power of good audiobooks, which can both sooth children and help make long road trips feel a lot less like long road trips. But not every audiobook does the trick. Kids of different age groups are going to have different needs, and some books they like might just try your patience or, worse still, your sanity. How about instead of all that you pick from these quality choices that won't just engage kids, but could also inspire them to go out and find more stories they like either in a book or an audio file. And if your kids are a bit older and passed the phase where they are reading Green Eggs and Ham, here are some audiobooks with themes that are a little more mature that they will enjoy.
Restart
A lot of stories for kids are about how to deal with bullies, which is fair, bullies are the worst. But what there aren't a whole lot of, are bully redemption stories. And what there even less of, are bully redemption stories where the impetus of that redemption is amnesia, which is exactly what Restart is. In it, the main character Chase falls of a roof, loses his memory and when he's trying to piece his identity back together finds out he's been a dick to everybody in his life. The big question is whether or not that's going to change now that his memory's been wiped.
Download Restart for $20.99 here.
Harry Potter Series
The series of books about the tragedy-filled school years of an orphaned wizard and his friends became the standard of young adult fiction, and it's easy to see why. With wizards and wands, wonder and witches, the Harry Potter series is a great set of stories to listen to either in one go on a long road trip or to listen to in parts before bed.
Download the first in the series, Harry Potter and the Sorcerer's Stone for $29.99 here.
A Wrinkle in Time
Even though a disappointing adaptation hit theaters earlier this year the classic, Newbery Award-winning science fantasy book has not lost a bit of its charm. If you're not going to read the book, skip the movie and listen to the audio version instead.
Download A Wrinkle in Time for $17.50 here.
The Giver
Lois Lowry's novel about a twelve year old boy who learns the dark secret behind his seemingly perfect community was ranked the fourth best chapter book for kids in a survey held by the School Library Journal. For a kid's book, it refreshingly treats matters like death and pain without an air of condescension.
Download The Giver for $21.27 here.
Where the Red Fern Grows
There's no question if you listen to Where the Red Fern Grows, you are going to cry. This is a story about the friendship between a headstrong kid named Billy and his two dogs Old Dan and Little Annie and what they are willing to go through to protect each other. The answer is, lots.
Download Where The Red Fern Grows for $20.97 here.
Matilda
Misunderstood Matilda is considered an annoyance at home, and at school her she gets nothing but hate from her headmistress. Everything pretty much seems like crap until, that is, Matilda realizes she has special powers. This is the book that inspired the 1996 hit narrated and directed by Danny Devito.
Download Matilda for $21.00 here.
Holes
This is an oddball of a story about a cursed family, and the unfortunate legacy of a quasi-internment camp for troubled youth forced to dig holes that are five-feet deep and five feet wide. It's also the basis of a movie that starred Shia LaBeouf before he got all weird.
Download Holes for $21.00 here.
The Princess Bride
The only hesitation we have for suggesting this listen is that once someone is exposed to The Princess Bride, it is impossible not to quote it. In addition to the movie with Andre The Giant, the audiobook is an awesome take on the original book written by William Goldman.
Download The Princess Bride for $7.95 here.
Hatchet
Hatchet is a survivalist adventure book for kids. After 13-year-old Brian survives a plane crash he's forced to live out in the woods by himself, separated from his divorced parents.
Download Hatchet for $21.27 here.
Redwall
Magic, swordplay, and high adventure are woven together in the book that kicked off Brian Jacques famous series of books about the mice of Redwall Abbey. The first book in the series follows a mouse named Mattias who daydreams about a life of excitement and his eventual face off against Cluny the Scourge, an evil rat hell-bent on destroying the sleepy town's peace.
Download Redwall for $28.00 here.
Mary Poppins
The eccentric nanny is best known for her appearance in the hit musical starring Julie Andrews, but before Andrews dazzled audiences' eyes and ears, the character Mary Poppins brought life to the pages of a series of children books that date back to the 1930s that are now available on audible.
Download Mary Poppins Book 1 for $17.47 here.
Hidden Figures Young Readers Edition
Hidden Figures, the story about four African American women mathematicians at NASA who contributed to one of the greatest human achievements in history – going to space. The original book may have been too steep a read for young listeners, but this edition is a perfect listen to inspire grade school aged kids.
Download Hidden Figures Young Readers Edition for $17.10 here.
Wonder
R.J. Palacio's Wonder turns people into better versions of themselves. The story centers on a boy named August (nicknamed Auggie) with a facial abnormality who enters public school for the first time after years of homeschooling. The story is told from Auggie's point of view as well as his friends' and sister's, which helps round out the story and helps keep listening fun rather than a chore.
Download Wonder for $10.49 here.
The Lion the Witch and the Wardrobe
Before Harry Potter there was The Lion, The Witch, and The Wardrobe the first book written in the Chronicles of Narnia series that follows four siblings into the land of Narnia where they are hunted by the evil White Witch. The audiobook has a British-accented narration which makes it that much more of an awesome listen.
Download The Lion The Witch and The Wardrobe for $20.52 here.