The Winningest Man in Barbecue's Tips For A Killer Cookout
Some advice from Myron Mixon, the "Winningest Man in Barbecue".
by John Patrick Pullen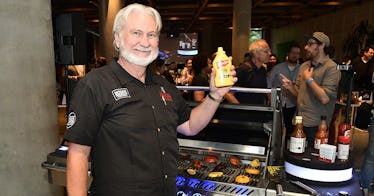 Getty
Standing in front a hot grill, flipping, basting, searing, and smoking, is a summer ritual. But it's also a bit of a pain in the ass. Because the successful backyard barbecue, the one that leaves every guest speckled with rib sauce and rubbing their belly, requires the chef to spend a day in front of the fire away from the festivities. Just ask Barbecue Hall Famer Myron Mixon. One of the country's most respected pitmasters, Mixon has four Barbecue World Championships, four restaurants, three TV shows, three cookbooks, and a cooking school. And while he the adores the high art of open-flame cooking, he understands the burden.
"A lot of times, the man of the house gets out there and you've got 30 people coming to your home, out in the swimming pool, drinking beverages, and eating hors d'oeuvres, while you're firing a pit all day," says Mixon, whose accolades have also earned him the title of Winningest Man in Barbecue. "Everyone wants to know when it's going to get done, but when it does get done, you've been sitting in the smoke so long, you just want to go in the house and sit in your recliner."
While nothing will relieve the burden of the host, Mixon offered some tips to help you crush your cookout. Whether you're grilling up dinner for your family or firing up a feast for all of your friends, they'll help you satisfy your guests and maybe give you some time to actually enjoy the festivities.
Plan Ahead
A common 'cuer mistake: thinking of grilling as hang-time with friends. But, per Mixon, with ingredients that need to be prepared in advance, it's never that easy. "If you're the guy or girl who is in charge of the cooking, and you start prepping the same day everyone else is having fun and partying, you're tying up four to six hours of your day making sure you're feeding everybody else," says Mixon. "To me, that's not a whole lot of fun."
Instead, Mixon says to cut up your veggies and meats the day before, season your meats in advance, and make sure all the other fixings are ready to go before the party starts. Then, all you need to do after the guests arrive is tend to the fire.
Keep It Clean
Everyone's been there. You open the lid to your Charbroil and the insides look something like the devil's toilet bowl. Not a good look. Remnants of previous cookouts corrupt your grill and slow things down. Mixon recommends using some elbow grease to clean inside the drum, and once it's clean, coat the insides with aluminum foil.
"The simple fact is, it makes it easier when you go to clean it out for the next time you want to use it," he says. "If you've got aluminum foil in the bottom, all you've got to do is tie it up in a little bundle, like a hobo sack and throw it in the garbage."
Get Friendly With Pam
If you've got cast iron grates, take some time before you grill to scrub off the ash and grime that's collected over previous meals. Then spray them down with Pam cooking oil, and close the lid until the next time you're ready to cook. "Whenever you get ready to grill, the temperature's going to be 400 degrees if it's a charcoal grill — ain't nothing surviving at 400-plus degrees," says Mixon. "So it will burn off the oil and you'll be ready to cook."
Make the Special Sauce
As to be expected, Mixon has an affinity for his own line of barbecue sauces. But if forced to choose a bottle off the shelf, the one he'd reach for might surprise you: Krafts. "It's cheap, it's ketchup-based, and a lot of people use it," he says.
But it's not that difficult to whip up your own sauce, says Mixon. His recommended mix: one cup of white vinegar, two cups of ketchup, a tablespoon of Louisiana hot sauce, a tablespoon of finely ground black pepper, a half teaspoon of salt, a tablespoon of sugar. "Being from the South, I love a good vinegar sauce," he says.
Try Some Cupcake Chicken
Anyone can throw some frozen burger patties on a fire and survive to grill another day. But if you want to impress, but with minimal fuss, Mixon recommends having a go at his world-famous cupcake chicken recipe. "It's one of the dishes I'm known for — we serve it in two of my restaurants, the one in Chicago and the one in Alexandria, Virginia," he says.
The recipe isn't too detailed, but essentially it involves placing chicken thighs in a cupcake tin and smoking them while they soak in broth for 1 1/2 hours. Then, you flip and season them while preparing a barbecue sauce laced with blackberry preserves, before cooking them a while longer, doused in the mixture. "It's very cool, and very easy," says Mixon.
Be the Mac Daddy
The littlest critics can be the hardest ones to satisfy. Getting the children involved with grilling the younger the better will make them appreciate the food even more. And the sweet spot, says Mixon, is 12-years-old and under. "That's really when you've got to get them involved and not turn their nose up to it," he says.
But if you want to make the kids' table stampede for seconds, Mixon has five words for you: Baby Back Mac and Cheese. "Take falling off the bone baby back rib meat, debone it, then fold it into the mac and cheese and bake it in the oven," he says. "It's awesome."