'Sex Education' On Netflix Is Essential Viewing for Parents
Don't have a teenager yet? Netflix's Sex Education could help you prep.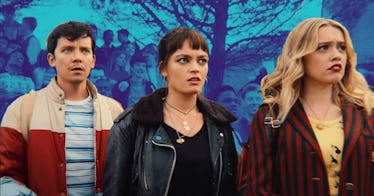 Netflix
Sex Education returns for its third season on Netflix this week. But if the title, trailers, and risque reputation of the show has been a deterrent to watching, know this: the British high school comedy could actually help parents of teens prepare for the challenges of being a teenager.
The show centers on Otis (Asa Butterfield), the awkward teenage son of a sex therapist, Jean, played by the incomparable Gillian Anderson. Along with Maeve (Emma Mackey), from the wrong side of the tracks, the two realize they can make money from providing sex tips pilfered from Jean to their classmates and hijinks ensue.
Sex Education is hilarious and cringeworthy at times but in centering the experiences of diverse students it encourages viewers to employ empathy when dealing with the myriad locations people fall on the sexuality spectrum.
For example, throughout the first two seasons, topics such as bi- and pansexuality, abortion, inability to orgasm, low sex drive, vaginismus, STIs, sexual assault, and bullying, amongst many others.
And it's not just the kids! By using Jean's sex therapy practice as the very driver of the storyline within the walls of Moordale High School, older viewers will find kinship with some of the struggles experienced by the parents and teachers.
All of this comes to a head in the third season, dropping on Netflix on Friday. The arrival of new, hip principal Hope (Jemima Kirke) sees Moordale seek to clean up its reputation as "the sex school". Her tactics quickly escalate to the adoption of uniforms, public shaming of minority students, and abstinence-only sex education. As viewers of the show can imagine, this doesn't sit well with the sexually curious and liberated students of Moordale.
While parents probably don't want to sit down with their kids to watch Sex Education together as there are some explicit sex scenes, there are lessons to be learned from the show. This season will explore navigating sex, relationships, and gender expression as a non-binary person, the logistics of anal sex, and how abstinence-only sex ed erases queer people, divorce and blended families, the reproductive health of older women, and sex with and as a person with a disability. Again, this is just the tip of the iceberg when it comes to the issues delved into by Sex Education, in which every character gets a sensitive and fleshed-out storyline.
While it's important for parents to have these conversations with their kids or, at the very least, ensure kids can have them with someone they trust, pop culture is the great educator. By excavating a myriad of topics that a teen could encounter while coming (pardon the pun) into their own, Sex Education provides the titular information teens need.