How Long Does It Take To Read Popular Kids' Books? The Answers Are Surprising
A new study shows the exact time it takes kids to read 50 of the most popular children's books.
by Tess Gionet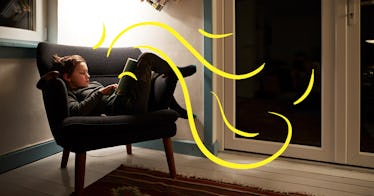 Ever since our kid's birth, parents have been unconsciously tracking and storing data about our babies. For instance, you probably had a rough idea of how many diaper changes were a normal amount. If your pediatrician asked, you could guess the average number of hours of sleep your kid gets per night. You might keep tabs on their sugar intake, or how much-dreaded screen-time they're consuming. But one data point that may have slipped your watchful eye is just how much time your kid spends reading– and, thankfully, it might actually be way more than you think.
We all know how important reading is for our kids– it builds vocabulary, supports cognitive development, encourages creativity, strengthens independence, and even helps them live longer. But just how many minutes is your kid logging when they poke their nose into a book and is it enough? New research released by Connections Academy shows the average time it takes kids in grades 1-5 to read the top 50 best-rated children's books of all time.
Now, some of these books' reading times are no real shock– Pete the Cat the number one favorite on this list, only clocks in at around 4-9 minutes, depending on the child's age. (We're also assuming this is the first book Pete the Cat: I Love My Shoes) But most books required a greater commitment, with the average book on the list taking a child one hour and twenty-three minutes to read. That's 83 minutes, roughly the length of the movie Toy Story, three episodes of Daniel Tiger, or nearly 12 episodes of Bluey. In other words: it's a decent chunk of time for any kid, and something to celebrate.
Other favorite children's books on the list are cause for even more celebration. For example, Jenny and the Cat Club takes an average of 5 hours and 9 minutes to read, Insignificant Events in the Life of a Cactus takes 8 hours and 45 minutes, and if you ever catch your kid reading The Complete Series of Winnie the Pooh, feel free to really pat yourself on the back: it takes a whopping 10 hours and 28 minutes to finish.
More and more, research points to the fact that it doesn't really matter how challenging a book is for kids, it just matters that a child is reading, period, and enjoying the book. So don't feel bad if your kid is partial to Pete the Cat over Pooh– just try to encourage them to keep reading, at least 15 minutes per day (that's twice through Pete or one chapter of Pooh.)
With all that parents have to track and worry about for our kids, it's also important to acknowledge the wins we are seeing. This research from Connections Academy makes it easier for parents to do just that. So the next time you return an armload of books to the library, or catch a book by your kid's bedside, breathe easy and know that they're likely clocking substantial reading minutes. And, if your parental radar is up, but you're just not seeing your kid reading at all, they're never too old to be read out loud to.
This article was originally published on