The Best Date Night Show Of The Year Is The Best Kind Of Throwback
Poker Face takes us back to a time when one TV mystery a week was enough.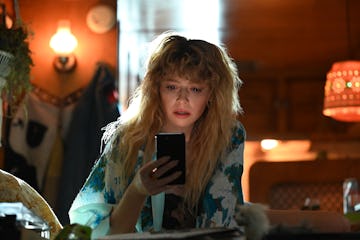 Peacock/NBCUniversal/Getty Images
Don't be afraid of the runtime of the first episode of Poker Face. The new detective procedural — from Knives Out director Rian Johnson and starring Natasha Lyonne — is inspired by Columbo. And it's in this old-school comparison that Poker Face is a wonderful throwback to simpler times of TV mystery shows. This isn't another bloated streaming series. It's breezy, and best-of-all doesn't require a huge time commitment.
Poker Face follows Lyonne's Charlie Cale, a wise-talking, down-on-her-luck casino waitress, which might remind you of other characters from Lyonne. But, there's a twist, Charlie can see right through gamblers' poker faces, hence the title of the show, and the casino boss, played by Adrian Brody, thinks he can use this to his advantage by fixing games. No spoilers on how this turns out, but by the episode's end she's hitting the road in her Plymouth Barracuda, taking her skills elsewhere.
The first four episodes will hit Peacock on Thursday, January 26. After that, we'll be getting one a week. And it's in the second episode where you really get a sense that this show is going to be really different in each installment. Charlie is nowhere to be seen for the first half of the episode, and you might suddenly think you're watching a different show.
But that's the beauty and brilliance of Poker Face. The mystery-of-the-week format provides a low barrier to entry in that you don't have to keep track of the twists and turns, unlike a lot of other prestige TV shows. Also, because each episode isn't connected to a big season-long arc, you'll probably be able to avoid spoilers pretty easily. Poker Face is perfect to throw on at the end of the day to decompress. It's definitely one to savor, not binge. In other words, ideal for date night with your significant other.
To be clear, Poker Face is far from dull. Because each episode consists of a brand new mystery, that means brand new characters, and Johnson has certainly made use of his impressive list of famous friends. Everyone from Ron Perlman and Jameela Jamil to Luis Guzman and Stephanie Hsu make cameos, while Lyonne's frequent scene partners Chloe Sevigny and Dasha Polanco also appear. Johnson doesn't break his streak of keeping Joseph Gordon-Levitt and Noah Segan employed either. For those who devoured Glass Onion, Peacock's offering will certainly scratch the Knives Out mystery itch. And, in the most important ways, Poker Face simply gives you more mysteries, and arguably, Lyonne's Charlie is a more compelling detective than Craig's Benot.
Poker Face is slightly new ground for the gravelly-voiced actress who is best known for playing slightly different versions of the same nihilistic character, specifically as Nicky Nichols in Orange is the New Black and as Nadia in Russian Doll. But she feels like she's trying something new here. There's a scene midway through the season that pokes fun at this self-destruction, and in the very next breath at her character's newfound vocation as a "f*cking cop"—or at least cop adjacent as a guerilla crime-solver. Despite Lyonne's renaissance over the past decade and a thirty-plus year career in Hollywood that mostly consisted of small roles in cult classics, Lyonne is really hitting her stride as her most likable, and vibrant lead role in years. According to Rian Johnson, the character of Charlie was a "revelation" for Lyonne, because this "character likes people."
If you like Natasha Lyonne, you'll love getting to solve mysteries with her every week. Poker Face is hilarious, fun, and gripping. If you're looking for a low-stress binge, Poker Face has a winning hand.
Where to watch Poker Face
Poker Face streams exclusively on Peacock. Episodes 1-4 are out on Thursday, January 26. New episodes drop weekly after that. There will be 10 episodes in Season 1.