Pete Davidson's Honesty About Borderline Personality Disorder Matters
The 24-year-old comedian has been aggressively open about his Borderline Personality Disorder diagnosis.
by Luis Paez-Pumar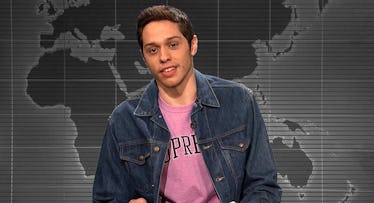 NBC
When Saturday Night Live cast member Pete Davidson revealed on Marc Maron's WTF podcast in September of last year that he had been diagnosed with Borderline Personality Disorder, the US Weekly and People magazine didn't stop print. The then-23-year-old comedian was famous — and is famous — for being that super young kid on Saturday Night Live whose father died on 9/11. At the time, he seemed more like a stretched out Linus surrounded by pot-smoke and hipster references than a mental health crusader. But he has become exactly that and in a fundamentally unique and generous way.
The acknowledgment came at an important time. According to the National Alliance on Mental Illness, somewhere between 1.6% and 5.9% of the Americans have Borderline Personality Disorder, a condition that is much more commonly diagnosed in women and which many psychologists believe is under-diagnosed in men. Some of the more pronounced symptoms of the condition include fear of abandonment, low self-worth, and suicidal ideation. Davidson's public acknowledgment of his diagnosis was, in effect, a public acknowledgment of a lot of different mental health struggles and, more specifically, a lot of different mental health struggles traditionally associated with women.
The acknowledgment was, in a sense at least, courageous, but Davidson almost immediately began lampooning it as an act of recklessness. His public comments on mental health, taken individually, read like jokes. In aggregate, they betray Davidson's commitment to pushing an honest dialogue.
A recent appearance on SNL's Weekend Update in which Davidson, who started speaking about his mental health on the show in October, whined that NBA star Kevin Love had stolen his thing by publicly acknowledging a panic attack underlines what makes Davidson's approach unique. Rather than delivering lectures on the importance of engaging with the men's psychological issues, he makes jokes at his own expense. Why is this so effective? Because BPD is a core part of Pete Davidson, the SNL character. Rather than presenting depression as an issue he's dealing with, Davidson presents it as part of who he is. There's more honesty in that.
It helps that he's funny. "It's totally cool that he had a panic attack, but if you're going to write an article about being unstable…leave it to the big boys," Davidson admonished Love with a winking laugh. "I'm sorry you missed your three-pointers, Kev, but I've been in therapy since I was six years old!"
The way that Davidson entangles his challenges with his aspirations is also singular. Rather than posing depression as something that he must overcome or as something that he suffers from on the sly, he acknowledges that it's part of his professional experience. Hell, he even tries to leverage it. In the first bit, Davidson did publicly acknowledging his diagnosis, he suggested that he would be less depressed if he was cast in more sketches. He even pulled out a fake doctor's note to drive this point home.
That's a sly bit. Davidson is mocking himself, but he's also acknowledging that he has sought help and been open with his coworkers about his condition and concerns. He's modeling good behavior while saying all the wrong things.
In his public personal life – an oxymoron every famous person has to live with – Davidson has also been open about the help he has received from his girlfriend, Cazzie David, since his diagnosis in 2016. David – who is the 23-year-old daughter of comedic legend Larry David – has been a key part in not only helping Davidson work through his diagnosis but also for helping him get sober for the first time in 8 years. "I'm very lucky," he said to Entertainment Tonight. "She's very, very supportive." And while it hasn't been all fun and games for the pair – he publicly apologized to her in now-deleted Instagram posts for an unknown transgression – that he is open about getting help professionally and personally helps provide a road map for others that might be struggling with their own mental health.
Davidson's honesty has been a refreshing – if also bumpy – portrayal of BPD, and the rawness of his bits on Weekend Update are better served by that honesty. There's no posturing or detachment; he discusses his BPD with the same fervor that he does Staten Island or his Dockers commercial. It's part of who he is now, and his own path to recovery has him turning that pain into comedy.
That might not be the path for everyone, but seeing him be almost reckless with the truth is inspiring. It normalizes the disorder in its base form; there's no sanitized press statement or media-trained interview here. Instead, we get a 24-year-old who is working through it on a public forum, and who is refreshingly unfiltered in his approach.
Davidson is part of a larger conversation – one that now includes The Rock – which, in time, will help shift the discussion towards a healthier, more positive outcome. In the meantime, you can bet that Davidson will continue to pop up on Weekend Update, ready and willing to both talk and joke about his own struggles, and that's a beautiful thing.