My Father The Incredible Hulk
Lou Ferrigno Jr. on growing up with a famous green monster as a father.
by Lou Ferrigno Jr.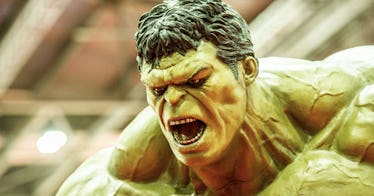 Getty
My name is Lou Ferrigno Jr. I was born in Santa Monica, California in 1984. I'm the second child of Lou Ferrigno, who most people know as The Incredible Hulk, and Carla Ferrigno. By the time I was born, my dad was doing Hercules and The Incredible Hulk had gone off the air. Still, to most people he was the Hulk. Later, he did a few Hulk television movies so that was definitely a big part of my life growing up.
Everyone knows my dad as a strong guy. What I remember most from those early years is thinking that my father worked a lot. He couldn't cook pizza with me, my sister and my younger brother or just spend time hanging out. He was constantly on set. The good news was that, a lot of times, we traveled across the country and across the globe to be with him. Many of my earliest memories from were the months we spent in Rome while he was filming Sinbad. For some reason, I remember eating a lot of pine nuts. That's stuck with me. Later, in the early 1990s when he returned to bodybuilding to compete in the Mr. Olympia contests, we went to Finland, Australia, Amsterdam, Japan, Spain, and Argentina.
In the Hulk movies my father made when I was a kid, he was the angry version of Bruce Banner. Bruce was played by a guy named Bill Bixby. In real life, my father rarely gets angry. He doesn't bark, but when he means business, he means business and he was always a stickler for keeping the kitchen clean and punctuality. My nickname growing up was "Last Minute Louie." Now that I'm an actor too, I understand how important it is to be punctual. Time is money in this business. But what I mostly remember is that my dad was always just really nice. Whenever we had an attitude, he said, "Be nice." It might sound trite or cliché but if you live by those words, like my dad does, it becomes pretty profound.
I must have been five years old when my dad shot The Incredible Hulk Returns. Up until then, I had known my dad as my dad. I had never seen him as the Hulk because there had been a break in production. But one day, when I was on set, my mother told me to go find my dad. They had a trailer on the beach for him. I knocked on the door and he opened it, in full make up. Well, it wasn't perfect since he was still getting ready. His wig was kinda askew and the paint wasn't even. I remember looking at his foot, his ankle, his thigh, his chest, and his face real slowly. He smiled and I just freaked out. I backed up, turned around and ran down the beach. My dad followed, shouting, "Louis! Louis!" He sounded like my dad but, when I turned around, I saw this monster. I just couldn't put two and two together.
It wasn't until 1988 or 1989, when he was filming The Trial of the Incredible Hulk that I got it. I was walking around set, holding his hand and I noticed people didn't think it was a big deal that there was this monster next to me. When my dad let go to film a scene, I remember looking at my hand and seeing it was green. That's when it all made sense.
You'd think being a big guy like I am, and the son of one of the strongest men in the world, would save me but I had my fair share of being bullied growing up. I was a heavy kid. I was always the largest in m grade but I was a gentle giant. My dad also told us about how he was bullied as a kid. He was skinny and hard of hearing so it was tough. He always used to tell us to be grateful for having our hearing. But in some ways, my dad's disability made us closer. Whenever I'm speaking to him, I have to be very conscious of how enunciate my words and how loud I talk because he reads lips. But over the years, we've grown so close we can have a full conversation across the room. He's so in tune with me and I know how he thinks. It's a special bond I wouldn't necessarily have had otherwise.
I think about my dad all the time. A) My name is Lou Ferrigno Jr. B) I get reminded of it daily. People always suggest that I play the Hulk in some sort of reboot. It's just something to say so I take it with a grain of salt and humor. But it also made me driven to show that I'm more than just some successful dude's son. Of course, I've used the name as my accelerant into the Hollywood industry. It's a hard business. But now the name is what drives me when I'm feeling in the dumps, which is often. The life as an actor is challenging and it takes a toll on you spiritually, mentally, and physically. You're running on hope in a town where luck is a huge part, in a town where hearing "no" is a privilege. Usually you don't hear anything. But then I think about what my Dad for our family, starting in Brooklyn and ending up here. And that, more than any hulk, is incredible.
— As told to Joshua David Stein
Lou Ferrigno Jr. is an actor, an artist and a trainer. He currently stars on CBS's S.W.A.T.