These 6 Comics Will Answer All Your Burning 'Moon Knight' Questions
Who is this Moon Knight, you ask? We've done your homework for you.
by Richard Newby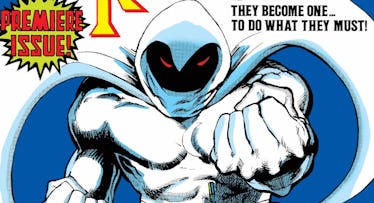 Credit: Marvel
Moon Knight is upon us. The show hits Disney+ on March 30, and if you're reading this before, during, or after the show's run, you might have some questions. So, if you want to make it through the experience (of watching the show, not facing the man, you wouldn't stand a chance against the man) then it's time to turn your attention to a few specific back issues of Moon Knight, charting the hero's 47-year mythology. Don't panic if you're not quite ready for that time commitment. We can stick to the essentials!
Like the vast majority of comic book adaptations, you don't have to know or have read anything beforehand in order to enjoy Moon Knight or Oscar Isaac's portrayal of the character's multiple identities. And the show is not a straight adaptation of any particular run. But given the complexity of Moon Knight's characterization, which has gone through a number of unique phases over the years, it's not a bad idea to get a little more familiar with the man in white. Plus, it'll put you ahead of your friends when it comes to pointing out those nifty Easter eggs.
After reading over 100 issues starring the cult hero and soon-to-be MCU breakout, I've narrowed it down to the 6 most necessary issues to guide you through the adventures of one of Marvel's strangest heroes. In most cases, a link to a digital version of each issue is provided. Those are usually about 3 to 5 bucks a pop, so you don't have to break the bank. However, if you want physical issues, some of those can get pricier.
Werewolf by Night #32 (1975) – Doug Moench and Don Perlin
Moon Knight has been tied to Marvel's supernatural side from the beginning, even before his origin story involving Egyptian deities fell into place. Originally introduced as an adversary for the teenage werewolf, Jack Russell, the Moon Knight, alias Marc nee Mark Spector, is a mercenary for The Committee. The Committee, a shadowy secret organization that has designs on using a werewolf as a weapon of mass destruction, promises to Moon Knight $10,000 to bring Russell in alive, which results in a brutal battle between the werewolf and the silver-clad mercenary.
But once Moon Knight discovers The Committee's plans and learns the werewolf he's been battling is a mere teenager, he turns against his employers and decides he can no longer operate for money. Later issues would retcon this detail, making Spector a hero from the start, one who was merely working undercover to expose The Committee. That doesn't quite excuse the beatdown he gave Russell, but hey, that's comics!
While the issue doesn't provide much of an idea of who Spector is as a character, his first appearance is the first step in an interesting evolution. Plus, with Michael Giacchino's Marvel Studios Halloween Special set to introduce the Werewolf by Night (Gael Garcia Bernal) later this year, the issue will likely build up hype for an inevitable team-up between the two characters in the MCU.
Moon Knight #1 (1980) – Doug Moench and Bill Sienkiewicz
It's in this issue that Moon Knight's full origin story is told. In a flashback, Spector, along with his best friend Frenchie, who also serves as Moon Knight's pilot in the present-day, are mercenaries working under the ruthless Bushman. While in search of a rebel camp in Sudan they come across something else, the archaeologist Dr. Peter Alraune and his daughter, Marlene, who are searching for the ancient tomb of the Egyptian moon god, Khonshu. After Bushman kills Dr. Alraune in an attempt to find the location of the tomb and its treasures, Spector attacks him. Bushman leaves Spector for dead in the desert. But Spector manages to crawl through the desert and come across the Tomb of Khonshu where he dies. But death is not the end. He is reborn by Khonshu and given the task of becoming the moon's knight, protecting the innocents from evil-doers like Bushman. Of course, this would be easier said than done.
Moench and Sienkiewicz wrote the definite Moon Knight run, outside of the modern era. And so many of the character's most famous attributes, from his alternates Steven Gran and Jake Lockley, to his allies Marlene, Frenchie, Crawley, and Gena were explored and given life under their 30-issue run that brought a grimy realism to Marvel's NYC – one victim to poverty and addiction and where the hero didn't always win by the issue's end.
Moon Knight: Fist of Khonshu #2 (1985) – Alan Zelenetz and Chris Warner
Now, this issue is a bit of an odd duck, because obviously, it's not a first issue like the rest. When Moon Knight relaunched with the six-issue Fist of Khonshu, it came with an attempt to tie Moon Knight closer to Egyptian mythology. Moon Knight got a new costume sporting an ankh instead of a crescent moon, new weapons, super-strength, and missions imparted on him by telepathic priests of Khonshu. And with all that came the disappearance of most of Moon Knight's supporting cast. But what makes issue #2 interesting is that it features the sole appearance of Arthur Harrow, who will be portrayed by Ethan Hawke in the series. A doctor suffering from painful facial paralysis uses the locals in the Yucatan to test medicines that eliminate the pain responses, creating a force of zombie-like creatures. It's a fun, pulpy issue that highlights Moon Knight's ability to work as an Indiana Jones-esque adventurer and B-movie horror hero.
Harrow managed to escape Moon Knight in the end, with a promise for a return that never came. While it's certainly not the best issue of Moon Knight, it is worth putting on your reading list if you want a glimpse of Harrow before the show inevitably reinvents him as a more powerful and enigmatic presence.
Moon Knight #1 and #2 (2006) – Charlie Houston and David Finch
With the millennium came a shift to the dark side of the moon. Houston and Finch's Moon Knight is BRUTAL, bloody, and best consumed in small doses. The issue begins with Spector reliving his glory days, basking in his brutal methods and the support of his allies, Frenchie, Marlene, and Crawley. This is who Moon Knight was, but not who he is. In the present, Spector is beaten and broken, wheelchair-using, and addicted to drugs following a devastating battle against Bushman that ended with Moon Knight carving his former partner's face off. Finch doesn't skimp on the gory details, and the face cutting has been an act that has haunted Moon Knight through every volume sense. These first two issues are only the opening salvo of a six-issue arc called "The Bottom" which follows Moon Knight's crusade to rebuild himself, while the voice of Khonshu, now a menacing force in his head, demands greater blood sacrifices. It's here that the idea that Marc Spector doesn't just have trouble keeping track of multiple identities but is legitimately unwell began to take shape.
While it's doubtful the Disney+ series will go quite so hard, there is a brutality to the character that the show embraces that can be traced back to this run. For those who are drawn to modern comics and are less interested in pre-2000s comics, this run is a good place to start, though it doesn't paint Moon Knight in a particularly heroic light.
Moon Knight #1 (2016) – Jeff Lemire and Greg Smallwood
If you're going to read any volume of Moon Knight, I recommend this one. Lemire and Smallwood take a deep dive into Marc's psyche, offering up a compelling and empathetic look at a man dealing with a dissociative identity disorder. The issue begins with Marc in a mental institution and questioning his reality. His former allies are also there as inmates, raising the question of whether all the previous Moon Knight adventures were delusions. They weren't, but when the supernatural and dealings of gods start to overlap with Marc's mental health issues, and wounds acquired as a child, Moon Knight's adventures take on a whole different meaning, as do the existence of his alters. A heady trip into Egyptian mythology and mental illness, Lemire and Smallwood craft a tale about embracing all aspects of ones-self and the mythologies we construct to stay sane. It is a story that is better to be experienced than told about and offers some surprising twists, so I'll leave it there.
But in terms of the Disney+ series, it seems Marc's dissociative identity disorder will pull heavily from this 14-issue run that put a defining stamp on the character for the modern age, and I'd argue, made him viable to become the series and film star he's destined to become.
While these are certainly not all of Moon Knight's highlights or significant runs, these issues are good places to start, a sliver of Moon Knight's story that will hopefully entice you to dig deeper into the character's history. There are treasures awaiting.
Moon Knight hits Disney+ on March 30, 2022.