How I Became a Minivan Guy
When it's time to trade the SUV for a family van, don't fight it.
by Patrick Danz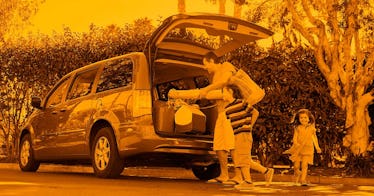 I'm a truck guy. A truck is impressive: large frame, sharp lines, big tires. I love the functionality of the bed. Once I had one, it was hard to imagine driving anything else — certainly not a minivan. When I have kids, I thought, I'll drive an SUV, which is like a truck and large enough to accommodate a family — without, you know, being a minivan.
Once we had our third child, though, my wife's crossover vehicle became an issue. The back row wasn't designed to accommodate three car seats. You could make them fit, but not well. Trying to close the door reminded me of those cartoons with a closet filled to beyond capacity, the door just barely closing. I had to tilt my son's booster toward me to have access to the buckles between his seat and my daughter's. After hearing the click, I'd maneuver my son's car seat back into position. It was a chore.
This story was submitted by a Fatherly reader. Opinions expressed in the story do not reflect the opinions of Fatherly as a publication. The fact that we're printing the story does, however, reflect a belief that it is an interesting and worthwhile read.
Plus, with my long legs (and reluctance to be embedded in the steering column), I was practically in the back seat myself: the kids could whisper in my ear without leaning forward. And I was constantly worried about elbowing my rear-facing infant in the back seat. I couldn't deny it any longer: It was time for a new ride.
I'd known the day would come. My wife wanted a van — which meant that I would be driving a van, at least some of the time. It was tough to accept, so I didn't. But then came Jim Gaffigan. Do you know what happens when the affable Jim Gaffigan starts appearing behind the wheel in Chrysler Pacifica commercials? It's simple. Your wife suddenly appears behind the wheel of a Pacifica, doing a test drive. "I just love his jokes," she says. "And I love that there's a built-in vacuum!"
And so, now I drive a Pacifica.
If I'd had to give up my truck to make it happen, I would have struggled, but fortunately, I still drive my truck to work. Whenever the whole family goes somewhere, though, we take the van, which puts me behind the wheel. Usually it's fun to drive something new, but I struggled so hard with the whole "van guy" thing. There was always that moment when I'd pull up next to a large truck at a traffic light — a 4×4 with a powerful engine, oversize tires, and bed space for days. And there I'd be, sitting in my low-to-the-ground, family-toting van, with moderately sized tires.
At some point, though, functionality starts to trump style, at least in the world of parenting. Gaffigan would say that driving one of these is "good for your dad brand." A few years ago, I would have vehemently disagreed. Now, I'm beginning to understand.
If I'm being honest, I enjoy driving the van. There: I said it. In fact, sometimes I find myself choosing it over my truck when I need to run out, and that is something I never thought would happen. With a myriad of buttons, these control panels are a sight to behold. Sometimes I just like to press them — open-close-open-close — just because I can. It's almost like I'm manning the controls of the Millennium Falcon. Switch this, turn that, engage those. Now we can depart. You really feel like you've arrived; you're the captain. "What's that? You want me to open that one, kids? No problem." Click. In my children's eyes, I'm some sort of van-driving superhero. The mere utterance of the word "van" or any suggestion of a departure, for that matter, sends the kids running. "Are we taking the van?" they ask. "Sure, kids. Sure."
To the dads out there currently caught in that automotive limbo between the honorable SUV and the butt-of-all-jokes van, I say this: If your wife wants a van, get a van. Don't fight it. While it will never look as cool as your beloved pick-up (or an SUV, or a sporty coupe), the van will greatly simplify family travel. The dual-sliding, automatic doors alone are a game-changer. You'll load the family, and cargo, with ease.
To be honest, my "cool" truck has a sort of second-class citizen thing going on these days; the kids seem mildly deflated when they realize their manner of carriage won't be the van. Things sure have changed since I was a boy. Once a truck guy, eventually a van-guy-who-occasionally-drives-a-truck guy. And that's good enough for me.
Patrick Danz is an educator living in Trenton, Michigan. He and his wife, Nicole, have three children: Keason, Carmella, and Alessandra.