Military Family Matters: What Happens to Children When Fathers are Deployed
While children, in general, are harmed when a father, or mother, is not in their lives, the emotional toll is different for those whose dad is at war.
by Andrew Yarrow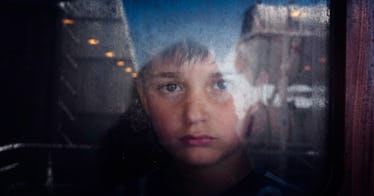 Millions of American fathers are not with their children on any given night. The reasons that typically come to mind include custody orders after divorce or separation, some men irresponsibly disappearing, incarceration, and some women restricting fathers' access to their kids. However, one reason has received little attention: military dads who are deployed to combat zones for one or multiple tours of duty. The military family dynamic shifts dramatically and children face myriad issues.
About 2.8 million children have had a parent deployed in Afghanistan, Iraq, or Syria since 2001, according to Susan Hackley, director and co-producer of the powerful new documentary, Veteran Children: When Parents Go to War. Yet, these kids are all but invisible to the American public. Looked at another way, half of the 2.8 million U.S. troops sent to the Middle East in the 21st century are parents. Although many women have bravely served in the military, because approximately 95 percent of married service members deployed in these countries have been men, this article will focus on fathers and their children.
While children, in general, are harmed when a father, or mother, is not in their lives, the emotional toll is different for those whose dad is at war. They go to bed at night not knowing if their father will be alive in the morning. They wonder if their dad killed anyone in combat. They typically experience chronic anxiety and higher rates of substance abuse; nearly one in four has thought about suicide, according to a study led by Julie Cederbaum of the University of Southern California School of Social Work. Sleep problems, poor academic performance, and behavior problems are also more common among these children compared to other kids, Lynne Borden, a professor of family studies now at the University of Minnesota, found.
"I was a daddy's girl, and I was 7 and in first grade when he deployed," Samantha Tolson, the daughter of Army Reservist Chuck Tolson, says in the Hackley's film. "I went through some very hard times. I'd cry constantly. They're helping our country, but children should not have to go through that, because it's not a good feeling at all."
Amber Bennett, who was 11 when her father went to war, remembered the day when several cars pulled into her family's driveway. "My initial thought was, 'My dad's dead," she said. When she found out that he was alive, but had lost the back half of his thigh and left hand, had shrapnel in his back, and traumatic brain injury, she says, "I knew that everything wasn't going to be the same anymore."
Among fathers, many feel that they have missed big chunks of their children's lives, resulting in sadness and guilt. Others, who come back with PTSD or are severely wounded, can be angry, abusive, withdrawn, or turn to alcohol or drugs, alienating their kids. Such problems can lead to fights, domestic violence, and divorce.
Amber's father, Marine Nicholas Bennett, had always gone to her concerts and other school events before he was deployed. Bennett, speaking from his hospital bed, was at least as wounded by his daughter's fears and sadness. "One of the worst things is robbing your kids of their innocence," he said.
Michael Maurer, also featured in the film, was away when his daughter was born and missed much of his son's early life. "Most fathers get to be there for their kids. It was really hard on me," he says. "Since I've been back, every day, my son comes to give me a hug like he's been missing out, and he has. He's the [most] anxious little child out there."
As Michael Jones, a father in the Army Reserve, recalled, coming home after combat often doesn't lead to a return to a happy family life. "I was pretty messed up when I came home. I didn't know to deal with the fact that I wasn't in combat and didn't have a family anymore," he says. "I came home to a divorce. I had nothing. My children had to see my angry outbursts and see me get drunk."
Jones recalls he almost hit his 5-year-old son for merely turning up the volume on the TV. "He looked at me with fear in his eyes. I couldn't understand how I could do that to my child." That incident led Jones to go to the VA for help and stop drinking.
In one sobering scene in Veteran Children: When Parents Go to War, one boy, when asked if he'd ever go to war when he's of age, responded with a blunt no. His reasoning? "I don't want to do that to my kids."
This sentiment isn't unique. Many children of deployed fathers also lack stability in their relationships with their fathers, as their dad is with them one day, only to be 7,000 miles away under fire a week later. For the roughly million or more 21st-century children whose fathers have been deployed multiple times, their fathers may be away during much of their childhood.
Arguably, the major reason that these children are largely invisible is the fact that less than one percent of American men are active-duty military. By contrast, during World War II, 16.5 million Americans of all social classes and races served, including one-third of all men, and tens of millions of others had family members who served. Despite shout-outs for service members at sporting events and on airplanes, the military and military families are an alien, or abstract, population to most middle-class and well-to-do Americans.
"Most people don't know anyone who has served and they don't know about their children and the sacrifices and struggles that military children experience when their parent goes to war," Hackley said. "If a military family lives on or near a base, they have lots of resources to help them nearby and they are visible. But in contrast to past wars, 43 percent of those serving in our wars today are National Guard or Reserve. They are 'citizen soldiers' who had civilian jobs before deploying and often live far from a military installation. This compounds the loneliness and isolation most military children experience when a parent deploys."
One result is that many of these children feel misunderstood and alienated. As Jordan Vermillion, who was 10 when her father deployed, said: "My friends don't understand, because their parents are there, or, if they're divorced, they can still talk to them." Another boy told of how "some people at my school asked if my father ever killed or hurt anybody." He added: "That just makes me mad. It's disrespectful to him. My dad is not a killer."
As a society, we need to not only honor these fathers, but also do much more to recognize the consequences of deployment for both children and dads.
"Civilians should consider, what is it like for a child to be worried and fearful about their mother or her father?" said Hackley, whose son served in Iraq. "So, the question is, how can we provide emotional support and caring to these families and recognize their service? How can we get to know each other better to bridge the military-civilian divide?"
Andrew L. Yarrow, a former New York Times reporter, history professor, and policy analyst, discusses these and other issues facing millions of American men in his recent book, Man Out: Men on the Sidelines of American Life.