'Mary Poppins Returns' Is a Cautionary Tale For a Dying Art Form
In a cinematic landscape awash with computer effects, the return of meticulous hand-drawn animation feels like a revelation.
by Robert Silva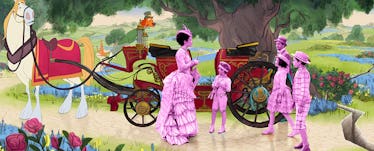 Disney Pictures
As a sequel to the 1964 classic, Mary Poppins Returns spends most of its time trying to restore the lost magic of all childhoods everywhere. Eventually, it succeeds, but not in a way you will expect. The cast is charming-ish. The songs work. But the real triumph is the return of super-old school, two-dimensional Disney animation. We all may have missed Mary Poppins on the big screen, but we missed the feeling of this lost animation style much more. And this aesthetic choice makes the entire movie.
Until the revelatory OG 2D animation romp, things in Mary Poppins Returns are pretty dismal. All grown-up now, son Michael Banks (Ben Whishaw) is afflicted by the pressures of adulthood, and the predatory plotting of Hollywood screenwriters. His wife is dead, the family's London row house is being repossessed, and his three children, while jolly in knee-pants, are growing concerned. So descends the titular droll, supernatural nanny (Emily Blunt) from above who, as it happens, is in need of a job. "No one's hiring nannies anymore," whispers George's plucky sister Jane (Emily Mortimer), now a labor organizer.
The Second Coming of Poppins leads to some household magic (a dolphin in a bathtub! levitating papers!), and Blunt is fine, but the musical finally casts its spell when the Banks kids break a piece of china. To repair it, they must venture into the bowl, entering a Day-Glo world of prancing pachyderms, can-canning flamingos, bow-tied penguins, and labor-intensive, hand-drawn animation cells.
Finding 2D animators in the era of CGI was no simple task for the production. "A lot of them had to come out of retirement to do the movie," director Rob Marshall told The Hollywood Reporter. "It's just not done anymore." Among the returning Disney legends was James Baxter, the lead designer of Belle in Beauty and the Beast.
As the sequence begins in a whirlwind of hand-drawn animated flower petals, the nostalgic experience of watching old Disney movies on the big screen comes flooding back. On a visceral level, this feels like what's been lost in the age of Pixar. There's a lot to love about CGI, but the one thing it doesn't resemble is a drawing coming to life. That, in essence, is the essential magic of cartoons.
Part of the sequence's retro charm is the enchanting blend of live-action and 2D animation, nodding back to the chalk-drawing scene in the original 1964 Mary Poppins. The mix hasn't been done this well since Who Framed Roger Rabbit, as Blunt gets brassy with the cabaret number "The Royal Doulton Music Hall" and Lin-Manuel Miranda's leaps up a library shelf for "A Cover Is Not the Book." The sequence climaxes in a horse-driven chase scene that feels like an homage to the moody Victorian hues of 1949's The Adventures of Ichabod and Mr. Toad.
Mary Poppins Returns' story continues once the animation ends, sped along by a ticking-clock plotline. (The Banks family have to find the money to save their house by the stroke of midnight.) But, older viewers will probably wish the film could go back to Royal Doulton Music Hall, which seemed to embody the nostalgic Disney experience the movie promised in the first place.
Nostalgia is big business. Live-action versions of Beauty and the Beast and Alice in Wonderland both grossed over a billion dollars worldwide. There are more updates on the horizon. Dumbo will get a live-action, Tim Burton remix. The Lion King redux, judging by its trailer, looks like a shot-by-shot, CGI remake of the original. Faithful, antiseptic and possibly glorious. Will 2D animation have a continued life somewhere in these franchises? It seems unlikely, which is a shame.
This kind of animation is clearly a dying art. Animator Don Bluth famously jumped ship from Disney in 1979, upset at what he saw as the studio's diminishing animation standards. His exodus resulted in a few children's masterpieces: The Secret of NIMH and The Land Before Time. But, Bluth hit financial ruin with Rock-a-Doodle in 1992 and now offers 2D animation instruction on his personal website. Save for a few die-hard pencil-and-paper animators like Don Hertzfeldt — who releases a labor of love every few years — the form will almost certainly disappear in the coming decades.
Ostensibly, the message of Mary Poppins Returns is this: even in the uncertainty of adulthood, remind yourself of how the world looks from a child's perspective. As the father of a toddler, I've been astounded at how much drawing kids do, and how much I've done myself with my daughter, returning me to part of my own childhood. For kids, drawing is everyday magic. Tellingly, a late plot-twist in Mary Poppins Returns hinges on finding a discarded childhood drawing by Michael Banks. We should hold onto our sense of childlike wonder, as Mary Poppins says. We should also not forget how to draw.
Mary Poppins Return is out now in wide release