How to Make Little League Fun For Kids
Baseball isn't always the most engaging sport for young players. Here are five tips to make sure they have more fun on the field.
by Jack Crosbie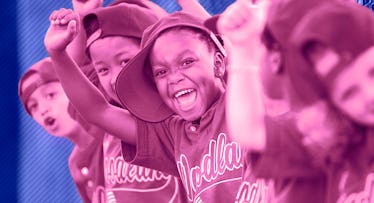 Let's face it: Baseball can be boring. Especially, when you're 6-years-old and stuck in right field. The game can be slow and drag on and often involves long stretches where players never touch the ball or swing a bat. And when they do, play is over in an instant. While other sports require kids to run around and stay engaged, all baseball asks of them is to remain standing and not start daydreaming.
And since a bored baseball player is one who's probably not going to want to come to practice, it's important for Little League coaches to make the game as exciting as possible for kids and new players. To help do that, Fatherly called up Mike Randazzo, head coach of the Fairfield American Little League All-Star team from Fairfield, Connecticut ⏤ New England's representative in last year's Little League World Series ⏤ for some of his tips on keeping things light, pressure-free, and full of fun.
Embrace the Goofiness
Baseball players are legendary for pranks, jokes, and shenanigans in the dugout, even in the pros. It's not uncommon to see players of all ages drumming on each other's heads, building elaborate Gatorade-cup forts, and engaging in general tomfoolery. Randazzo says he's down with all of it, especially when you're coaching Little Leaguers. "Baseball has a lot of failure, and there's a lot of pressure involved with it," says Randazzo, whose motto is let the kids be kids. "Staying loose and keeping the boys loose is an absolute must."
Don't Sweat the Errors
When a player makes an error, as a coach you've got to learn to brush it off. "I can't stand it when someone makes an error and the coach is screaming at the player," Randazzo says. "I don't think that kid tried to make that error." Sure, it's important to provide instruction and support when they get back to the dugout, but yelling at them on the field is the worst thing you can do. There's nowhere on the field to hide when a kid makes an error, says Randazzo, and bringing even more negative attention to them isn't going to build their confidence or get them excited about fielding the next ball.
In fact, Randazzo can't stress enough the importance of watching how you're acting. Because as a coach, the players are going to "react to how you react." Instead, use mistakes as a teaching moments. "And remember, they're 10, 11 years old."
Let Them Play Different Positions
One of the best ways to keep things interesting and fun, especially at younger levels, is to let kids move around and play different positions ⏤ both in practice and during games. Tee ball leagues, in fact, often require players switch positions after every out or batter to ensure nobody sits out in the outfield all game counting Dandelions. Plus, it's a good way to gauge which players may have more skill and/or potential at a certain position. Unless you're playing in a competitive league and angling for a bid to the World Series, there's no harm in letting your center fielder settle in behind the plate or giving your shortstop a turn on the mound.
Break Up the Monotony of Practice
If players know practice is going to be the same repetitive grind every day, they're not going to want to lace up their cleats. Remember, they're out there to have fun with their friends, not earn a living. "The only way to get them on them on the field is to break up the monotony," says Randazzo says. While some consistency, like a solid batting order can be important (at least in competitive leagues), keeping everything else fresh and new is important. And part of keeping players loose means changing up routines ⏤ see 'playing different positions' above.
Another good way is to introduce drills that are themselves more fun or competitive. One of Randazzo's favorite fielding drills, 'Hitting Moonballs,' is a little unorthodox. First, you set out a full field of defensive players. Then, two coaches stand on either side of the plate with Fungo bats, and whack balls as high in the air as they possibly can. We're talking straight up. You can hit the ball anywhere on the field, but height is the point. Give the kids a towering fly ball, says Randazzo, and you'll have them laughing and screaming as they try to track where it's going. Better still, it teaches communication. As that ball comes down, someone on the field will need to take charge and make the play. Having two coaches also allows two balls to be hit at the same time to different parts of the field, so more kids have a chance to make plays. "We could kill half an hour and the kids wouldn't even know, and they're learning the whole time," Randazzo said.
Play More Scrimmages
Finally, if the games are the most fun part of playing baseball, then it stands to reason that scrimmages would be equally (if not more since there's less pressure) entertaining. Remember, practice doesn't have to be all drills. One of the biggest things Randazzo says he's introduced on his team in the past few years is running inter-squad games — or team scrimmages with a twist. Because an average Little League team doesn't have two full diamonds of kids (18 players), you play a round-robin game of four on four on four. One team of four kids bat, and everyone else is in the field. Each team gets 25-30 pitches to score as many runs as they can. If they get three outs, you clear the bases and reset. But the team that was up keeps batting until the pitch count is done. After that, they rotate into the field, and one of the two fielding teams comes in to hit.
Randazzo says this game is hugely fun for the players, especially the more advanced older players, who love to compete against their teammates. It's also a great training tool because it involves everyone on the team and forces kids to react to real game situations.
This article was originally published on